I seriously considered backing out of this race over the course of the two days leading up to it.   And that's saying a lot, because I've never before thought about NOT running a race I'd signed up for, even when I clearly shouldn't have been running at all let alone racing.   In case you missed it and want to find out more about why I wanted to back out, read this post here.
So let's fast forward to after I decided to just go through with it.  I woke up Sunday morning at 5:30 feeling okay but definitely not good since I'd had a cold since Friday and was just plain wiped out after a busy Saturday.   Went to the bathroom, got dressed and ready to go including my pre-race fuel of a banana, energy blend and water.  I stalked the weather report about 30 times before accepting that it wasn't getting any better.  My last hope was that with the 70's temps and 95% humidity we would get some rain to cool off, but, the chance of rain had dipped to 30% and sun was in the forecast now.   I went to grab my Garmin from the charger and it took me a full 5 minutes to come out of denial that it had not actually been charging all night and yes, it was completely dead.  Fabulous.  But I was probably better off really.  I threw on a stopwatch and got it the car.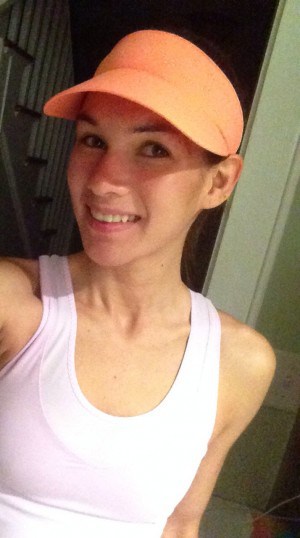 My plan had changed from running this race at around a 7:45 pace to "just run as fast as I can and finish alive."  In the back of my mind I always know that the tougher the run, the greater the relief afterwards and also the next several runs following the tough one always feel great.  So that became my goal – let's just see what I can do.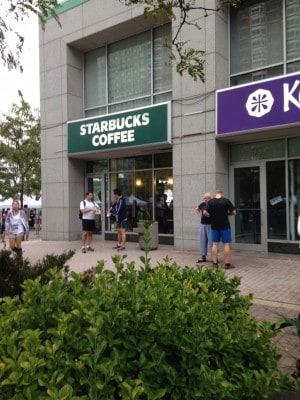 I ate my banana in the car along with some water and arrived at the parking lot nice and early.  Parking was really close to the start with lots of signs so no issues there.  I had gotten my bib # and was waiting around still with 45 minutes until the start.  I like to be at races early but I always wind up timing my bathroom trips wrong.  No matter how little water it seems like I drink relative to what I need, I inevitably have to pee more than logically makes sense.  I never have to pee during my training runs.  I think the later time (8:30 relative to 5:30) along with wanting to make sure I'm hydrated leads to this problem I've been having.  I waited on the bathroom line twice hoping to avoid it but with 10 minutes to go until race start I realized I had to go again and there was no time and huge lines (never understand how so many people wait for bathrooms with 2 minutes to go.  Don't they know they won't make it?)  So I had to pee right at the start.  Fail #1.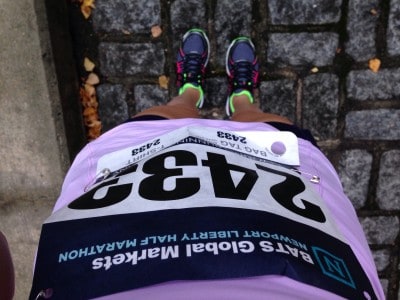 I lined up right between the 7 and 8 minute/mile pace markers at the start since I was really wanting to stay in the 7's but pretty sure I'd wind up in the 8s.   With no Garmin I'd just be going on feel and random glances at my watch along with the time clocks at each mile.   I don't know my exact pace but the first 3 miles felt good.  I'm thinking 7:40ish average but it could have been a bit faster.  It was super humid and I was beginning to feel the heat at that point but it wasn't slowing me down yet.  I noticed that they were only handing out water every 2 miles which did not thrill me though.
Okay at 4 miles I really had to pee.  It sucked.  I was looking around for bathrooms and there were none in sight.  All I remember from miles 4-6 was genuinely considering figuring out how to pee on myself.  Somewhere between mile 6 and 7 I realized I didn't even have the muscle control to do that, so I set out to go in whatever bathroom I saw next.
Luckily there was a porto-john with a halo around it and my name on it right on the course at mile 7.  It just always amazes me how attractive those things look when you really need one.   No matter how bad the race got after that I had one thing to remind myself – I ALMOST (but did not, thank you stars) dropped my car key directly in the toilet with no bottom.  I keep all my belongings in the pockets of my shorts, and, when you pull them up really quickly things can fall out.  I never learn my lesson on this one!
So I probably lost up to a minute peeing.  But I was moving on, underwear twisted somewhere under my compression shorts and chafing my thigh, but I felt good for about 5 minutes after that stop.  And then I realized that even though I had taken care of one thing, I still had between 5 and 6 miles to go and I wasn't keeping my pace anymore.  I had stopped at every water stop so far but it wasn't enough.  By mile 9 I estimated my pace was somewhere in the 8:15-8:30 range but I'm really not sure.  I just wanted the whole thing to be over.
Somewhere around mile 9-10 I started feeling chills.  When it's really hot and I get the chills it's the first sign that I'm dehydrated and not able to cool myself properly.  Okay it also means I probably should have drank more of the water that I dumped over my head.  Oops.  Either way I was struggling.  My legs were moving but it had gotten warmer and we were running in full sun now and every part of it felt BAD!
This really could have been a nice run – you run around Liberty State Park and get all the best views of NYC and as I ran past all of it all I could think was get me the f!@$ out of here.  Such a shame it was!
The last 3 miles were all mind games trying to get myself pumped to finish.  It really wasn't until I could tell myself I had 1 mile left that I actually felt like I would ever finish this race.  I feel like my pace increased over the last mile and I realized I was actually passing people which I doubt was happening earlier.  I find it funny that no matter how much pain you're in, when you tell yourself "last push" (this works in childbirthing too) it somehow seems bearable and you even get a second wind.  The brain is some amazing machinery!
My stop-watch finish time was 1:46:56, official chip time was 1:46:54 so very accurate.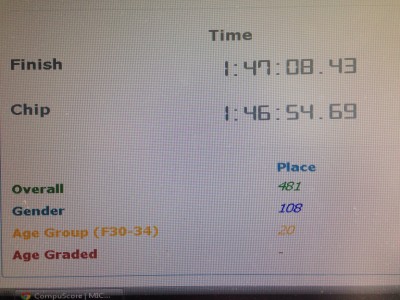 I have to think that if I'd been wearing my Garmin it would have brought me down seeing my pace lag.  I knew I slowed down over the course of the race, but, I also knew I was giving it my all the entire time and that was all I could do.  I felt great after I finished.   Got my shirt, drank water, walked to the parking lot, and, oh yeah, remembered I had to walk up 5 flights of stairs to my car.  Dynamic stretching I called it.  Actually didn't feel bad at all after that run.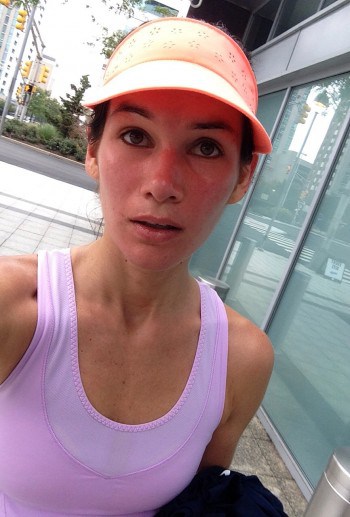 And then I ate a bunch of food in the car and drove at least 15 minutes in the wrong direction before I was finally on my way home.   I was totally in "race brain" mode and probably shouldn't have been driving at all.  But I didn't just say that.  I'm a good driver, really 🙂