This post was sponsored by TULA Probiotic Skincare and all opinions are my own, as always 🙂 Get the NEW Rose Glow and Get It Eye Balm Here – use code PALEOMAMA for 20% off your order.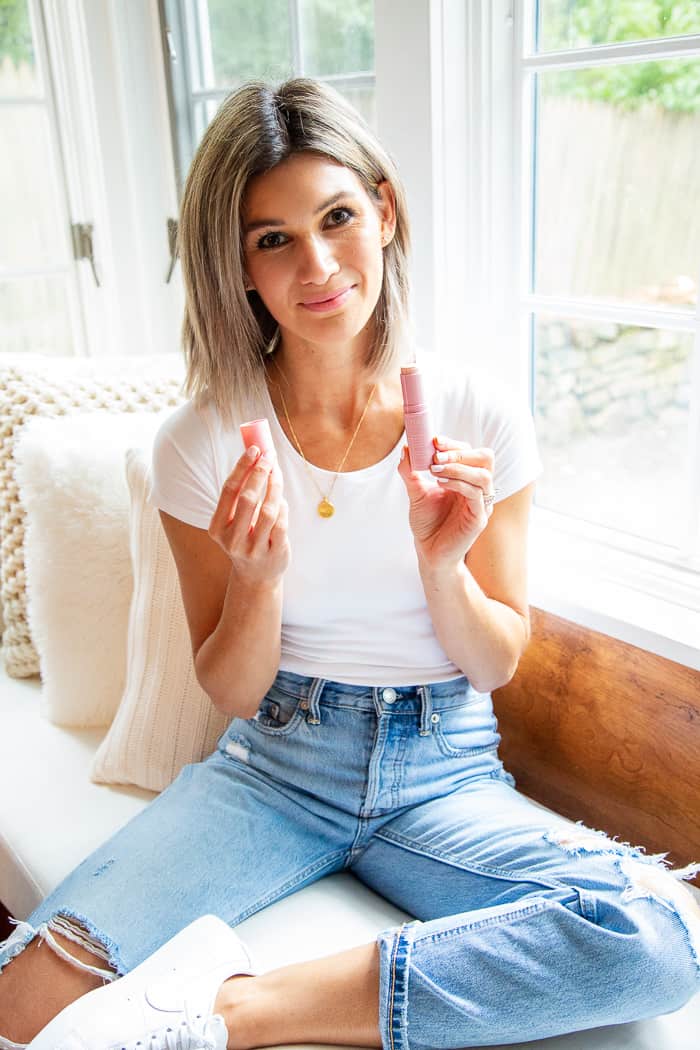 There's a new product launching from TULA today that we all need in our lives!
Remember the cooling and brightening eye balm from last winter/spring?
Well, everyone loved it so much that TULA improved upon it to create today's new gem – the Rose Glow and Get it Cooling and Brightening Eye Balm!
So, how is it similar and how is it different?  To start, if you loved the first version you will love this one as well – it has the tightening, brightening, and cooling effects of the first version with a couple of tweaks that make it even better.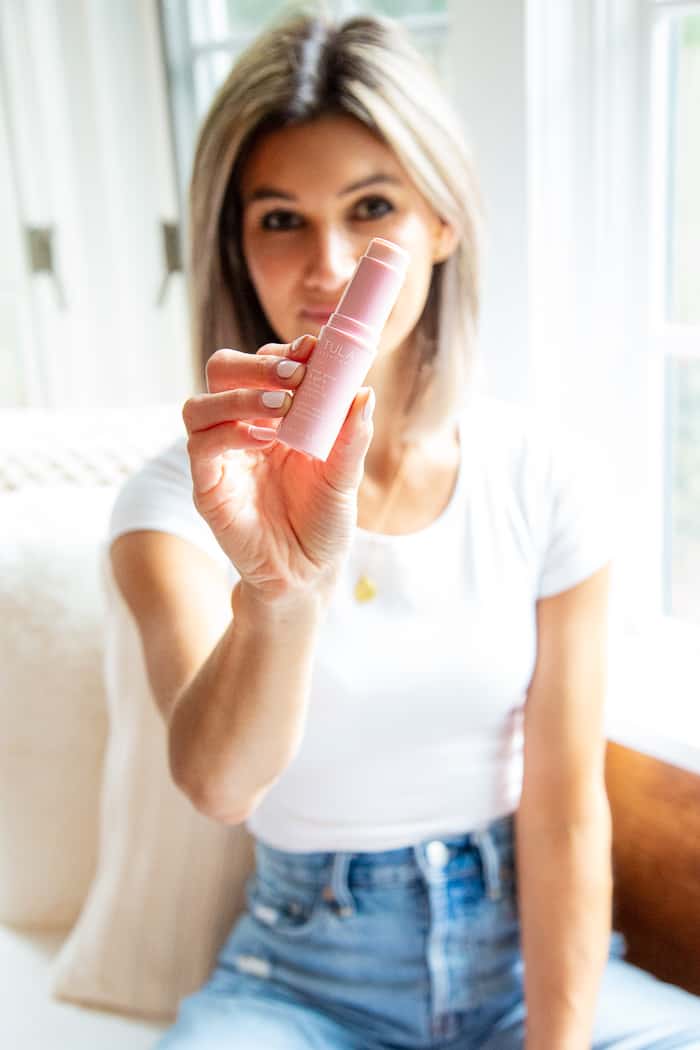 The best-selling Eye Balm, now has even more glow-enhancing ingredients!  It's made with the same probiotics + superfoods (think: caffeine, aloe, blueberry & hyaluronic acid), plus the addition of rosehip oil (a plant-based retinol alternative) & hydrating rosewater so you feel instantly energized, awake & ready to glow.
For me, that translates into a natural looking, dewy glow, reduced puffiness, plus added benefits of rosehip oil and rosewater to improve the appearance of the under-eye skin over time.
Like all of Tula's products, the eye balm is infused with probiotics and superfoods, and 100% free from alcohol, parabens, phalates, mineral oil silicone, sodium laurel sulfate.  All products are cruelty free.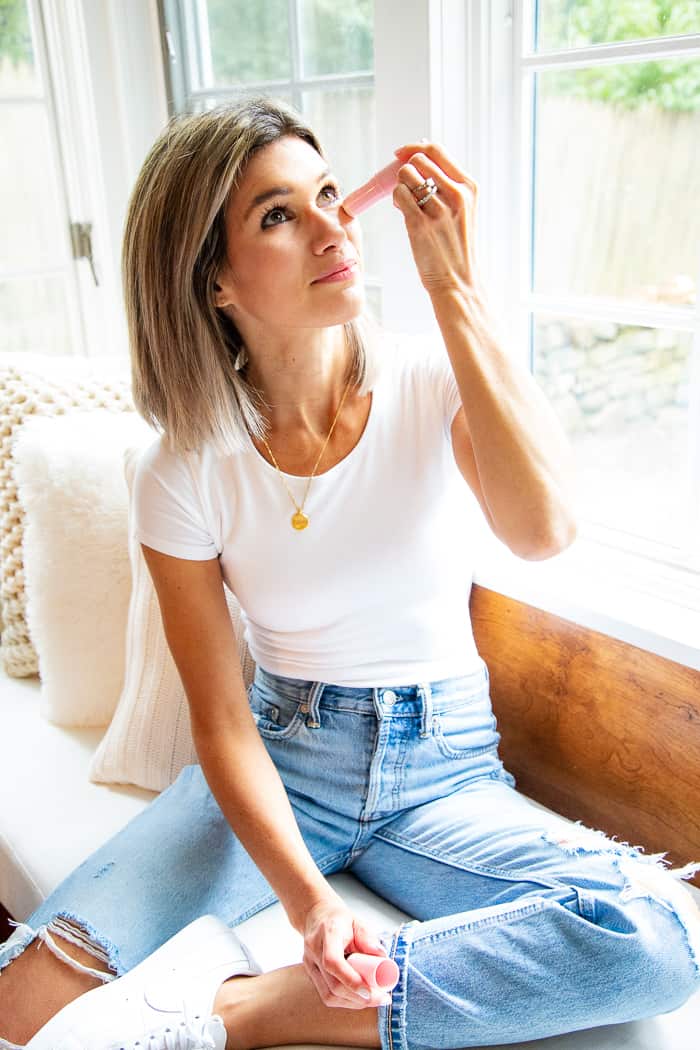 The eye balm is ideal to use under or over makeup – my preference is over makeup since it works for me in place of a highlighter!  I love it when skincare can double as makeup 🙂
It's made to use all around the eye area, but I also use it wherever you need a little moisture and highlight.  It gives the skin a glowy appearance and it feels AMAZING – so refreshing and cooling!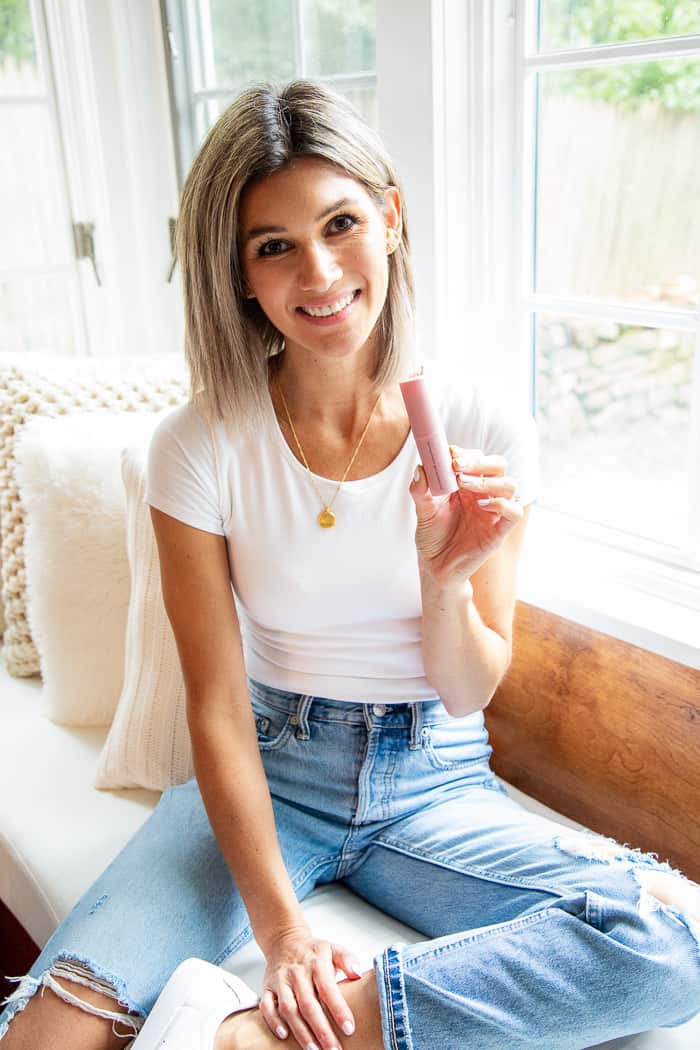 In addition to the new eye balm, I have a few other favorites from Tula that are in my skincare routine everyday.
First – the acne clearing and tone correcting gel.  Game changing for acne sufferers!  I started using this gel over a year ago and still find that it's the only thing that helps both my breakouts and the marks they leave behind.
I've always struggled with a very uneven skin tone and this gel has evened it out more than anything else I've tried.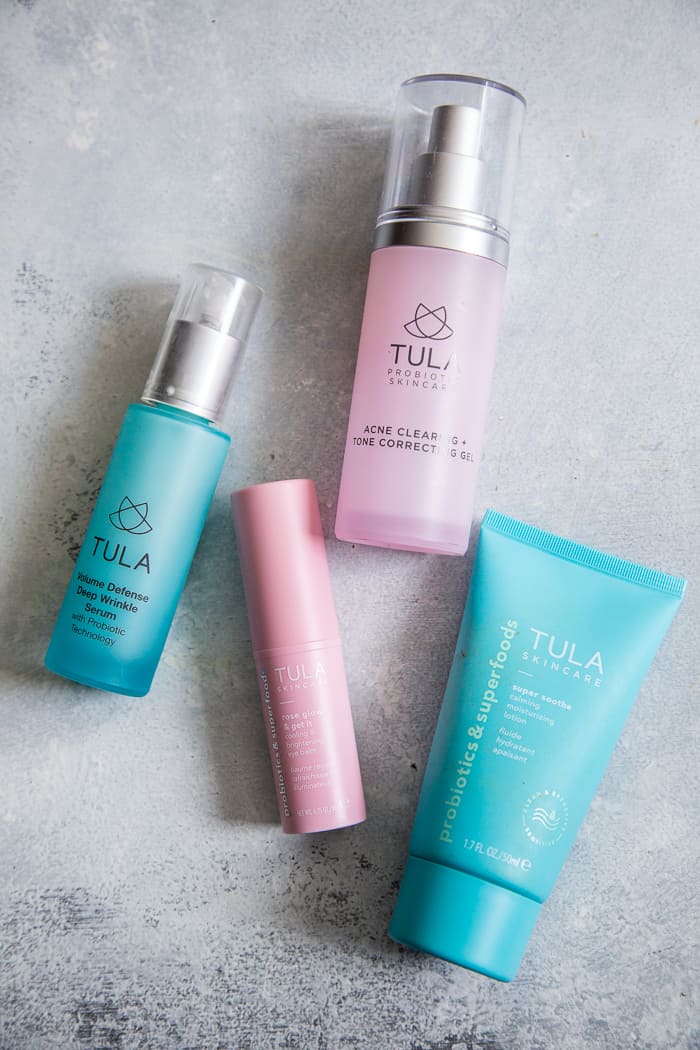 Second is the Volume Defense Deep Wrinkle Serum.  Acne coupled with newly forming wrinkles was the defining factor of turning 35 for me!  And, I have to say that combining the acne gel with the deep wrinkle serum has improved that status a whole lot.
The serum is light enough for oily skin (what I have) yet concentrated enough to really target wrinkles with a combination of retinol, probiotics, and Vitamin C.
Lastly is the Super Soothe Calming Moisturizing Lotion – the new product from last month.  I've been using this moisturizer daily and it totally helps with redness and irritation!  I never thought of myself having sensitive skin, but, I guess I was experiencing more irritation than I realized.
I've been using this milky lotion following cleansing and the acne clearing gel.  It contains ingredients to calm irritation and redness including colloidal oatmeal, aloe, ginger, and cucumber.  If you think you have sensitive skin, this is definitely worth testing out as your daily moisturizer for awhile!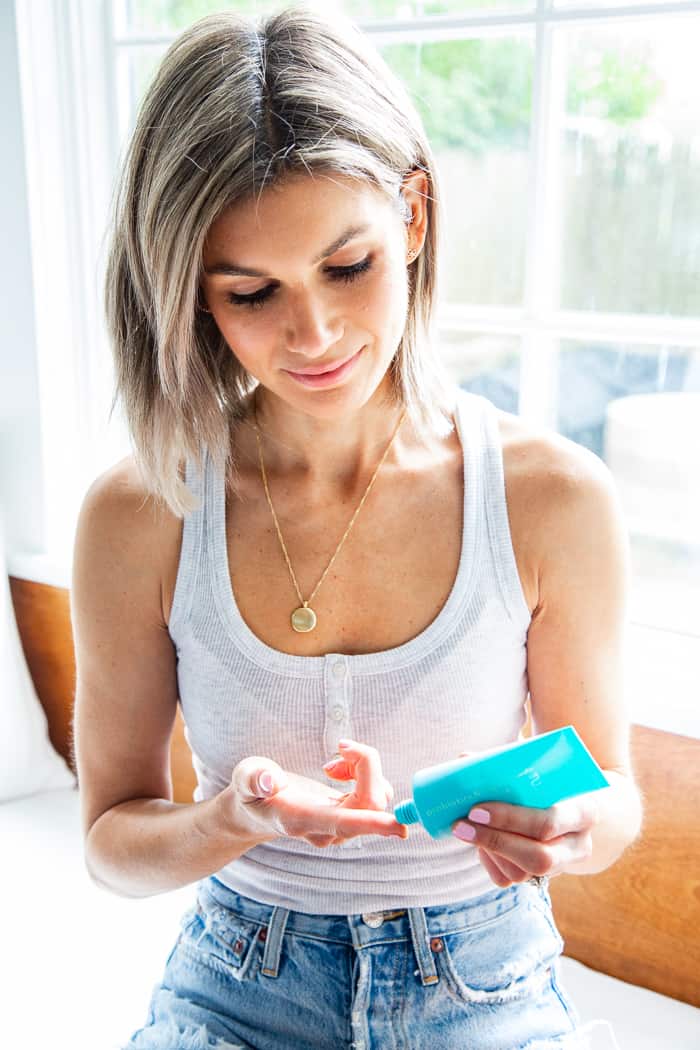 Use the code PALEOMAMA for 20% off your order for anything on the Tula Website (the code won't work in combination with other codes.)
I'll be back soon with a new and seriously delicious fall baking recipe – see you then!