Most runners who've been in it for the long haul find themselves in sort of an "open marriage" with running.  Am I the only one who personifies "running" and sings love songs to it?  If not you should try it while you're out on a run, at the very least you'll amuse yourself for a solid 1.5 minutes.  Okay, back to my topic now…my running comebacks over the past 10 years.
I've made a few different types of running comebacks over the past 10 years.  Two of them were really "post baby" comebacks, one was more like "oops it was winter for 4 months and I didn't run" and the last was a post injury running comeback.
The great thing about running is that you can completely stop for as long as you need to or want to, and then pick it up again and wind up stronger than you were before.  If there's a "friends with benefits" relationship that can really work, it's the one you have with running.  You can be as casual or serious about it as you choose to be and still make it work.
Each time I've made a comeback, I've returned with more confidence that I CAN get to where I want to be, along with a list of what to do and not do to avoid screwing it up.  Don't worry, I'm still screwing things up all the time and learning from it, but that's part of the inherent beauty of any long term relationship, right?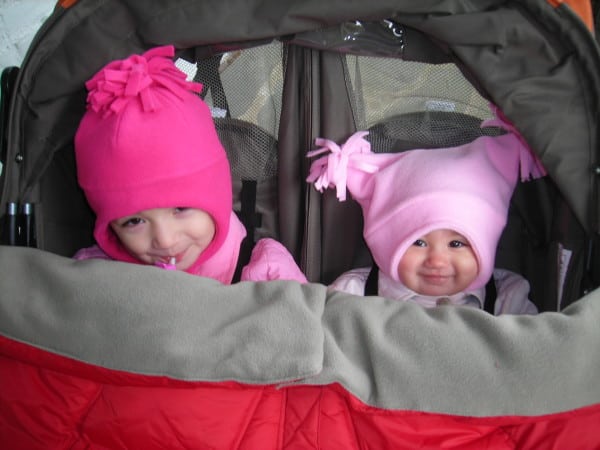 Comeback # 1 – Post baby (okay, actually post 2 babies)
My longest break from running occurred just under a year after I started running at all, in Jan 2007 when I got pregnant, had a baby, got pregnant again, had another baby, and came back to the world of the living (relatively of course) in Sept 2009.  I did not run during pregnancy due to complications, but I also did not have the desire to do it even before my doctor restricted my activities.  Post partum, I simply did not have the energy or means at the time to prioritize fitness, so it didn't happen.  This is life and this is normal.  I'm not saying normal for everyone, but for me this was natural and the way it needed to be.
I acted on instinct and decided it was time to start running again when Emily was around 6 months old.  The photo above is from November of 2009.  Over the course of 2 months, I went very slowly, beginning with just 3 days per week of walking/jogging about 2.5-3 miles at a time with my double stroller.  The key with coming back to running when you have young babies/toddlers is NO PRESSURE.  Think about the huge amount of pressure that's placed on you as a new mom, you can lose perspective when you're in the midst of it but it's constant and it's intense.  This is the time to use running to make your life easier, not add any difficulty whatsoever.  Enjoy being with your kids, outdoors, feeling your body respond to exercise again, and place no further demands on it!
Comeback # 2 – Post 3rd baby
Coming back after having Drew in 2011 was different than the first time.  Once again, I didn't run at all during pregnancy for medical reasons (incompetent cervix) but this time I was ready to run again and add some distance and intensity.  I mapped out a loose schedule of when and how long I'd run, which at first was about 3-4 miles 4 days per week, and gradually built to 4-5 miles 5 days per week. This was mainly done with a single jogger while the girls were in preschool.   It became part of our morning routine and Drew happily napped in the stroller.
Even though running was more "serious" for me this time around, I still had a young baby, a toddler and a preschooler and they always came first.  Once winter of 2011/12 hit, I stopped running for about 3-4 months.
Comeback # 3 – Getting Serious and Going for Distance
In the Spring of 2012, though I hadn't run for months, my body responded much more quickly when I picked it up again and felt faster and stronger than ever.  I was still mainly pushing a jogger, alternating early and late mornings, but my mental focus had switched and I began to prioritize my running more.  After years of babies being attached to me, I was more than ready to have something that I did only for myself.
This comeback led to a stretch of time in 2012/13 where all my PRs happened.  It also led to some of the BIGGEST running mistakes I'd ever made – overtraining, making running my ONLY fitness activity, and eventually a big 'ol injury.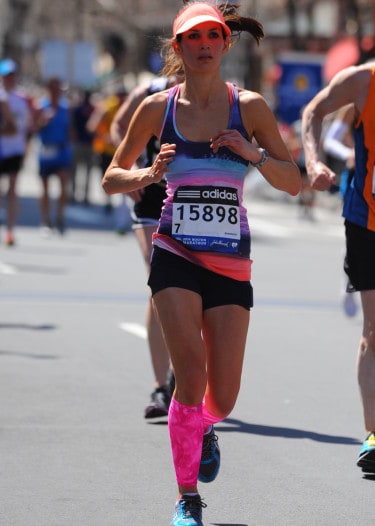 Comeback # 4 – Post Injury
After my severe posterior tibial tendonitis in Sept-Oct of 2013 (I let it go for too long!) I had to take a full 2 months off of running.  During this time I tried to keep a cardio base with spin and the elliptical for 30-60 minutes about 4 days per week, and it's also when I overhauled my eating with the Whole30.
My comeback was unusual because I went right into training for the Boston Marathon in January 2014, beginning from scratch. Although this was NOT ideal, I was so nervous about re-injuring myself that I trained very conservatively, peaking at about 35 miles per week, with no goal other than completing the marathon.  I wound up not only stronger than I'd imagined, but nearly back to where I was the previous year, pre injury.
When I look back on all these breaks and comebacks, it makes me realize how important breaks have been for me and my running both mentally and physically.  I haven't taken any significant breaks from running since that last comeback in Jan 2014, and I feel I might be due for one prior to beginning my marathon training for fall.
Although I don't have a tangible reason to take a break, I feel that even 2 or 3 weeks of no running at all will be beneficial to my upcoming training cycle.  While I DO worry about losing fitness during these breaks (the rigid obsessive runner lives on), history tells me otherwise, since I've always come back stronger, refreshed after each break!
How many running comebacks have you made in your life?
Do you feel you come back to running stronger after breaks?
How do you decide when to take a break, and when it's time to return to running?