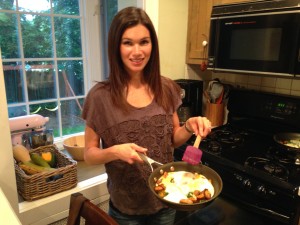 I was recently featured on Good Morning America as a "real person" in a segment on the Paleo Diet. The experience was super cool – especially given that I've only been blogging for 3 months and "Paleo" since last November. Any sort of publicity is a good thing right?
While I was really happy with what they showed of me in the clip (running, my blog, how I'm feeling great) I couldn't help but cringe at some of the other things mentioned regarding Paleo. Yes, it's pretty much all the same misinformation and generalized statements associated with Paleo every time it gets exposure, but I think still worth addressing. Why? Because I think the misinformation deserves to be cleared up over and over again, so people who might be considering this way of eating can make a decision based on reality rather than myth or rumor. I guess that's partially why I wanted to start up this blog to begin with, to show people what it's really like to live and eat this way, and that it couldn't be further from a "fad diet."
Here are the main points that I don't agree with, and of course my take on why they miss what it's all about.
1. It's all about weight loss (bikini ready?) Yes, eating paleo has helped many people lose weight, and of course since weight loss is what Americans want to hear about, weight loss talk is what they will hear. But it is so much more than that. It is about gaining the health back that you might not have even known you lost. It's about looking at food differently, not fearing it anymore and understanding how you react to food mentally and physically. It's about getting back in touch with your body and hunger. It's about gaining energy and saying goodbye to blood sugar induced mood swings. Ultimately, it's about personal growth and health. I believe changes in weight happen while eating paleo as your body rebalances and begins to function more optimally.
2. The motto "If the cavemen didn't eat it, we shouldn't eat it" (it's not just the rationale) Yes, reading the science and history is important, and the first thing that "made sense" to me when I read Loren Cordain's books – The Paleo Diet and The Paleo Diet for Athletes. But My guess is that most people do not stick with this lifestyle simply because it's based on a template of how our ancestors probably ate. The truth is, the world is mighty different than it was back then, and cavemen probably didn't go to Whole Foods often. No leisurely Saturday afternoons at the farmers market either – they were too busy running away from predators and otherwise attempting to survive. Which brings me to another cringe – the "why do what they did they died at 30" argument. It is obviously unfair to use their lifespan as a reason to avoid their way of eating since they rarely got a fair shot at a long life due to accidents, predators, and illness as Mark Sisson describes. It's more than just about the cavemen, it's about treating our bodies as though they are the bodies of human beings, and not, say, garbage dumps. In other words, it's about eating the foods our bodies recognize as food.
3. It's hard to maintain (oh the cooking!) Sorry to break it to anyone who thought otherwise, but eating healthy, Paleo or not, requires some committment and, depending on the size of your family, a whole lot of prep work and cooking. I find paleo cooking to be quite fast and simple compared to the length of time it takes to cook some grains and legumes. Anyway, I personally don't feel that the paleo diet is hard to maintain on a daily basis, and most people who are accustomed to cooking healthy, unprocessed, whole foods are spending time cooking meals anyway.
As for the idea that you can't stick to it when you're out to eat, it's also not true. Ask questions, I mean it's okay to ask what's in a menu item and it doesn't take much extra time. Sure, your food might not taste as good as when you cook your own at home, but this is not a paleo deal breaker. Also, as long as you know certain foods aren't going to make you really sick, it's okay to chow down on something "off plan" once in a while. The paleo police will not pull you over and you will not have to pay them money. You'll just eat the darn chips/ice cream/pasta/whatever and then move on and you can still eat paleo. It's really not a big deal.
4. And to finish "just eat real food" – isn't that Paleo anyway? (and don't you have to cook that too?)
I was surprised that the segment ended with Dr. Richard Besser, immediately after criticising paleo, saying we should eat "real food" like "our grandparents" ate. Hmmmm….I think this might be like almost exactly the modern day paleo diet – especially since nowadays people are figuring out how to personalize paleo to meet their specific needs. The idea of eating "real food" has become nearly synonymous with paleo, so I'm not sure why he didn't catch that inconsistency. Interesting, and maybe just another reflection on how misinformed many people – including health professionals – are regarding this lifestyle. It also seemed to directly oppose what he just said about paleo being hard to maintain due to a lot of work – isn't real food work too? Hopefully more and more people will begin to see that "Paleo" IS real food – real food and real rewards!
What was your take on the segment?