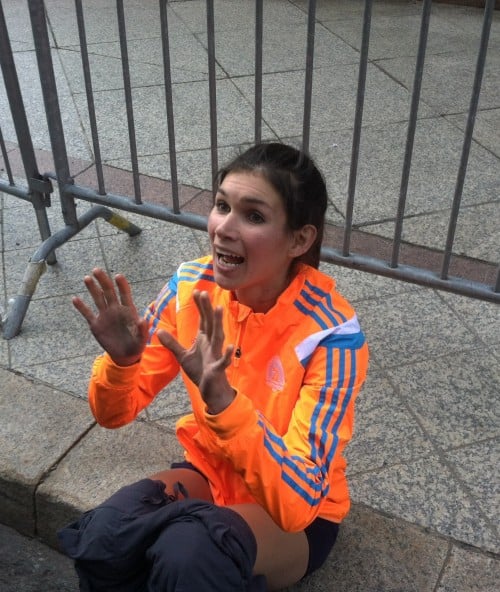 The title represent exactly how I feel about my new shiny marathon training plan, before it actually begins of course. What is it about having a "plan" that makes you feel like you can just about take over the world? I'm completely exaggerating, sort of, but I do get really excited about having a plan. It's all that hope that THIS TIME I will do things RIGHT, and THIS TIME I will make it work. THIS TIME. Great feeling isn't it? We can forget about all our past struggles, injuries, mistakes, and start out our training with a nice clean slate with all the hopes and fantasies of a nice new PR and lifetime bragging rights. Pain is temporary, pride is forever right?
I know that when I look at a new training plan I get that giddy excited feeling that something really cool is about to start. It's just that even though we know we'll be making memories, we don't know if they'll be the kind that make you smile or cringe. Realistically and from my own experience I know that come mid September I'll be doubting my goal, feeling insecure about the plan and about the entire idea of running a marathon to begin with. There's always a point in the training where I start questioning everything. Is the plan too easy? (no) To hard? (potentially) Am I injured and in denial? (could be) Am I one long run away from an injury or do I just need a recovery shake and some foam rolling? (that's just ridiculous) Am I sleeping enough? (no) Will skipping a day ruin my chances at a PR? (no) Do people think I'm crazy? (yes) Am I making the right decisions in life? (maybe)…
Since I know you don't need a preview of the whining and extended drama for weeks on end about my marathon training (I'd rather sneak up on you so you don't expect it) I'll just show you the plan and we can move on.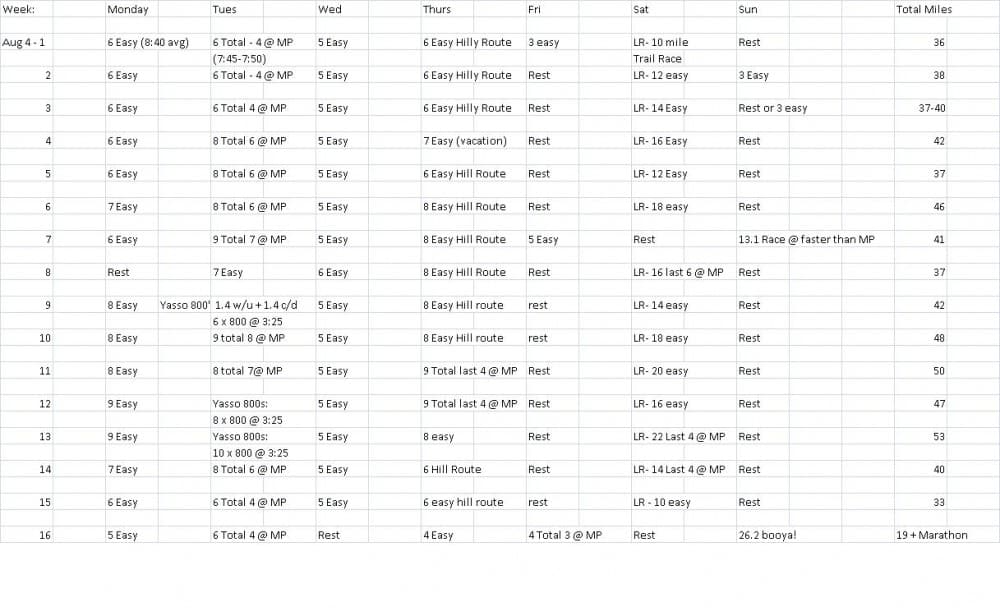 My pace for "easy" runs I plan to keep around an 8:40 pace and 8:30-35ish once it gets cooler out. I'm going to plan to hide my garmin for long runs still! My time goal that the plan is based on is 3:25, which is 4 minutes below my PR from May 2013. I honestly just want to beat my old time, so shooting for 3:25 gives me a few minutes of cushion. If it doesn't happen I won't be crushed, but I really do believe that if I can avoid injury and stick to this plan, it is well within reach. With the exception of the Yasso 800s I threw in there as speed work, my "tempos" will be done at marathon pace or just below, between 7:45 and 7:50. The only race in the plan (uh, besides that trail race that somehow snuck up on me?) is a half marathon in late September, just about halfway through, which I plan to run a bit faster than marathon pace, somewhere around 7:40. I'm hoping that gives me an idea of where I stand at that point.
A few principles I based my plan around:
Hard/easy/hard. I designed the plan with substantial rest around the hard days, including "sandwiching" my long run between 2 rest days. This has worked for me in the past better than a short recovery run the day after the long run. I need the rest sandwich to stay physically and mentally healthy when the long runs get longer. I also alternated weeks of building mileage and then stepping back for this reason.

I made sure not to bring my mileage much over 50 in the peak weeks. I just can't handle mileage higher than right around 50 and it doesn't seem that I need it from past experiences.

I based the plan mainly on my easy run pace because I believe that is the most important factor for endurance during the marathon. I threw a couple of marathon paced chunks of running into 3 of the long runs as well as throughout the week as the weeks go on, to get really comfortable running at this pace. I want to be able to run a 7:50 pace in my sleep!
And a few worries plus an alternative plan:
Something will start hurting. Yes I know that with all this running SOMETHING will start hurting at some point and that it's to be expected. I am not going to be shy about skipping a day or more of this plan to get my butt back on track and avoid injury.
Do I need to cross train? I thought about this, and decided that since I'm not doing it right now, I'll leave it out of the "official" plan and just turn one of the easy runs into an hour long elliptical session if I'm having joint/tendon issues.
Will I be able to keep up my strength work? In the past the answer was no, I got lazy or just too exhausted from training along with life and let core work slide. I'm not going to be unrealistic, but I'd like to keep up with my 80 pushups + daily 2-3 minute plank. It barely takes any time and I need the core strength.
So, let's see how it goes. Somehow I started this post all pumped to start training and now I'm tired just thinking about it! Don't worry, you'll be hearing about it again real, real soon 🙂
How do you feel right before starting a new training plan? Do you usually stick to a plan or change it based on how training/life is going? Were your goals realistic?