My IBS story continues, and today I'll get into how my GI problems progressed throughout my 20's, through 3 pregnancies and the beginning of my running, right up to the point that I'm at now.   If you missed it, you can read part 1 of my IBS story here.
After college, my diet and symptoms remained the same as they had been, with lots of whole grains, fruits, veggies, some low fat and fat free dairy and I had given up on eliminating anything entirely.  The big things that kept coming up in my research on IBS were avoiding fat and foods fried in fat, coffee, and eating several small meals a day.  I avoided fat for the most part because it seemed like whenever I ate fatty foods at a restaurant, I would always have a painful cramping and diarrhea episode shortly afterwards.  I also completely avoided coffee since that seemed to impact me as well.  I was angry at myself if I ate a large meal that led to cramping because I held myself entirely responsible for my digestive issues.  Although I didn't know exactly what would make me miserable, I thought I SHOULD know and getting sick was a reminder that I had a problem that I couldn't control and it really brought me down.  Throughout my early 20's I would have 2-4 episodes of pain and diarrhea per month and daily struggles with painful and excessive gas along with some seemingly random constipation where I would feel like I had to use the bathroom all day but never could.  I tried fiber through whole grains and lots of water and found a way to keep my symptoms pretty manageable for what I was used to.
Traveling
One thing that never felt manageable for me though was traveling.   Every trip or vacation I have ever gone on was marked with constipation followed by pain and diarrhea, up until eating paleo.   I'm not sure if the stress of traveling further irritated an already inflamed gut but I would dread being stuck somewhere in pain and needing to use the bathroom immediately.  My fears were definitely not unfounded because there were two times this happened on trips that I actually didn't make it to the bathroom and this was absolutely horrifying for me.  I have also spent time at aiports and on planes sick and it's miserable, stressful, and embarrassing.  I would try to avoid these issues by limiting what I ate to prepare for a trip, hoping that less food would mean less symptoms and it never worked.  I would eat "bland" food like plain bagels, pasta, toast, dry cereal and at first I'd be fine (usually constipated) but by day 3 of the trip I always got sick.  The last trip I had like this was one month before beginning my paleo diet.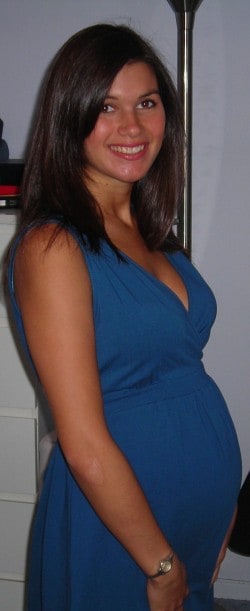 Pregnancy
Each of my pregnancies plus my one early miscarriage were marked by the same beginning – a typical episode of severe cramping and severe diarrhea followed by a day of body aches, fatigue, and mild nausea.  I noticed right away the symptoms were worse than usual.  Each of my pregnancies brought on more severe gut problems in their own ways.  My first was the worst.  In addition to twice weekly pain and diarrhea I had even worse gas on a daily basis that made doing anything – including going to work – feel really uncomfortable.   The symptoms continued right up through the birth.  I eliminated almost everything from my diet except for "bland carbs" like toast, pretzels, plain bagels, dry cereal, etc but every day it was the same thing.  Wake up, try to use the bathroom with varying success, spend the morning feeling okay, eat lunch (plain bagel) and then the gas would really start in and just get worse as the day went on.  I stopped drinking juice, stopped eating anything "iffy" in an attempt to identify the cause and nothing worked.  Every doctors appointment consisted of me reporting the same symptoms and my doctor shrugging and saying "pregnancy can exacerbate IBS symptoms."  I wound up with early labor and spent the last month of my pregnancy on hospital bed rest, sick every day to the point that I lost weight my last trimester.  Stomach pain and diarrhea would wake me up in the middle of the night.  My doctor tested me for bacteria at one point which was of course negative.  They even had the nerve to encourage me to take stool softeners – what?!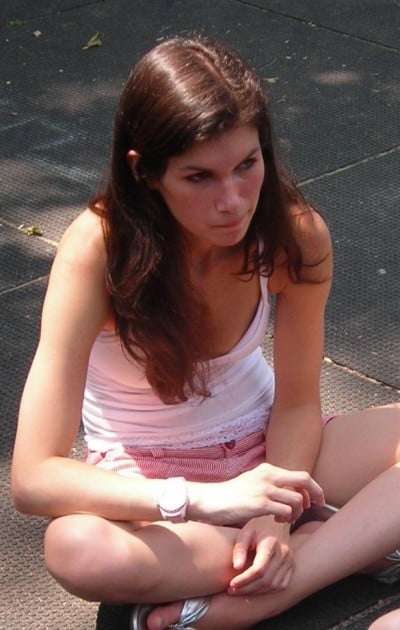 I went back to work when my first daughter was 5 months old and my symptoms increased once again.  I was down to eating only "bland" stuff and having up to 3 episodes a week usually after lunch, occasionally in the car on my long drive after work picking my daughter up from my mother in law's apartment.   Again I saw a doctor because I had lost enough weight that clearly something was going on.  The doctor told me that the stress of returning to work most likely increased my symptoms of IBS and I should work on de-stressing, sleeping more, and playing around with my diet.  It felt hopeless.  Yes, I was stressed and not sleeping and most likely flooded with cortisol but I didn't know how to help myself.  Shortly after that visit I became pregnant with my second daughter, and the cycle started again.  The second and third pregnancies were less severe symptom-wise, enough that I "forgot" about the issue for a while.
Running
One of the reasons running scared me is because any time I tried to run as a teenager, even a little, my stomach would cramp and bad things would follow.  I really wanted to get into it after college and decided that if I could get everything out before running and not eat until afterwards that it might work.  I started running before work every morning and would wake up extra early to make sure I had time to use the bathroom.  I definitely felt pressured and sometimes wouldn't run if I couldn't go to avoid bringing on diarrhea.  Once I got into a rhythm I felt fine on my runs, although my symptoms continued as they had been overall.   Once I started running longer distances I noticed that I'd often have pain and diarrhea after eating breakfast after a long run, but it didn't bother me because it wasn't happening DURING my run.  I always had a big bowl of cereal after my run – kashi golean crisp or some other cereal, bananas, honey, blueberries and almond milk or skim milk.  At this point I had really given up on trying to figure out what variables affected symptoms and just tried to focus on good timing for damage control.
While training for the Marine Corps Marathon in 2013 everything changed.  It started with one 13 mile run where I found myself in pain and needing a bathroom at mile 6.  I had made fried chicken cutlets the night before so of course attributed it to fried food.  Except the next several long runs, even with a pre-run dinner of plain pasta and chicken and no breakfast it was still happening.  I would feel fine and then things would fall apart around mile 8.  At the same time I was developing increasingly painful posterior tibial tendinitis in my left foot/ankle made worse by all the runs I did with horrible limping form as I tried not to poop myself!  Unfortunately I never figured any of it out before the marathon and ran it anyway, both injured and with bad GI problems.
Pinch Me!  It Still Doesn't Seem Real
After that marathon I knew I had to figure things out.  I saw an orthopedist to get my injury diagnosed and treated and planned to take off running for 6-8 weeks per doctors orders.  I got on the internet once again and googled my symptoms.  This time I started paying attention to something I had always disregarded out of plain disbelief: gluten.  I honestly was one of those people who ignored gluten-free hoopla because it was trendy and just seemed ridiculous.  Now I was desperate and willing to try anything.  I couldn't help but notice that all the symptoms of gluten allergy and intolerance – even NON-GI issues were common to me but more notably my dad, and much MORE SO him.  IBS, colitis, migraines, sinus problems, joint pain, thyroid problems, chronic fatigue, and fibromyalgia were all "annoyances" that he dealt with that hadn't really kicked in until he was a bit older than me.  I started to just FEEL that I was on to something and decided to eliminate gluten from my diet in November, 2013.
Since then I have had maybe 2 or 3 of my old episodes in total, one of which was after reintroducing gluten specifically into my diet in a large amount (bagel and toast in one day) after my first Whole30.  Another time was after a night of restaurant eating, and the last was after having a big breakfast and coffee before running.
I did the Whole30 from the day after Thanksgiving through the month of December of last year and it completely changed everything about my digestion.  I've been able to identify gluten containing grains as well as many foods that fall into the FODMAP category as directly contributing to the symptoms I struggled with for so long.  I am not sure about dairy – cheese seems to be okay but lactose may be a problem, just not to the extent that I believed it was for so long.  "Heavy" foods like fatty meats, bacon, olive oil, butter and most fats are some of the best things for my gut and I thought they were a big problem for so long!  High concentrations of sugar bring on symptoms sometimes as well.  Surprisingly, moderate amounts of coffee are totally fine.  Nuts, seeds, and some fruits are somewhere in the middle, leading to some gas and discomfort but nothing like the effects of whole grains and some other FODMAPS.  The ONE TIME I got sick during a run since the marine corps marathon was the DAY AFTER I reintroduced gluten-containing grains as an experiment.
I am a skeptic by nature and always second guessing everything until there's PROOF, but this is beyond enough proof for me.  I just feel better than my best eating as close to a paleo diet as possible.   I look and feel healthier now, I don't struggle with worrying about getting randomly sick and stuck without a bathroom, and my life is just more enjoyable and "free" without having to plan and prepare for getting sick wherever I go.  There may be a time when I want some sort of "official" diagnosis or blood work or medical testing, but for now I am really happy the way things are.  I still can't totally believe that symptoms that characterized my life and became part of my identity are just GONE.
Have you ever done an elimination diet?  Have you had longstanding symptoms that responded to diet changes?