Clean-crafted wine has been my thing lately since discovering Scout & Cellar!  So I figured I had to share with you all the wines I've been turning to the most while hanging outside in the gorgeous weather we've been having.
I wrote another post all about the difference that clean-crafted wine makes in how I can enjoy a glass or two.  Knowing it's grown and produced without all the junk that typically makes me feel unwell is a game changer!
If you're wondering what clean-crafted wine really is, head over to that post to find out!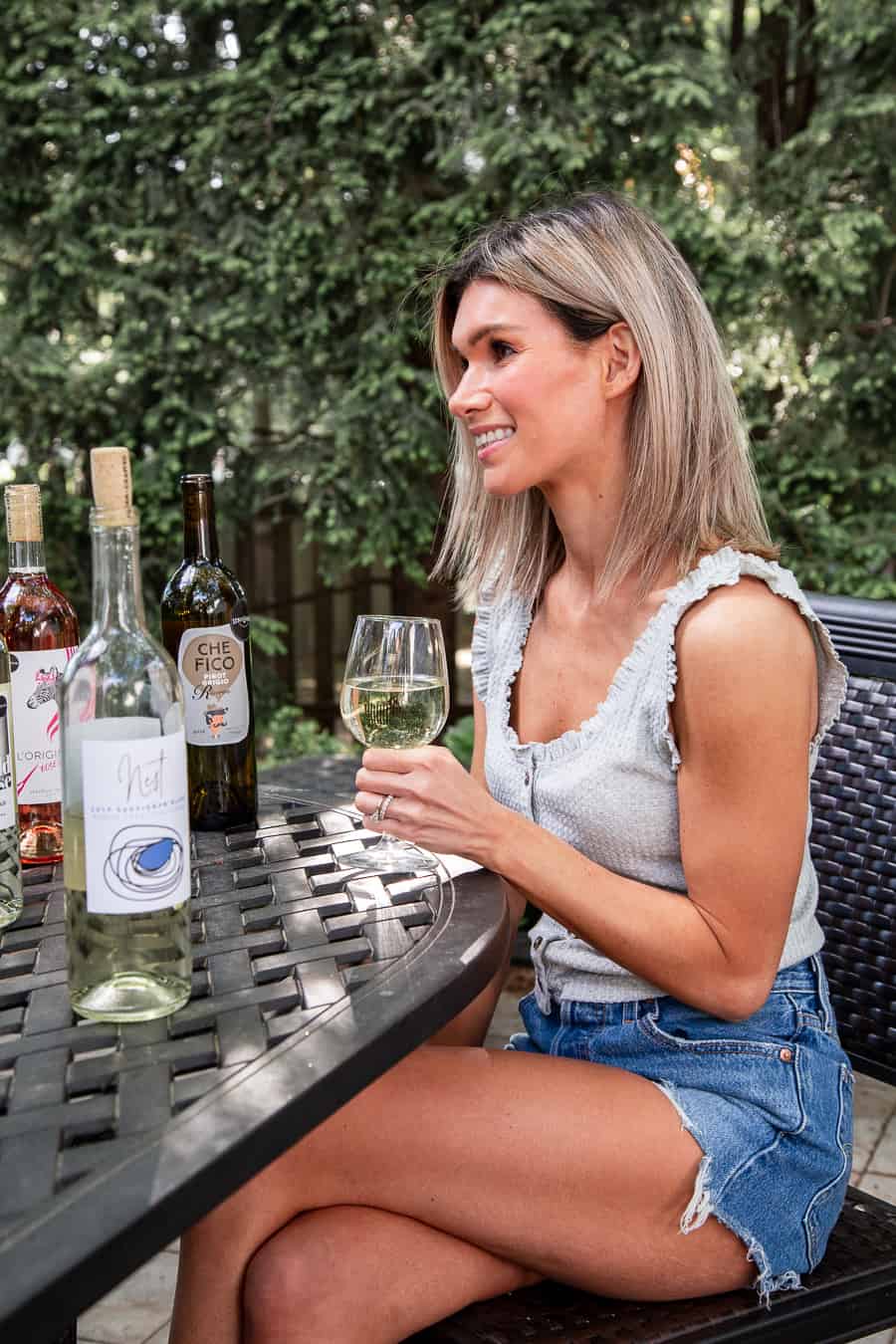 I know I'm not alone in celebrating summer with Whites and Rosés!  I'll share my particular favorites with a short description and a link to the wine.
For those of you not familiar with Scout & Cellar, one of the things I love about them is that you can shop individual bottles à la carte whenever you like!  No subscription necessary.
That said, they also have a great subscription service that's totally optional called Scout Circle.  I'll give you more info on Scout Circle after talking about the wines.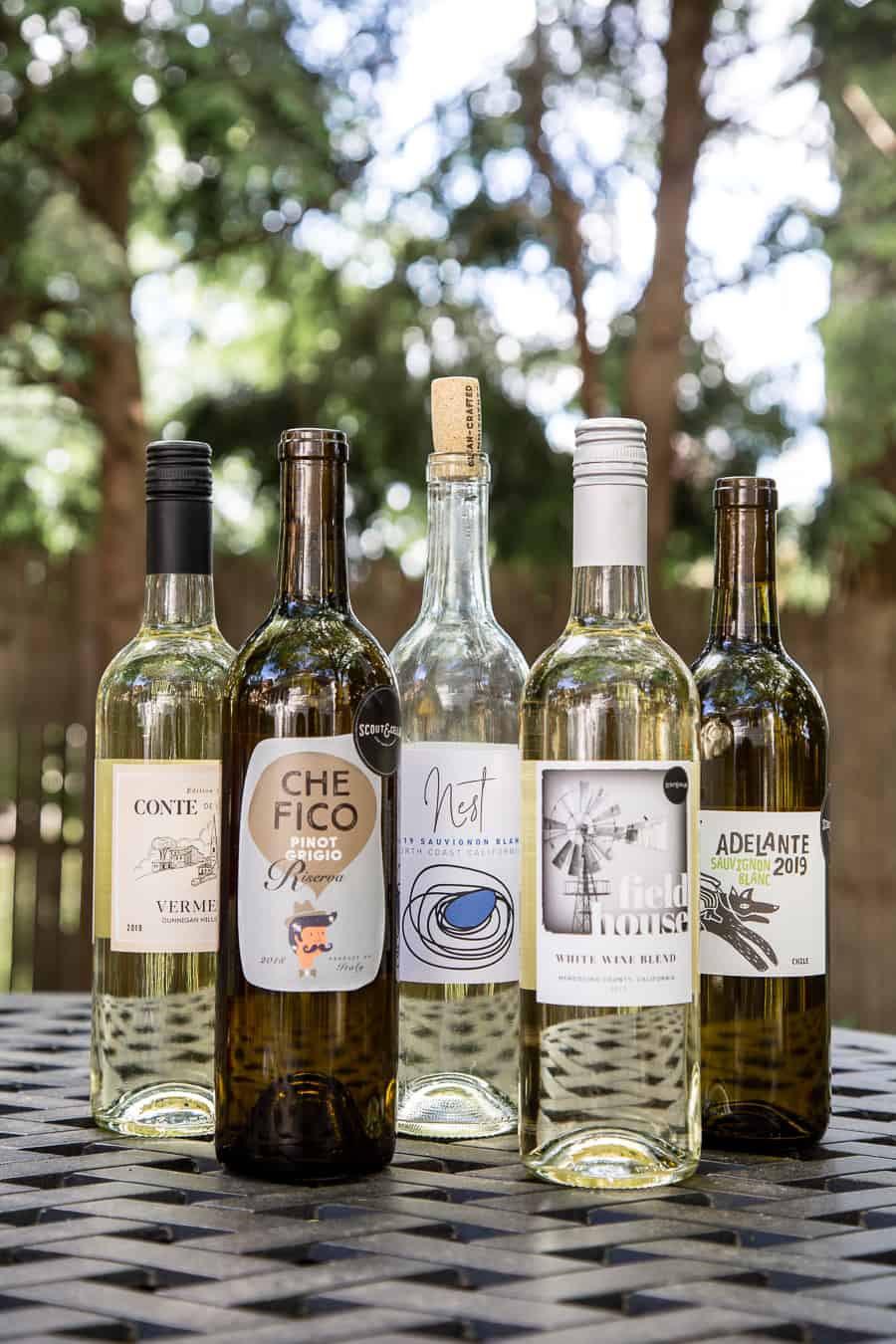 Favorite White Wines:
2019 Conte de la Terre Vermentino  – Fruity and crisp with notes of green apple and peach.  Pairs well with seafood, (especially grilled fish or a citrusy ceviche!) and has .05g/L residual sugar.
2019 Nest Sauvignon Blanc – This one is a Scout Circle exclusive (more on the membership below) so you'd need to join to try it out.  It's earthy and crisp, with notes of lime, peach, and river rock.  Pairs well with mild dishes and seafood that allow the flavors in the wine to shine through.  .05 g/L residual sugar.
2018 Che Fico Pinot Grigio Riserva – It's earthy and crisp with notes of peach, mango and limestone.  This happens to be in my top 3 favorite wines from Scout & Cellar!  It pairs well with Italian food and seafood and has 1.81 g/L residual sugar.  If you like a slightly sweeter wine I highly recommend!
2019 Fieldhouse White Blend – With notes of peach, apricot, honey, pear, and white flowers, this earthy and crisp white blend is so refreshing and summery.  It's awesome paired with soups, soft cheese and seafood.  .5 g/L residual sugar.
2019 Adelante Sauvignon Blanc – This bright, clean Sauvignon Blanc is has notes of lemongrass, green apple and lime.  With a zesty, light-bodied frame and a refreshing finish, it pairs well with shellfish and goat cheese.  1.2 g/L residual sugar.
2019 Fiddleneck Chardonnay – Bright and aromatic with yellow apple, candied lemon peel, ripe pineapple and a hint of fresh-baked bread.   It has a zesty-yet-lingering finish and pairs well with scallops and roasted chicken. .05 g/L residual sugar.
2018 Soleil. Vent. Âme. Sémillon –  Crisp and fruity with notes of fresh-cut mango, green papaya, and nectarine balanced by a textured frame with a refreshing finish.Pairs well with rich seafood – think shellfish or sushi.  1.5 g/L residual sugar.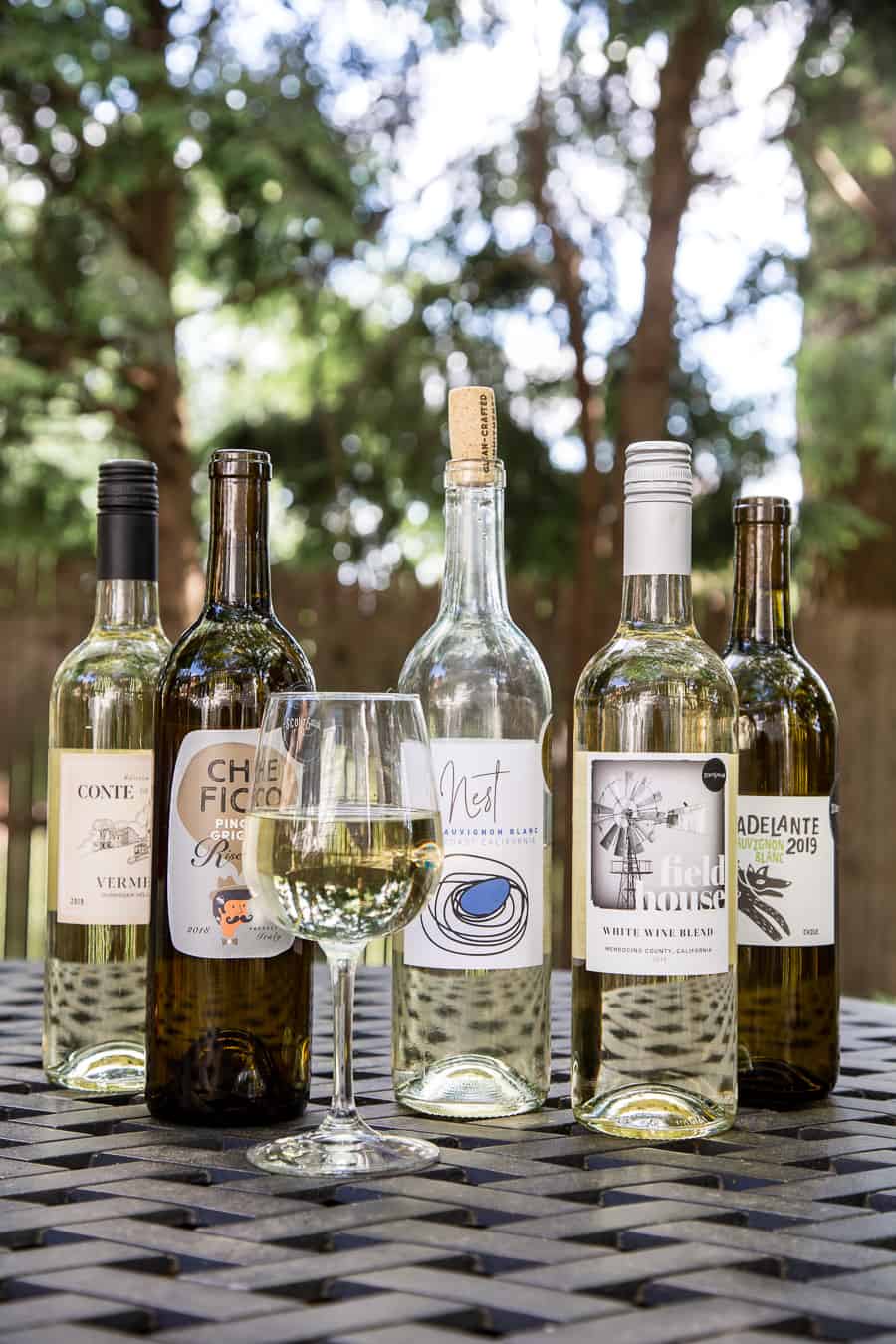 Favorite Rosé Wines:
2019 Gallivant Bubbly Rosé – Fruity and crisp, this wine is 54% Syrah, 46% Zinfandel.   It has bright notes of strawberry, white peach and grapefruit balanced by a subtle minerality with a refreshing finish.  Perfectly paired with any summer celebrations!  .5 g/L residual sugar.
2019 Dove Hunt Dog Rosé –  Earthy and crisp, bright and refreshing with strawberry, red cherry and melon balanced by crushed limestone.  Pairs well with seafood, soft cheeses and outdoor fun!  .5 g/L residual sugar.
2019 L'roiginale Rosé – This one is 60% Cinsault, 30% Grenache, 10% Cabernet Sauvignon.  It's the driest of the rosés I've tried and I love it!  Notes of wild strawberry, peach, honeysuckle and white flowers.  Pairs well with veggie crudité, most cheeses and backyard time!
2018 Fieldhouse Rosé – Fruity and crisp, this wine is 80% Zinfandel, 15% Syrah, 5% Grenache.  Wild strawberry and rhubarb on a textured palate of tart cherry and orange blossom.  Pairs with salmon, pesto or a bruschetta bar. <0.5 g/L residual sugar.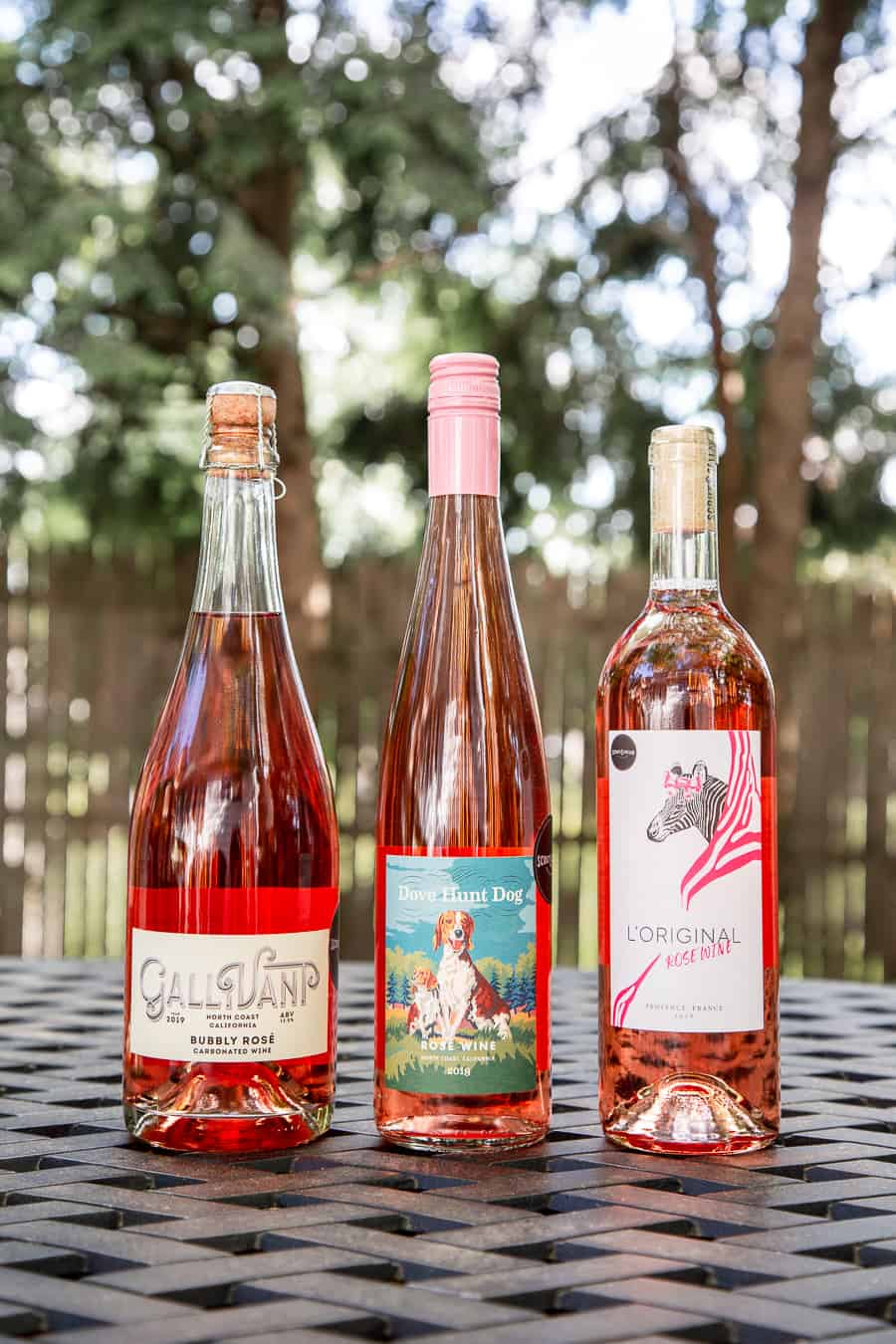 Scout Circle: Scout & Cellar's Wine Subscription
Signing up for Scout Circle is a great way to get free shipping on your wine PLUS try out circle exclusive wines that aren't available otherwise!
You have the option to choose how many bottles of wine you want, how often you receive them, and whether you receive mostly whites, reds, or a mix.
For example, my subscription is for 6 bottles of wine, a mix of whites and reds, received bi-monthly (every other month).   You can choose 4, 6, or 12 bottles monthly, bimonthly, or quarterly.  There's no commitment and no penalty for cancelling if you decide you no longer want the subscription.
In addition to having a Scout circle membership, I can still shop a la carte whenever I feel like it!  I like having both since it's a fun surprise to see which exclusive bottles I get to try.
Shop More Clean Crafted Wine Here
Become a Scout & Cellar Consultant – Join My Team!
I became a Scout & Cellar Consultant because I fell in love with the wine itself!  I love that they make it so easy for everyone to enjoy healthier, clean wine that complements a paleo lifestyle.
What else do I love about being a consultant?   As a consultant you earn money on your own purchases!  Clean-crafted wine delivered to my door PLUS a little extra $?  Sign me up!  If you're interested in joining my team, email me at paleorunningmomma @ gmail . com for more info!
XO (and happy sipping!)
Michele