Some things are just too scary to let your mind even go there.  I'm not talking about BIG scary things, like tragedy level or anything, but rather all the rest.   You know you have these fears because when you're confronted with a tiny glimpse of one of them, the panic sets in, and you realize there is so much you take for granted that can go so terribly wrong.
Thanks Amanda for the Thinking Out Loud link-up!  And now to embark on some of my worst fears along with, well, not sure what else yet.  This is TOL after all.

Big Fear #1
My phone falling in the toilet.  
I know, you just choked on your breakfast at the thought of this really happening.  Extra points if it's a public toilet, extra extra points if it's a port-o-potty, like at a race.  I think about this before every race when I use the bathroom, but it hits me in my own home too.  Just so bad if that were to really happen.
Big Fear #2
My blog disappearing.
There were a couple of times when my site went down inexplicably.  While Bluehost was oh so nice and patient in fixing it, and I do "trust" them (as much as I can trust anything tech related which I don't understand) the thought of all this work disappearing freaks the hell out of me.
Big Fear #3
Anything breaking that will cost more than $500 to replace.
Extra scary if it will cost more than $2,000, extra extra scary if it's my car.  So scary, I'm shivering.
Big Fear #4 
Being scammed by service men.
To my knowledge I have caught every service man who has attempted to scam me, and it has been many.  The key thing to look for is the scare tactic they usually use, like "you have a fire hazard, now pay me $1500 to fix it."  They are really scum if they throw your first name in there as in "I'm not okay with leaving you and your sweet children here with this fire hazard Michele.  It will be 1,500 to fix it."
Anyway I can go a bit overboard in the paranoia department with these guys because of this fear, like I did recently with the poor guy who came to fix my oven when the power was flickering.  Turns out he was not scamming me and fixed my oven at a reasonable price.  I will now be forever indebted to him and bake him Paleo muffins in my now perfectly functional oven.  Still, I have this fear.
Big Fear #5
Being sprayed by a skunk while out running.
I have always been afraid of skunks after reading a book as a child about someone getting sprayed by a skunk.  I actually saw a skunk outside while running Monday morning and froze dead in my tracks – very unlike me in the middle of a run.   It was trying to go back underground or wherever it came from and the snow was blocking its entrance.  After stopping, my adrenaline kicked in and I hauled ass so fast up the hill I was on I nearly puked.  That's a stupid (and big) fear right there.
Speaking of winter running, I realized something during the 5th minute of getting my layers on this morning.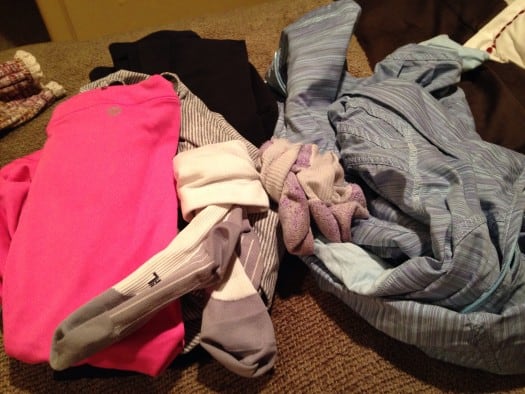 I realized that it only takes 5 minutes to drive to the gym.  Which means that if I had just put on one layer I could have been already at the gym parking my car.  One of my thoughts on running outdoors is that I'm saving time by not driving to the gym, but the time spent layering up negates that whole thing.  Especially when the windchill was zero, like this morning.  Two pairs of socks, two shirts, a jacket, a neckwarmer, gloves plus mittens, a hat, the headlamp. Yeah, not saving any time there, so I might rethink the days that running outside requires this much layering.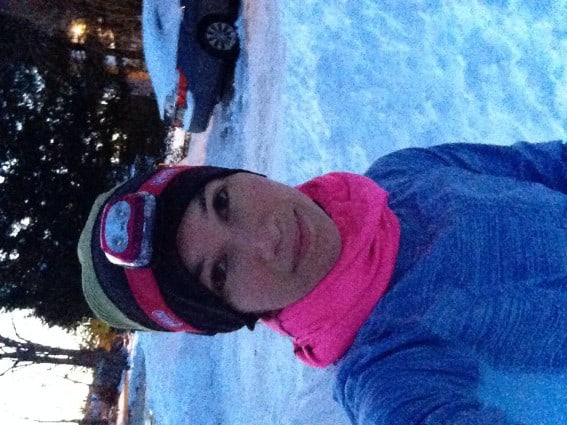 It is pretty though!  At least after my run when it's getting light out.
Something else I've been thinking about since my race on Sunday, is motivation versus good old stubbornness.  I think most runners have noticed that the two have sort of a strange and intertwined relationship.  What I've found, is that some of my motivation to run is always out of stubbornness to avoid "giving up" whatever that really means.
Well, here's some of what it means.
I find that when I face a challenge that could potentially interfere with my running, like a snowstorm, sick child, super cold weather, or scheduling issues,  I wind up feeling motivated to run more than on any average day when there's no challenge.   If I feel I won't be in control and will be forced to rest, like that icy morning last week, I fight harder to be able to run.  Yes, I'm more motivated and it's actually a good feeling, but it's also part of being rigid and stubborn and not wanting to accept defeat.  Raise your hand (or comment) if you can relate to any of this!
I would bet that many consistent runners have this trait, and if you have it but don't run, you might want to consider running!
Now you're turn to think out loud! 
What's one of your biggest fears?
Motivated, stubborn, or both?
Do you feel extra motivated when challenged?