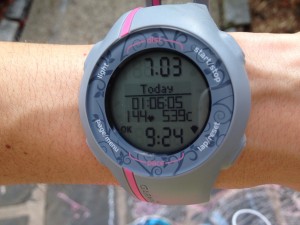 Just in case you needed another reason to call me crazy, I'm going to talk about something I like to call "sick denial" and "sick shame." I know I'm only human and I know there's no ACTUAL reason that I should expect to not get sick, especially considering what I put my body through with running, parenting, and a generally intense disposition. BUT, honestly, I don't like it one bit. There is a part of me that does not like admitting weakness, especially when that weakness involves my body. I guess this is somewhat linked to the body image post I did last week, in that I have a hard time accepting my body's limits.
As a kid, getting sick freaked me out. I wanted to know HOW and why a person gets sick, like the biological processes that lead to it. I wanted to understand what it meant, and between the ages of 6 and 10 I became absorbed in biological science, trying to understand how the body works on the inside. During this same period of time, I struggled with a few different types of digestive issues that were never thoroughly addressed and definitely not figured out. Don't eat apples, don't eat dairy, don't eat greasy foods, calm down. Physical weakness is a topic that has plagued me and fascinated me. As I got older I learned to associate illness with weakness and shame. Not to get into too much detail, but both of my parents each had different attitudes toward their own health that influenced this feeling of shame, and, eventually, active denial.
Over the years, my avoidance and denial of my own various health issues lead me to look down on people who visited doctors, secretly feeling like they were somehow telling me that they were more important than me just by seeking out help for their symptoms. I started to feel like maybe I wasn't worth the attention and if I wasn't worth it, then I was going to pretend I didn't need it to begin with.
During my pregnancies I focused only on how the babies were doing or symptoms that I felt reflected the health of the pregnancy rather than my own health. Postpartum, I denied my struggles with depression, anxiety, and extreme exhaustion and refused to ask anyone for help of any kind. I oscillated between feeling like I didn't deserve the help, and feeling like I shouldn't have to ask for it in the first place. I felt that I should have been stronger on my own.
My running has been pivitol in finally helping me confront all this ridiculousness. I have learned the hard way that you can't expect to train through illness and injury and come out okay. As in a 3 week bout with bronchitis and a sinus infection that could have just been a 3 day sniffle, plus an injury I ignored for over a month that wound up keeping me up at night with the pain. It has been humbling and eye opening, to say the least!
But still, at the first signs of illness, denial kicks in. I was feeling a little too proud that I didn't catch the miserable cold that the rest of my family had last week and is still getting over, until I woke up this morning with a sore throat. I kid you not, despite all signs that I am, in fact, getting sick, in that moment I honestly believed it's "a fluke", that running will make me feel better and that maybe I just didn't sleep well enough, or the air conditioner dried out my throat, or that the BEST thing I can do for myself in that moment is get up at 5am and go for a 7 mile run in bad weather. This is how my brain works. The difference is that now, I realize after the fact that a sore throat means I need to rest. So I will, tomorrow. Promise.
Since we're on the topic of denial, lets see what other denial gems I have up my sleeve. I'll keep it running related since I'm really good at those.
I am just as fit as I was a year ago. (Sadly, just no)

I don't need "rest weeks" (I need them but don't like the idea, and haven't figured out when and how to fit them in)

I always "listen to my body" (I try, but I am not good at this yet)

Running is the healthiest way to stay fit (Running is the way I like to stay fit, not necessarily the healthiest)

Races are not that expensive (You're laughing now I'm sure)

Running shoes are not expensive if they're on sale ("sale" is relative)

I don't have that many running clothes (Haha)

I need to run 40 miles per week when not marathon training (I'm afraid of losing fitness and not getting it back)

I will still be running marathons when I'm 65 (Realistically, that's over 30 years away. Seriously)

I will always love running (This is a big one. I am afraid that one day I just won't, and then what?)
What are some of your own "denial gems"? How do you react when you feel like you're getting sick?