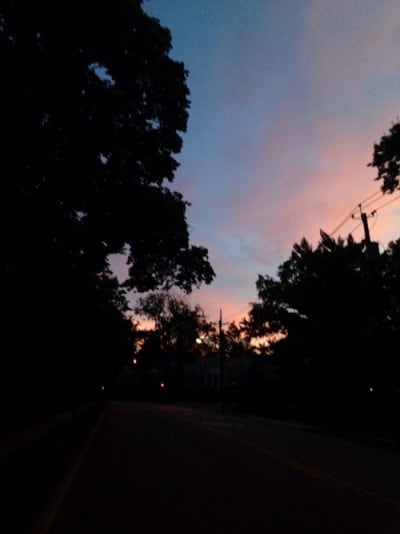 Did I even run this week?  Sure this was a "down" week in my training plan but with all the daily life back-to-school stress/chaos I haven't been paying attention to my runs enough to even remember them.  They've definitely happened – the evidence is in the laundry – I've just been going through the motions, literally, and the rest is a blur.
The most notable part of the week has been that it's now really dark outside when I leave and I've gotten the headlamp out, replaced the batteries, and started thinking about reflective gear.  By the way my headlamp, the Petzl E91 PF Tikkina 2 Headlamp, French Rose, is now 2 years old, going strong, and has never once given me a problem.  Hands down this was the best running purchase I've ever made, because it's allowed me to SEE and BE SEEN while running in the dark, which really is half the year and feels like a huge part of my training.  It's gotten tons of use and couldn't be easier or more comfortable.  I normally wear it on my head but it adjusts to wear around my chest as well.  
 Worth every penny if you run early or late!
So yes, stumbling through the dark pretty much sums up my training this week, and most likely next week too, but for a little more detail (and to jog my own memory) I'll go through the daily stats.
Mon: 6 miles easy pace, no garmin
Tues: 6 miles easy pace, hilly route, no garmin
Wed:  5 miles easy pace, no garmin
Thurs: 8 miles total, 6 @ MP (a bit under) splits were 8:42, 7:46, 7:38, 7:39, 7:43, 7:49, 7:36, 8:03.
Fri: 3 miles easy pace, no garmin
Sat: Planning for 12 easy pace
Sun: Rest
I changed my plan in 2 ways, minor I think.  The first was the tempo run day switch from Tues to Thurs, based on the weather being really hot Tues and also not feeling recovered from my trip and weekend yet.  It worked out well and even though I was dreading the run (like I do with every tempo!) I wound up feeling strong.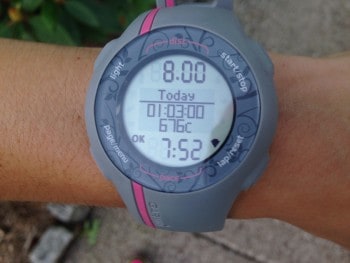 The second change was adding 3 easy miles on Friday when I planned for a rest day.  I'm feeling fine and even though it's a lower mileage week I felt like I only needed one complete rest day instead of 2.  Probably more for my sanity than anything else.  The weekly mileage should total out at 40, assuming nothing gets in the way of my Saturday 12!
Even though physically everything seems to be working well, I've been dealing with some time-goal-self-doubt lately.  For some strange reason I never felt this the way I am this time around.  I think without realizing it I've put more pressure on my time for this marathon than any other.    Maybe part of it is because I'm blogging about it, part is I'm now a running coach and I want to feel "legit" and part of it is that I want to feel like this whole running thing is really worth the time I'm putting into it.  For a long time it was good enough for it to just be a hobby, now I think I am starting to feel a little pressure to improve, or PROVE to myself that I can in fact, improve.  This anxiety is coming out in the form of doubting that I have the ability to run a 3:25 marathon.  In fact, during most of my runs I tell myself that my REAL time goal is another BQ, and not to worry about anything beyond that.  I guess I'm conflicted.  And no I'd be completely lying if I said I just want to get through happy, healthy, and uninjured.  That was last time, I succeeded, and now I want a faster time.  Sigh It sure is fun living inside my brain sometimes, can you tell?
Next week jumps back in with more miles (46) and I'm curious to see how I feel by the end of Sunday.  I also have a half marathon 2 weeks from this Sunday, which will give me an idea of how I can hold a faster pace over a distance.   I still haven't completely decided how I want to run the half, definitely faster than MP but also not as if it's a goal race, since I really, really don't want to hurt myself!  I'll be thinking about that too over the next week or so.
Do you doubt the time goals you set for yourself and how do you deal?  How important are time goals versus the goal of coming out healthy?  What races are you training for?