I have marathon training on the brain, oh yes I do.  How can I not when I'll be training for my dream race – the NYCM this fall!  
As you guys know I'm away for the week in Seattle, and I've recruited some fabulous guest posters to help me get my life together share their best running and health tips with all of us.  First up is Gretchen – she's been running since she was 8 years old and has raced everything from the 800m up to the marathon, so, please, let us all take in her wisdom!  Thanks so much for taking over today, Gretchen! 
4 Marathon Training Mistakes NOT to Make for your Next Goal Race
Hi everyone!  My name is Gretchen, and I blog over at GretchRuns.  I'm so excited to be filling in for Michele today and will be sharing what NOT to do when you're training for a full or half marathon.  I've run two full marathons and tons of half marathons in the past three years, and have definitely learned the hard way that my way of training did not work.  I hope that my awful race experiences will help you avoid the same mistakes and have a successful race day!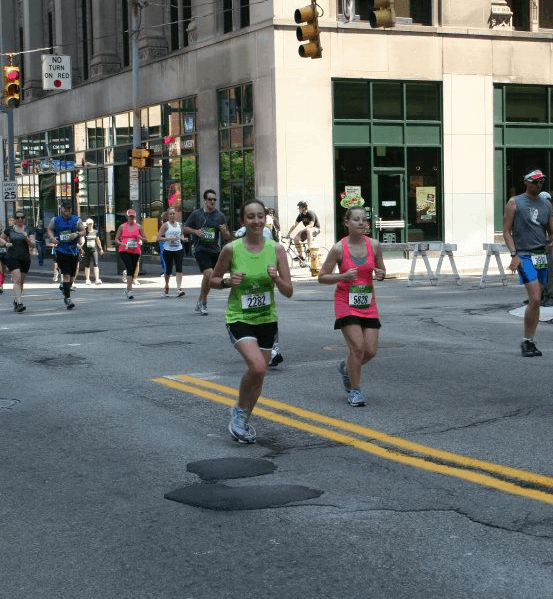 Mistake #1: Skip your long runs.  This is definitely the biggest issue I had with my training in both of my full marathons, as well as my half marathons.  When I trained for my first full, I was a college senior and the last thing on my mind was going out to run two or three hours on a Saturday morning.  I figured that my other runs during the week (5-10 miles) would make up for this, but it definitely did not. 
Why is it important? : Marathons are mentally and physically tough.  Getting in runs of 20 miles or more leading up to your race not only trains your body to go that far, but also mentally prepares you for the race.  At mile 16, I knew I had 10 more miles to go, but had never run that far in training.  I didn't know if my body could physically go that far, and it made me completely shut down and end up with a lousy finish.
How to fix it : Basically- just do it!  It might be tough to convince yourself to wake up at 6AM on your day off of work, but it will pay off on race day.  Re-arrange your schedule to have your long run  on your least busy day, and just get out there!  If you stick with this mindset from the beginning, the extra miles you add each week won't seem intimidating.  Running your longest run of 20 miles isn't so bad when you ran 18 the week before, but jumping from 15 miles to 20 is really tough and could end in injury.
Mistake #2 : Run all of your miles on a treadmill/trails.  For my first half marathon, I trained exclusively on a trail by my apartment.  I also ran on a treadmill when it was too hot, too cold, too rainy, too windy (basically any day other than a perfect 60 degree day!)
Why is it important? : Running miles upon miles on roads can be really hard on your feet, ankles and knees.  A few miles into the race, my entire leg was aching so much that it felt like I had broken something.  The soft surface I was used to running on did not prepare me at all for running 13 miles on a road course.  Even if you set your treadmill on an incline, it still doesn't completely mimic training outside (think of all the elements we deal with as well as changing elevation!)
How to fix it : Get some miles in on the road.  Even if you can only do your long runs out on the streets, it will help!  I've heard of people who can train exclusively on a treadmill, but for me I need to get in some miles outdoors. 
Mistake #3 : Run, Run, Run, and nothing else.  Up until this year, I only ran as part of marathon training, and neglected to do any kind of cross training at all.  Not surprisingly, I got injured, and felt really weak during races and on my training runs.

Why is it important? : There are SO many benefits of cross training, including injury prevention, active recovery, and improved fitness.  Plus, it's just fun to add different types of exercise to your plan and keeps things interesting!  I got tired of running halfway through my marathon training cycle and started skipping workouts simply because I felt burnt-out and unmotivated.  I could have prevented that by switching it up with other exercises.
How to fix it : Spend one or two days a week getting in an activity other than running!  My favorites are spinning and yoga (which we know that Michele enjoys as well!).  My gym offers a lot of different classes, so I like to try them out to keep my muscles challenged and have fun!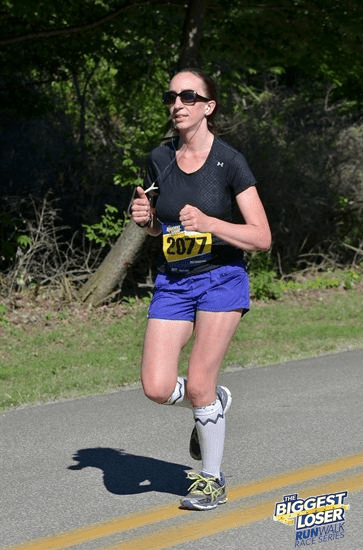 Mistake #4 : Ignore the race's elevation charts.  Living in Pittsburgh, I can't really avoid hills when heading out for a run.  I have other friends who live in flat areas like Chicago or the midwest and only train in flat areas.  Not surprisingly, when we run races that have different elevations than what we're used to, we end up in pain and with lousy races.
Why is it important? : Uphill, downhill and flat running all use different muscles.  When we train our body to run a certain type of terrain or elevation, it can be hard to switch during a race.  A few weeks ago I ran a flat half marathon course after training solely on hilly roads.  My entire left leg was completely shot halfway through the race, just because my legs weren't accustomed to running on a flat road for 6 miles straight, let alone 13.1!
How to fix it :  Luckily, most races provide elevation charts online, or include a course map.  In training, try to match the course's elevation as much as possible.  For hilly races, try adding hill repeats for your speed workout, even if the only "hill" in your area is a bridge!  End your long run coming up a long hill to mimic the fatigue you experience during a race.  Even better- if you're running a local race, train on the course! 
What were your biggest training mistakes?
Who is getting ready for marathon training?  What race?
What's your favorite cross training activity?  How has it helped?