What am I thinking about today?  That's a tough one.  I'm thinking about nothing and everything all at once.  My mind won't seem to slow down enough to allow me to grasp at a thought long enough to decide if it's something worth slowing down for.  It does seem that right around mid week is when I need to take a breather and figure out what I'm actually doing as I'm rushing around trying to "do it all."  Always seems like the perfect time to link-up with Amanda to let ourselves "think out loud."

1. I'm thinking about my knee, A LOT.  Too much really, considering it's feeling a lot better than it was last week.  I think I am now taking all my anxiety and doubts about my ability to run my time goal and putting it on my knee.  That's not fair to me or the knee I suppose.  I'm icing it like a maniac and my kids keep asking me if my "boo-boo" is better yet.  I'm like, "well, yes, it is, but mommy will be running a marathon soon so mommy wants to make sure it's extra-better."  They're like, uh, yeah mmkay.   You just keep icing but don't tell us band-aids are only given out for blood.  I know this means I'll be doling out band-aids like whoa-4-life but I just have to make sure my knee remains calm!  Notice how I am telling my knee to "remain calm."  I have totally projected an entire life of worry onto my left knee, it's actually sort of amusing.  This is why I love psychology.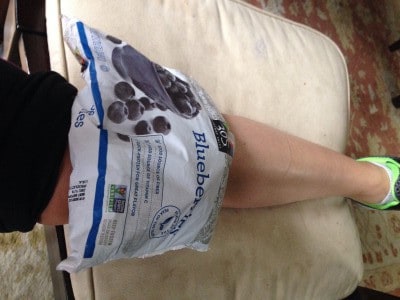 2. I'm thinking about courage.  I've spoken about being really afraid of not trying my hardest for something.  I fear that more than fearing failure.   Ever since running Boston last April and feeling like I could have done better in different circumstances, I've put pressure on myself for this upcoming marathon to be THAT performance.  The one where I not only try my hardest but I see the results I want and have been working toward.  It has become about proving to myself that I haven't "peaked" yet and I still have PRs left in me.  Tina's article about staying motivated made me think about this.  The truth is that I might NOT have a PR in me right now, and that is not necessarily a bad thing!  I can't say I won't be disappointed if I have a bad race, but I am working on shifting my perspective and facing my fear.  I'm working on gathering the courage to give it my all and not let fear of failure hold me back in any way.   I love running, pushing my body to its limits, and time is a secondary factor in all of that.  Running is not my job, running is my joy.  I want to focus on having the courage to be the runner I am TODAY – and to let that be enough.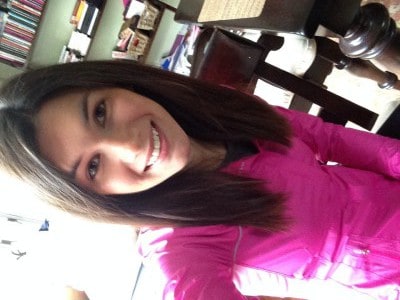 3. I'm thinking about this little fever baby!
She has had a rough time for the past week with a really persistent fever and cough.  We have done some MAJOR couch bonding and it's been special, but I can't help but be the anxious mom who is just thrown off when the kids are sick.  My other two just have colds, but this hit her really hard.  Any moms out there who can't even begin to relax when there's a sick child in the house?  That's how I've been all week.  She's requesting to figure out a muffin recipe to put on the blog later today (I'm not kidding she really requests things like this,) so hopefully that will go over well and bring a little distraction to our day.
4. I'm thinking about winter running gear!  Can we all just take a moment to admit that at least PART of the reason some of us (hint, me) love running in the winter is because of all the awesome winter running gear?  Well I'll be the first to admit it.  There is something about buying a new pair of running gloves, an earwarmer and/or hat, some good cold weather compression tights, and fun pullovers or jackets that's better than all the winter holidays combined for me.  Good memories of running in the winter!  I also love that I sort of have a built in excuse not to do speed work in the winter – it's icy and snowy – and that getting out and running in the most time I'll usually spend outside.  Also that running is maybe my most favorite way to stay warm in the winter.  I get really cold just sitting around in my house 🙂
I want these things!  But holding back to see what I actually need…nope not fun but very necessary. 
What's on your mind today?  Anyone else want ALL the winter run gear like I do?  Anyone's kids sick with one thing after another lately?