Ahh, recovery.  I'm usually not the best with it but I knew this time would be different.  I didn't take any break getting back into running after Boston last April, and by the time the taper came around leading up to Philly I was ready to be relieved of the pressure of training, both mentally and physically.
My soreness was completely gone by Thursday, which is typical for me post-marathon.  After the two previous  marathons that I finished un-injured, I went for my first easy run after just 2-3 days of rest and built my training back up from there.  In retrospect that seems rushed to me now.  I wasn't planning to run at all for at least a week this time, tentatively planning that my first run would be this coming Monday.
After my husband suggested going for an easy run the morning after Thanksgiving around my parents' house, I decided to go for it since a) I never get to run with him since one of us normally has to be with the kids (ya think?) and b) he runs easy at a pace of about a minute slower than my typical pace, and I figured this would actually be a great way to go for a TRULY easy run without any incentive to move faster than I should be.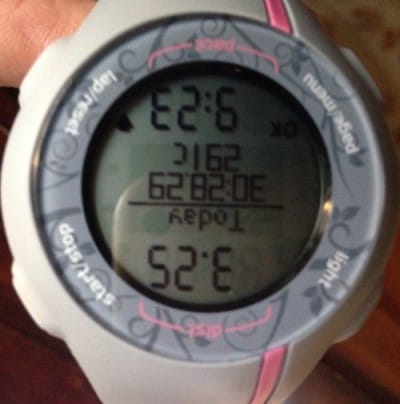 The run was really relaxing, fun, and special being that it was with my husband and also around my childhood neighborhood.   Even with a slowed-down pace I was feeling the effects of fatigue from the race all over my body!  We covered 3.25 miles and by the end I started to feel the tight spot in my knee flare up a bit, so it was good that I didn't go any further.  It was in the upper 20's, and I've noticed that my knee seems to act up in cold weather.  I'm still not sure how I didn't feel even a twinge in it during the 26 miles!
My plans right now running wise, are to start up again really slowly for the next couple of weeks.  I'll probably run when I feel like it 4-5 miles easy and if my knee starts bothering me take a few days off.  I see myself topping out at maybe 25 easy miles over the next few weeks, and probably less than that in the next week.  I'm actually going to DO that "reverse taper" that coaches often speak about.  It's such a different feeling than I've had in the past, when I just wanted to get back to where I was ASAP without considering what was healthy.   I would take the feeling of exhilaration after the marathon and use it to attempt to step up my running to another level without stopping first to evaluate the big picture.  Now, I understand that to preserve my love for running, I'm going to need to take bigger post marathon breaks and ease back in slowly.  I don't have any desire to do any cross training or strength work right now either.  I just need a good old break from intense exercise (or moderate even) of any kind.
I'm signed up for one race at the end of January – a half marathon in central park in NYC. This was my first half marathon 2 years ago and I have great memories of it.  It's hilly since it laps central park twice around, to the point of being challenging yet completely doable and not overwhelming.  I definitely do not plan on "racing" it, but figured it would be a good way to get my body back into longer distances, since I don't see myself doing weekly runs in the double digits for at least a few weeks.  It will most likely be the longest distance I'll run during this period of time.  After Boston, I decided to jump right into a couple of 10k's within just a few weeks, which mentally put more pressure on me than was necessary during that time.  I'm realizing that after putting so much effort and focus into training for one thing, I just can't continue on with that mentality for too long without experiencing burnout.   Burnout is the enemy!
Longer term plans, definitely do include strength training and speed work, if only to get my leg muscles stronger to avoid the tendon issues that seem to pop up for me as my training gets more intense.  I don't believe it was a mileage thing this time around, but rather adding too much speed/tempo work later in training without building up to it.  I also did not do any strengthening in my legs, but rather focused on core work.  I'm now understanding the need for better quad strength specifically if I'm going to involve speed work and faster running in my training more often.  Long term, I still want to run faster and experiment with different approaches to training.  There will be no marathon in the spring, but I do hope to run a 5k, 10k, and another half marathon between maybe March and May.  But of course these are all just rough plans as I'm thinking ahead.  My short term plans are really just to enjoy myself and my mornings, now that I don't HAVE to get out the door at 5:30.  I've  been really enjoying my cozy early mornings this week!
When do you start making running plans after a goal race?  How long do you take to ease back into training after a marathon?  Any winter running plans/races to share?