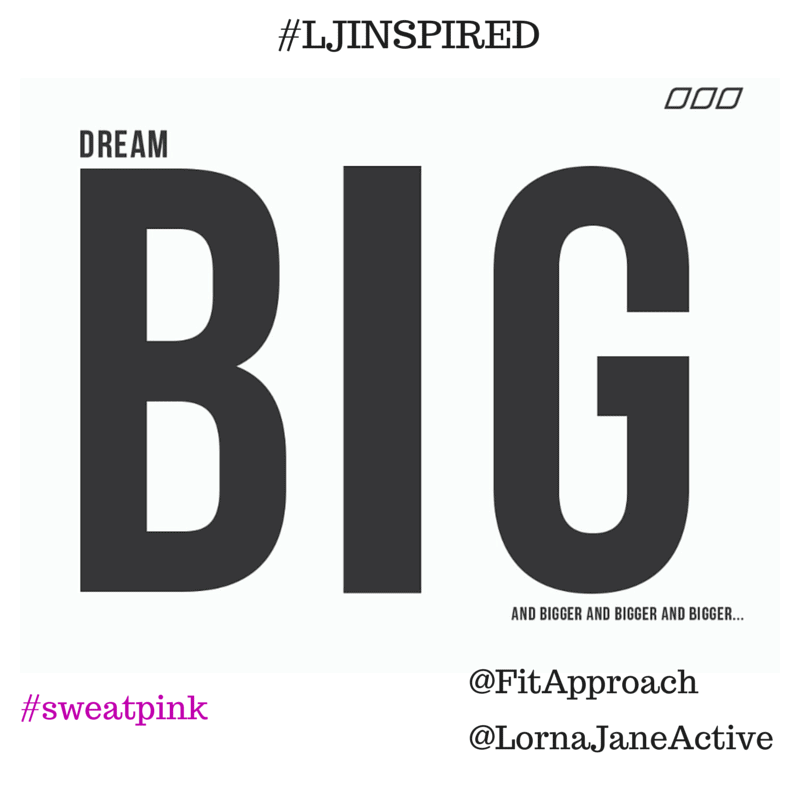 I am honored to have been selected to celebrate the release of Lorna Jane's new book, Inspired.  This post is sponsored by Lorna Jane.  All opinions are my own.  
To kick off the start of the 5 day #LJInspired Instagram Challenge, I'd like to first share some thoughts on my own vision of living an inspired life:
I believe that the key to a happy life is communicating with the world with an open mind and heart.   Keeping an open mind and heart in all my important relationships inspires me to be the best version of the person that I am today. I am lucky to have my husband, 3 children, parents, and sister in my life because each of them inspires me to live life to my fullest and to chase my dreams.
My dream is to one day run my own successful business, bringing meaning to people's lives and helping them live to their fullest potential.   Even if it takes years of facing my own fears again and again, I know I'll get there because the one thing I'm not afraid of is to dream big!
While I dream big, I hope to inspire others by sharing the highs and the lows, the moments of pride and defeat, of sheer joy and deep insecurity, because above all I believe that we need to be honest with each other in order to truly inspire one another.
I'd love for you to join me, starting today, Monday, July 13th, for a fun 5 day #LJInspired Instagram Challenge hosted  by @FitApproach & @LornaJaneActive!  Follow me on Instagram  and participate in the prompts so we can all share our dreams with one another 🙂
 Here are the daily prompts:
 Day 1 (Monday, July 13th): How do you dream big? #sweatpink #LJInspired @FitApproach @lornajaneactive
Day 2 (Tuesday, July 14th): What's your fave healthy swap? #LJInspired #SweatPink @FitApproach @LornaJaneActive
Day 3 (Wednesday, July 15th): Who inspires you? [Tag 2-3 friends!!] #LJInspired #SweatPink @lornajaneactive @fitapproach
Day 4 (Thursday, July 16th): What does happiness mean to you? #LJInspired #sweatpink @fitapproach @lornajaneactive
Day 5 (Friday, July 17th): What makes you an #LJInspired girl? #sweatpink @LornaJaneActive @FitApproach
But it doesn't end after the 5th day!
Don't forget to join us on 7/21 from 5:30-6:30 pm PT for a fun #LJInspired #SweatPink Twitter party for another chance to win prizes & a copy of Inspired: https://www.facebook.com/events/852624931491346/.
I can't wait to get my copy of Lorna Jane Inspired! Pre-order yours today: http://www.lornajane.com/INSPIRED/Inspired.
Tell me, what do you believe is the key to a happy life?