I was given a free copy of Lorna Jane's "Inspired" through my affiliation with Fit Approach for this review.  All opinions and experiences expressed in the following review are entirely my own.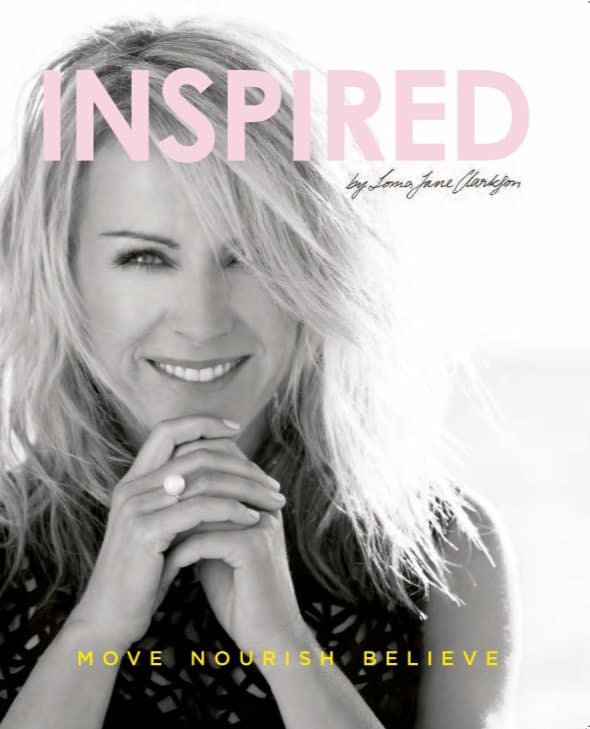 I'm a big believer in "funny" coincidences, or rather when the timing of something occurs at "just the right moment" – the one when I need them the most.  That's exactly what happened when I received my copy of the new Lorna Jane book, "Inspired" last week.
I was struggling with negativity and being far too deep "in my head", which is what tends to happen to me when my balance is off and the pressures of life seem overwhelming.  I tend to push myself too hard, put pressure on myself to fix things that I cannot control, and I wind up feeling defeated, not inspired.   When I feel defeated and exhausted, I put even more pressure on myself to tackle new projects in an attempt to feel productive and "okay", but of course it doesn't work.  I become caught in a vicious circle of exhaustion that I've created for myself – far from the healthy balance that I know is necessary for success.
When this book arrived, I didn't want to look at it because it just felt like "one more thing" that I needed to do.  Heck, I was at the point last week where showering, getting dressed, and emptying the dishwasher felt this way too.  I knew I needed to remove myself from this mindset and regroup.
After a good talk with Adam Friday night, and a long run Saturday morning, I curled up on my window seat with my coffee and Inspired, finally ready to take it all in and reflect.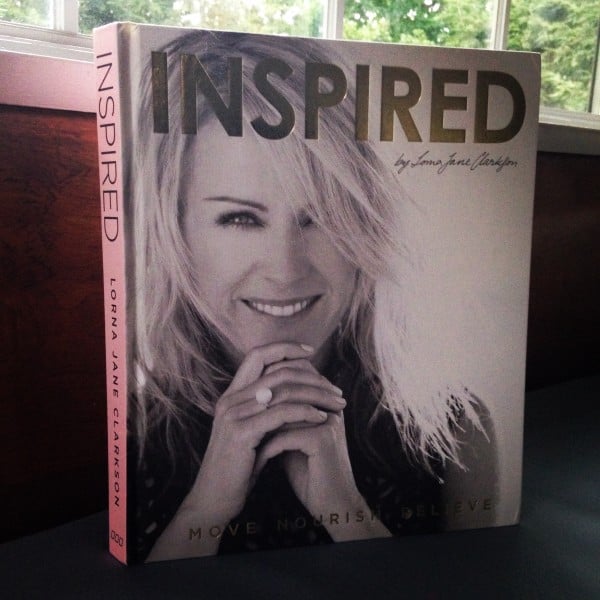 My Review of "Inspired" by Lorna Jane Clarkson
While first flipping through this book, the sheer beauty of the artwork, photography, and design immediately put me in a great mood.  Even Adam, who was sitting a few feet away, noticed and commented how gorgeous this book is!  I know you can't see the rest of my house right now, but trust me when I say Inspired is probably the most attractive decor in my home right now.  Not just a coffee table book, it IS the coffee table! (Okay, slight exaggeration.  But it's a gem, really.)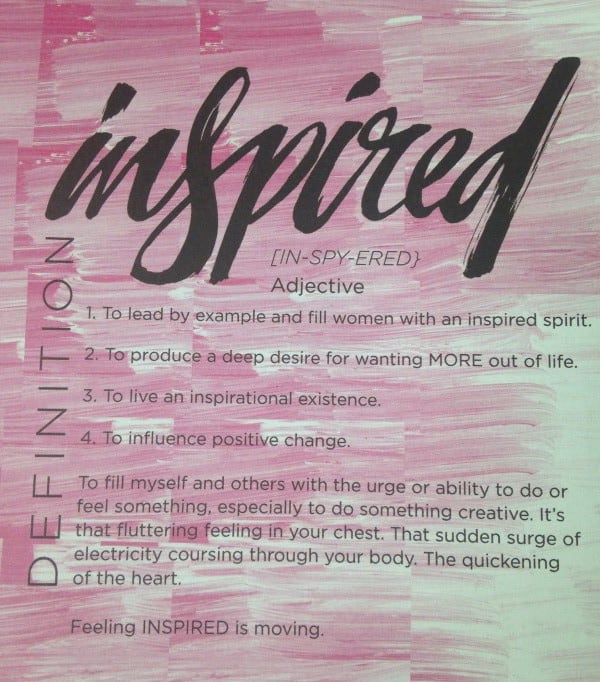 As I began flipping through the pages, I immediately felt a sense of calm reading Lorna Jane's words.   (And that's saying something, since calm does not come easily!) There is something simple yet profound about her way with words that spoke to me in a way that made sense and felt good.  The theme of "Move, nourish, believe" is strong through every page and made me want to treat myself better, forget yesterday and the day before, and go forward with a positive mindset.  That is what inspiration feels like for me.  It's often "doing" less and slowing down, that is the real challenge to finding balance – the most difficult challenge for me.
These are some tidbits throughout the book that stood out to me – there were many!  (All are paraphrased based on what I took from my reading)
How to set a Move Nourish Believe intention
Creating a vision board
The power of positivity (from a fresh angle!)
How to be a believer and choosing to believe
Practicing mindfulness
Sisters of support – how truly supportive relationships with other females nourish and inspire us
What would Lorna do? – Loved this, picking the brains of successful people is really interesting!
Why getting up with the sun can make you more successful – I'm a HUGE believer in this
Advice from successful and inspirational women to their younger selves – in handwritten form, amazing.
10 beauty commandments – not what you'd think, but so true!
Be your own kind of beautiful
How to find your perfect workout
Move the way you feel
What "balance" means
Yoga for overall wellness
Rejuvenation rituals
10 quick tips for healing your body
The role of travel in living an inspired life
Happiness – don't wait for it!
Personal style and finding your own "signature style"
Okay, as you can see there were SO many parts of Inspired that spoke to me, and I haven't even gotten to the recipes yet!  There are recipes in this book not only for food, but for natural beauty remedies – including a hair mask and lip "jam" – using simple natural ingredients that you likely have in your kitchen right now.  I can't wait to make the lip jam later today!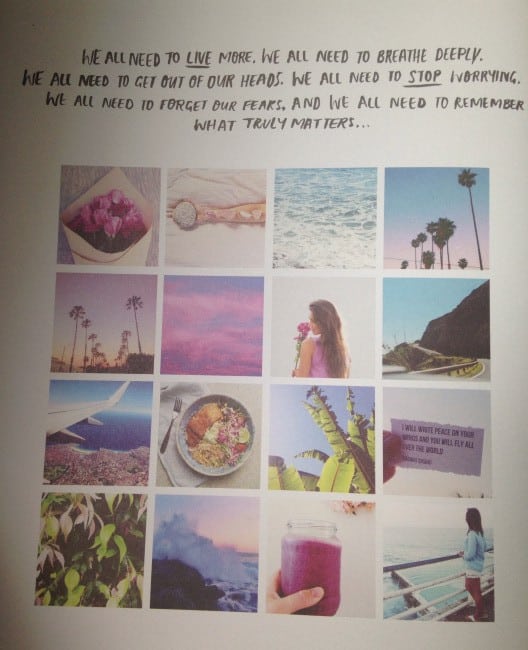 There is also a page of several "home rescue remedies" for those times you need extra nourishment, using simple and natural ingredients.  Plus recipes for some of the most delicious sounding teas – can you tell I'm just a little bit excited, er, inspired by this book?
Finally, the food!  I couldn't believe how many delicious looking and healthy recipes were featured in Inspired – it's so much more than a cookbook, yet the recipes are as good and plentiful as in many of the cookbooks I own.  Healthy breakfasts, lunches, dinners, and snacks, PLUS fun features like pre and post workout recipes, building the perfect smoothie, building the ultimate tapas board, and more!  Just when you think there can't possibly be anything left, Inspired has something even better on the next page!
I hope this review was able to do Inspired the justice it deserves – it's a special book with something to offer everyone I believe.  I will definitely be going back to it again and again for the wealth of resources it provides for living each day to its fullest and healthiest.
Order your copy of Inspired here!
What helps nourish and inspire you in times of weakness?