So, um, remember that post I wrote about what I ate when I didn't leave my house all day?  Well, the rest of the week thus far has been no different.  At all.  As in I left the house one time to take Emily to gymnastics and buy groceries (awesome multitasking if you ask me) and then came home and haven't left since.

Apparently, I need the excuse of driving my kids somewhere that I have already paid for them to be if I'm going to venture to the outside world.  The kids, and then again if I need food, of course. I typically like to combine those two motives whenever I can.  Can you tell I'm thinking out loud today or was it the sign above that clued you in?
Either way, let's go there!  Where, you ask?  You know, that dimension not only of sight and sound but of mind.  Things and ideas – does that ring a bell?  Am I the only person who thinks in Twilight Zone quotes?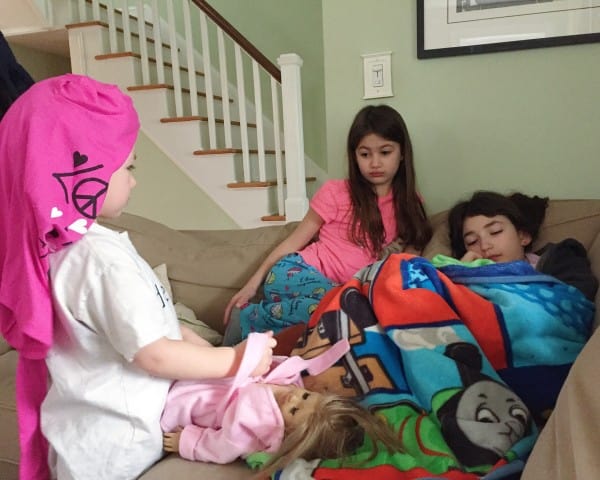 Sigh.  So after nearly two weeks of this mild yet persistent and annoying stomach bug that affected all of us, it's not like we catch a germ break or anything – we immediately catch another germ.  This time it's a cold and fever to keep things interesting and also keep any motivation to put on real clothes far far away.  It's just Diana so far but I don't think there's ever been a time only one of us has gotten sick without at least one other catching it.  Who will it be?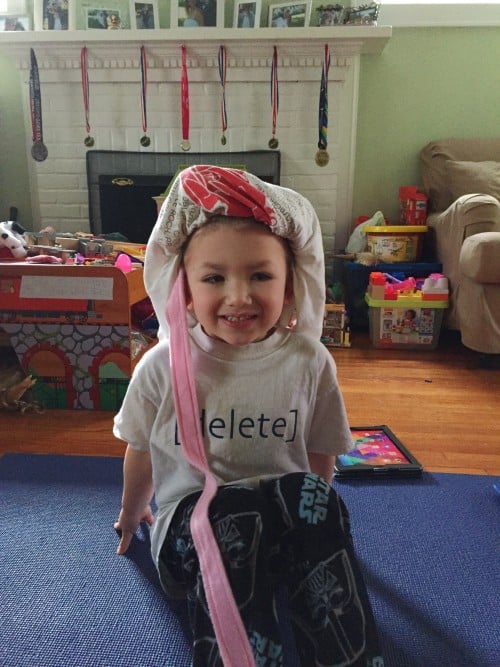 Drew (I mean lady Gaga, as he wants to be called today) is my guess for first runner up.  Either way, it most likely won't stop him from 1.) wearing fancy headdresses or 2.) taking over my yoga mat for the week for American Girl gymnastics championships: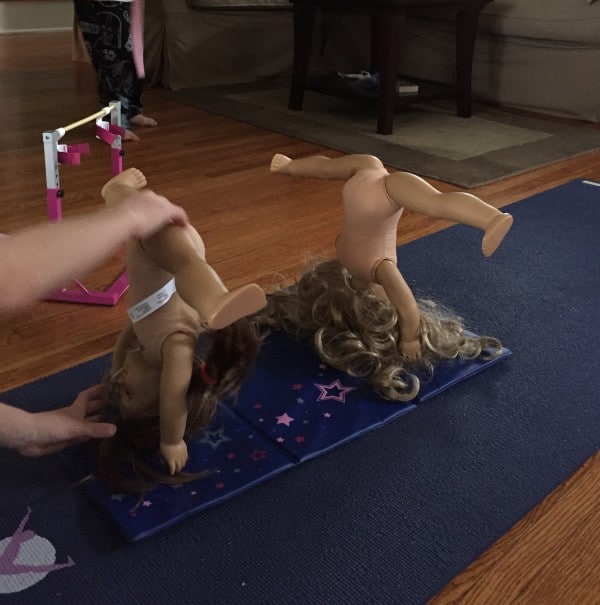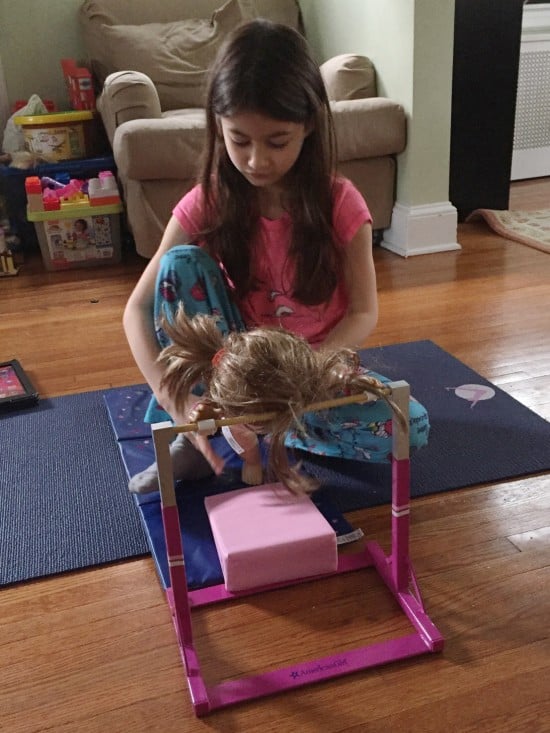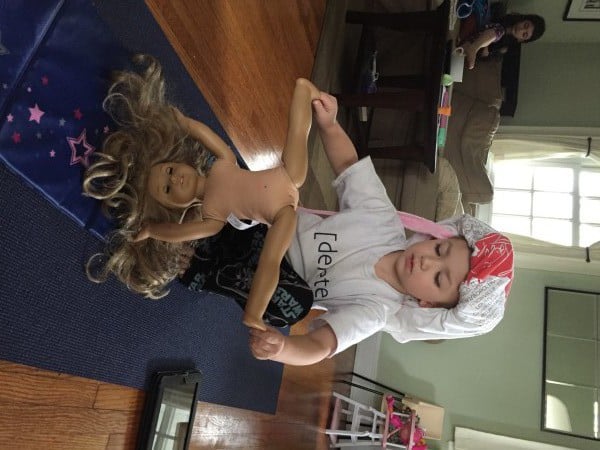 And glad you asked, because, yes, it is absolutely necessary for you to see not one but three pictures of my kids playing with dolls.  Because you're reading my blog, this is what my life looks like regularly and we are going there today!  Plus, I have extra time to take extra pictures since I'm obviously not doing yoga while this is going on.  If only I could share the soundtrack to this – a loud chorus of screaming, whining and hitting each other, with lots of coughing in the background – on repeat.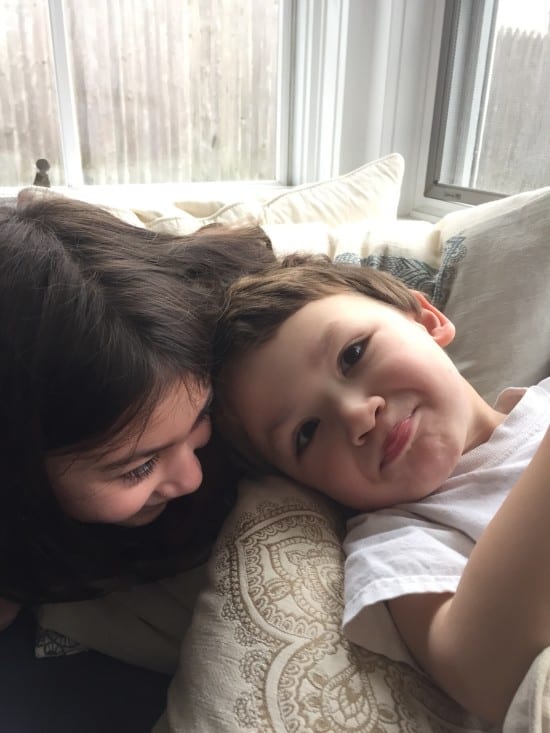 To their credit, they can go from attempting to hurt each other to cuddling up on the window seat with Justin Beiber songs faster than I can fry an egg sometimes.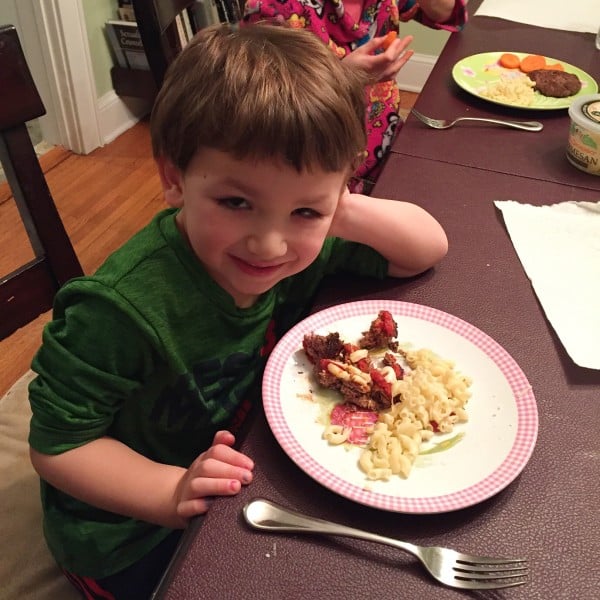 More happy times we've had this week included this one, when Drew ate a pizza burger and "flipped out" because it was so good.  The pizza burger idea came about as a compromise between burgers and meatballs – the girls wanted regular burgers and he voted meatballs.
I seasoned his burger meatball style, put marinara on it and topped with melted string cheese.  All of that plus gluten free elbow pasta and he was in heaven – so much so that he wanted me to take a picture of it.  Might not be Foodgawker worthy in my opinion, but, he felt like it was!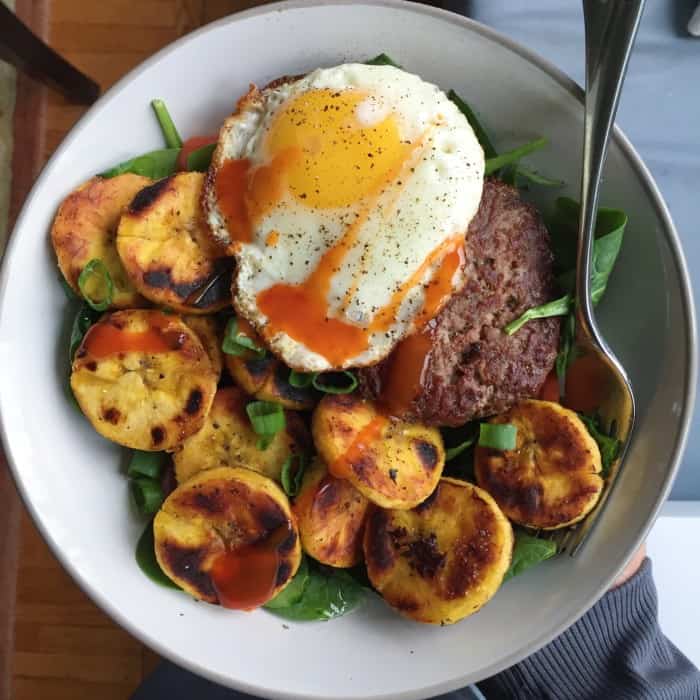 Now, going back to that one time this week I left the house to bring Emily to gymnastics and get groceries.  Near her class is an awesome Asian market that has all the best produce you could dream of – seriously.  It's produce heaven no matter what your favorites are.  Potatoes, squash, fruits, every root veggie, every green, great quality plantains, etc.
Anyway, I decided to break out of my typical condiment box and try some sriracha.  I'm not typically a spicy type (unless it's smoky chipotle) but like I said, I'm packing up my plantains and traveling outside the condiment box for a change.
As you can see above, the rest of my meal was the exact same one that I eat 20 times per week, but, the sriracha gave it quite the kick.  I didn't hate it by any means, and I'll probably drizzle again.  Fo-shizzle.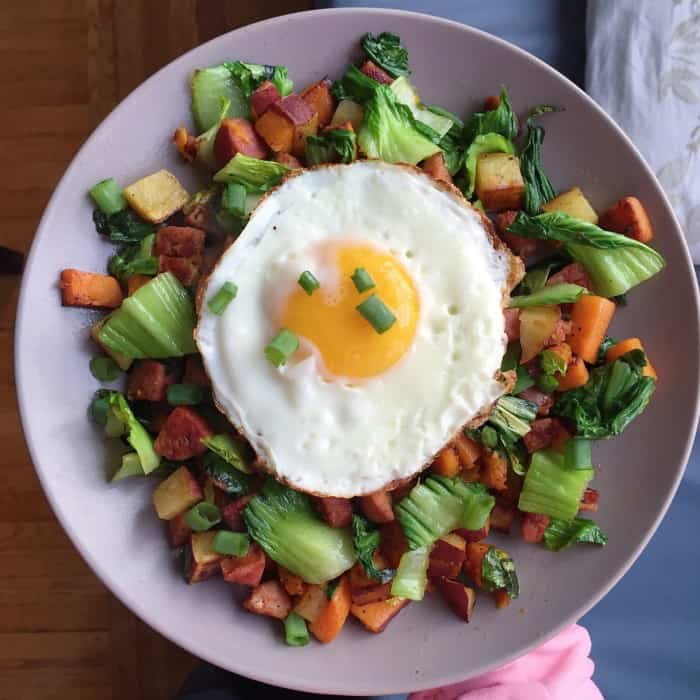 The other notable purchase I made was greens that were not kale, spinach, or collards.  Baby bok choy!  I also bought Chinese broccoli and had to fight myself to not also buy yu choy, which is sort of like baby bok choy but skinnier.  They're all good, so fresh and hard to resist whenever I'm there.
My last thought is that I totally forgot that I made tea for myself and it's now cold!  It's supposedly bedtime tea so let's hope it doesn't actually work, since it's only 2pm right now and I still have a sick child to take to the doctor!
What are your favorite greens for cooking?
Any other germy families out there?  What's the latest?
Are you a sriracha fan?  What should I eat it with?