Do you talk to yourself at home?  Like out loud?  Okay well without knowing the answer to that, I'll just tell you that I do, and I do it often.  I'm assuming my kids are used to it now and don't notice, but I do try to reign it in when my husband is home.  Off topic already.  Moving on.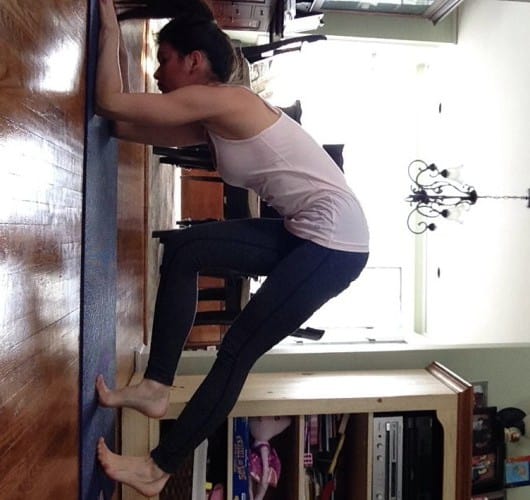 Sometimes I'll say something out loud to myself and hearing it somehow is meaningful – this happened to me today.
At the end of each yoga practice, before savasana, I like to practice inversions – forearm stand, headstand, shoulder stand, handstand, or some combo.  Currently with yoga but also back in my gymnastics days, flipping myself upside down is/has been a regular thing, which mainly just means a whole lot of falling.   I would say I fall more often than I rise,  I suppose, and I think that's normal.
What I said to myself today, as I rolled up my yoga mat, is, "if there's one thing you need to know, it's to know how to fall."
To backtrack – I only had my two front grown-up teeth for a year before I ate pavement and crushed them – the first time.  Learning how to fall – physically – is a pretty huge learning experience, and often it's practice that makes perfect in that area.  Gymnastics taught me how to not fear falling and how to fall "gracefully", in a way that won't result in damage and injury.  Once you feel confident in falling, you try more things that risk falling.  Therefore, you try more things, and learn how to do more things.
Essentially, learning how to fall results in learning and experiencing more, overall.
I wish I could tell you that learning how to fall, physically, has transferred effortlessly to learning how to fall (or fail) in life.   When things don't go as planned, when I'm rejected, when I'm thrown a curve ball that hits me right in the gut, or even when I am the thing causing the fall, preventing the rise.  Just because I've learned how to fall doesn't mean I don't still need to teach myself to fail.
Nothing meaningful to me in life comes without any effort, I've found.  Although one can inform the other, both the experiences of falling/failing and the purposeful application of "graceful falling" skills have to come together for someone to learn how to fall, to rise again, and to continue on with courage.
Throughout the course of any given day, most people are presented with challenges, small and large.  Are you afraid to fall?  Afraid to rise and then fall?
Do you put your heart into everything you do and then flail about when your efforts are rejected, something or someone gets in the way, or the outcome is not what you wanted?  Do you work hard to hold everything together and lose it when it JUST WON'T STAY?
Are you SO "good" at falling that you never allow yourself to fully rise?  Do you keep your desires locked away so you never experience their full weight, pull, meaning?  Do you allow people to use you because you're afraid of losing them?  Do you push people away, assuming they aren't interested in you anyway?  Do you know your full potential? Do you want to?
If there's one thing to learn, it's to learn how to fall.  Imagine the possibilities! 
I'm working on this one.  How about you?