On the one day of the week that I actually have a bit more time to write, my computer is running slower than molasses.
That reminds me of two things: molasses and running slow.   Interesting how the mind works!  I've been meaning to buy blackstrap molasses for three shopping trips now but keep forgetting, and I'm definitely hoping not to run slow on Sunday.
…And that's it for any sort of intro for today's Thinking Out Loud post.  You really want to know what I'm thinking about?  Here it goes…some marathon thoughts, and really not much else.

Did I mention I completely lose my sense of humor before a marathon?  I also lose my ability to have normal social interactions.  Pre-marathon nerves take my typically mild awkwardness to another level.
It's a little sad and makes me not-so-fun this week, but it's necessary I think.
I'm naturally introverted and this tendency is really highlighted before a marathon.  I think in order to conserve energy and focus I hide away from life and feel no desire to talk to anyone for any reason.  As if having a conversation will take me away from the task at hand!
Obviously, with the life I lead, and, especially with Halloween on Saturday, remaining mute is not an option, but, I won't be encouraging any fun before the race! There will be plenty of time for fun AFTER THE RACE!
You see, as soon as I cross the finish line, I'm a completely different person.  I talk to random strangers and interrupt people's conversations for no reason.  All of a sudden, I actually LIKE and want to chat with everyone around me.  I LOVE PEOPLE!  I literally can't stop talking after finishing a marathon, regardless of how much pain I'm in or how the race actually went.
That will be a great moment and all, yes, but I'm getting nervous talking about it now because it seems SO far away at this point.  In fact, as far as I'm concerned right now, it might never happen.  I have to MAKE IT HAPPEN!
So, let's backtrack to where I am now – in my own head and not coming out.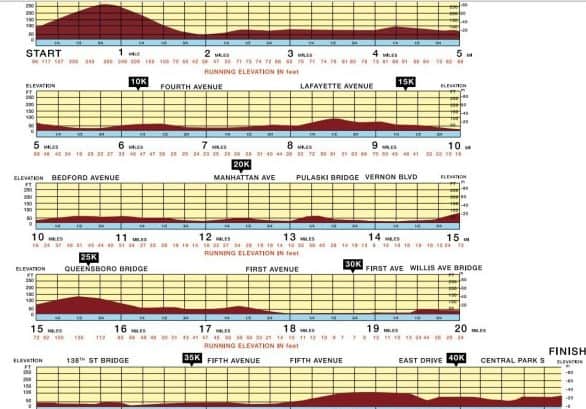 This elevation chart counts as a thought, right?  Just thought I'd share it since I'm "sharing thoughts."  Elevation charts don't tend to help me much though, since let's face it – basically everything hurts more when you're 20 miles in, so even if it's nothing significant looking, I can expect that it will hurt.
Which brings me to possibly my most terrible sounding but effective marathon strategy – getting into "pain-mode."
In order to race a marathon, I need to train my brain to accept pain as normal, not scary, to welcome it as it comes, and most of all – to NOT LET IT SLOW ME DOWN!
This is not to say that I TRY to focus on my pain, because when that happens it's just plain old misery.  Instead, I don't try to kid myself into thinking the pain won't be bad, I tell myself it will be and that it doesn't matter – I'm not actually hurt and I should keep on pushing!
I had plenty of practice with this strategy when in labor three times.  Fear of the pain makes it very difficult to deal with, and the more prepared I am, the more prepared I am to take on whatever I'm hit with.
As a completely unrelated dilemma, I still haven't decided if I'm going to wear a hat or a visor – I have a black hat, want to wear a visor but my orange one doesn't match. Clearly I didn't care about the non-matching factor for my first marathon, but I want to do better this time!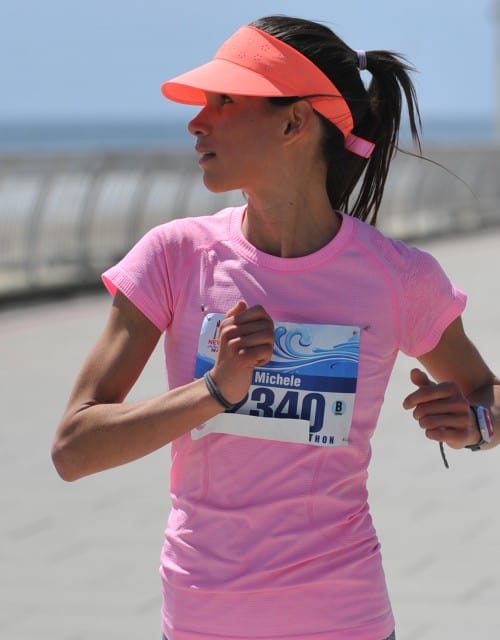 By the way, why do I look so happy there?  I clearly remember looking at the ocean to try not to drop dead at the 25th mile.  Weird!
That's about all that's on my mind right now – as you guys read this I'll be off to the city to get the expo done with early while the kids are at school and before Halloween festivities kick in.  Having my bib in hand will definitely kick the excitement up a notch!
I'll be back tomorrow with a recipe and more marathon babble 🙂
Are you chatty before a race or quiet?
How do you mentally prepare for a marathon in the days leading up?