As someone who's admittedly way behind with technology (is it even possible to catch up?) I'm continually amazed by the capabilities and cool features of apps, trackers, and even my own Garmin that I've had for over a year.  Yup, still surprised by all the info it gives me!
That said, when Kiqplan asked me to try out one of their personalized training apps, I was really interested to see all it had to offer.   What I discovered once I started using it sort of blew my mind (for example, it scanned my chocolate bar and knew every detail of what I'd just consumed) and I think you'll be interested to find out what Kiqplan could offer you no matter what fitness and health goals you have.
First a little bit about Kiqplan.  Kiqplan offers 8 different apps to choose from based on your current situation and goals, from weight loss, staying healthy during pregnancy and postpartum, to preparing for your first 5k and setting a PR in the 10k.  Each of them offers a 12 week comprehensive coaching and training plan involving exercise, nutrition, lifestyle factors such as sleep, and motivation.
You can sync all of their apps with nearly any activity tracker, running app, garmin connect, watch, phone, etc to give you the most personalized attention, tips, and keep you accountable.  The compatible devices include but aren't limited to what's shown below.   The more information you put in, the more you receive in return.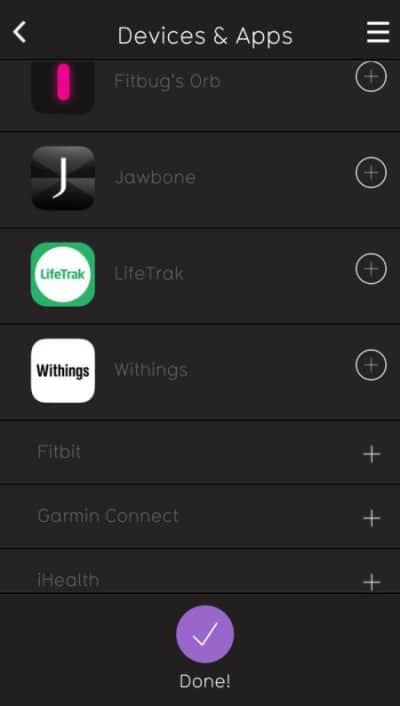 I was given the choice of which app to review and chose "10k Run Ready" since it seemed to be the best fit for myself and readers.   Once I signed up and opened the app, I paired it with Garmin Connect and Nike plus, since those are the two things I use to track runs.   You also enter personal information about yourself and it figures out targets nutritional targets as well as steps and workouts.
What I love about Kiqplan 10k Run Ready
This is not JUST a running plan! In fact, I found the actual running to be on the lighter side for 10k training, but, the full body workouts, nutritional guidance (and recipes), focus on rest and recovery, and overall wellness tips went above and beyond anything I'd expected.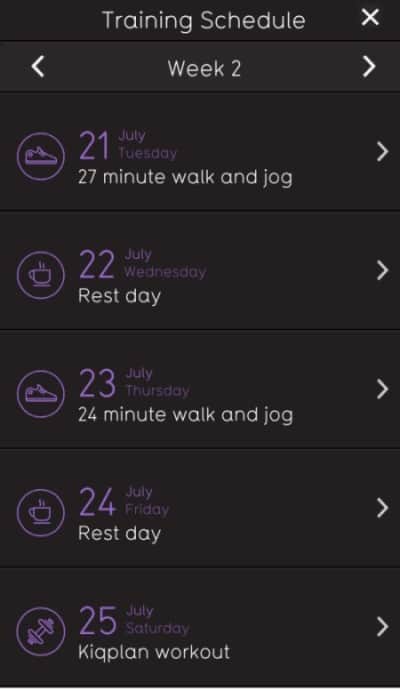 The "Kiqplan workouts" are actually available to you in real time video right on your phone, which is pretty unbelievable for an app that is $19.99 for 12 weeks (one workout per week.)  And of course, that's just the beginning. There are also 12 healthy recipes (one per week) – as well as helpful racing tips to get you mentally prepared for your 10k, and tips for fueling and nutrition to get your body in peak race shape.
If you don't complete your workout, the app will certainly let you know that you've missed it!  It's great for staying accountable for both your workout and rest days and the plan itself is very reasonable for beginning runners wanting to set the goal of a 10k race.
As for the nutrition portion, I was impressed that the Kiqplan app had detailed stats for every single food I consumed (I only used this portion for 2 days since tracking nutrition doesn't jive with my personal goals at the moment) including the exact flavor of Kombucha I drank (clearly important!) the exact bacon I ate, and, it scanned and identified my chocolate bar in 1 second flat.  All pretty cool features in my opinion!
The one caveat I have is that the calorie targets seemed to be under what most people would need.  On both days I entered my food, I exceeded my daily allotment before dinner, so it seems this portion of the program can be off depending on who you are and what your needs are.  I did not take this personally and continued on to eat my dinner and dessert as usual 😉  For someone looking to track calories and macros, the stats are accurate, detailed, and helpful in a "good to know" sort of way.
Who I recommend Kiqplan 10 Run Ready for
If you are a beginning or intermediate runner who wants to improve overall health and fitness and possibly lose weight, or track nutrition for weight maintenance, Kiqplan 10k Run Ready has a lot to offer for your goals and is well worth the $19.99 for 12 weeks.
If you already use an activity tracker and want to maximize your results and receive daily motivation, information, and feedback, then you will love this app.   The workouts are created by fitness professionals and are reasonable, smart and sound.  The fact that live workout videos are included makes it easy to actually get the workouts done too!
If you already track your steps and runs, Kiqplan will be super easy to pair with your watch/device/app to provide you with your very own personal digital coach, nutritionist, and trainer right on your phone!
For more information and to purchase, visit the Kiqplan site and be sure to follow them on Twitter, Facebook, and Pinterest.
*Disclosure – I was compensated to write the above review and try out the Kiqplan 10k Run Ready app.  All opinions stated are entirely my own.
Do you use an activity tracker?
Have you used or tried any fitness and health apps?  What are your thoughts?