Since the girls are home with me this week, it must be time for another "kid thoughts" Thinking Out Loud.
And it's perfect timing really, now that mom (me) is running around (or tapering around?) like a chicken with no head in an attempt to prepare to go to Boston Saturday morning.   To be quite honest, I sort of freak out before any trip whether I'm planning to run a marathon or not, the whole marathon thing just makes it that much more colorful.  As in yellow, for all the bananas I'm bringing.  And the Larabar wrappers.

So, Diana (3rd grade) is taking over the blog today with her thoughts on the Boston Marathon.   As I'm typing this I haven't read anything she wrote, so it should be interesting 🙂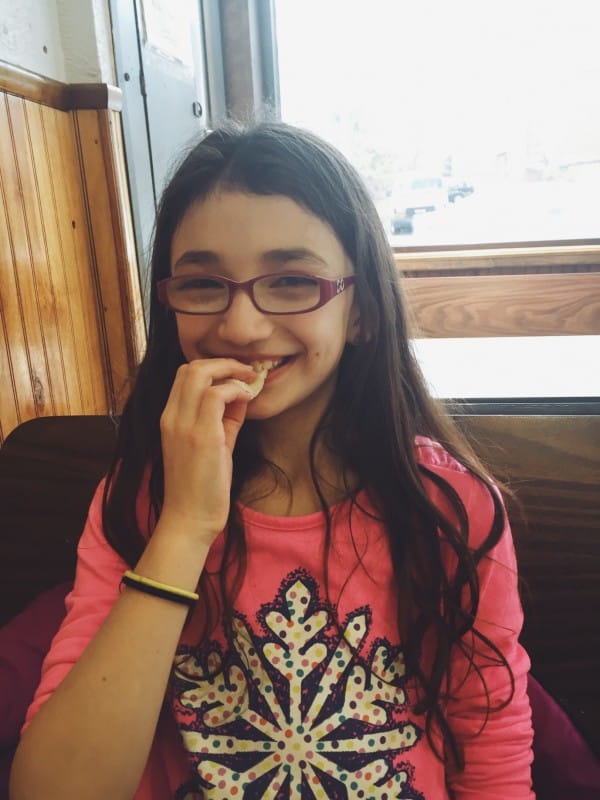 ———————————————————————————
How I Feel About the Boston Marathon 
Hi everybody!  You may know me from "How to Keep Your Bacon Safe" and How to Make Your Kids Eat Healthy."  Anyway, as you also may know, mommy (AKA "Paleo Running Momma") is running the Boston Marathon.  
So, you're probably thinking I'm going to be cheering her on with, like, signs and it's so easy to just hold a sign.  Well yes, that is partly true.  But, what you don't know about is how much walking there is, and waiting there is and that I'm probably going to be running a marathon too.  But, you're correct that it's a lot of fun even still.
I get to go to a hotel and have treats and see Grandma and Grandpa.  So yeah that part is really fun.  But I forgot to mention the 4 hour long drive or more even.  I mean, I know it's the Boston Marathon but sometimes a kid needs to be a kid!  
Also, do you even know how this car ride really works?  Let me tell you exactly what happens: I say "are we there yet?" and Daddy says "15 minutes" and Mommy says "no, an hour" and "I'm nauseous" says Emily**Editors note – mommy drugs the children with Dramamine so no one gets nauseous!
Now, you're probably wondering "what about Drew?" but he's just on the iPad having a blast and turning up his Megan Trainor music so the car sounds like a volcano has just erupted.  
Oh, and that's not it.  Daddy's probably like "I know where I'm going" and then 10 minutes later he's saying "I made a mistake it's going to be an extra 15 minutes" and then mommy says "no an extra hour." 
So now you can see it's not easy at all for me to go to the Boston Marathon.  I probably should've trained.
By Diana Rosen
—————————————————————————————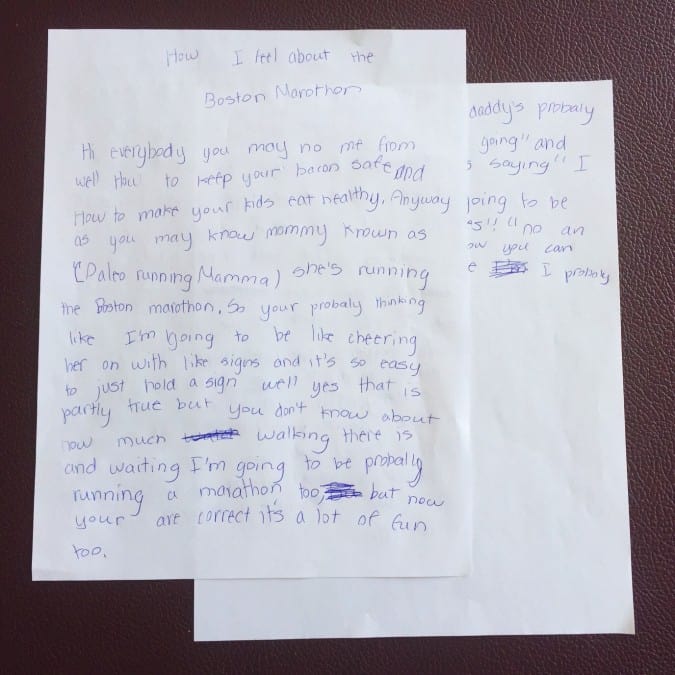 Very accurate description of any car ride I think!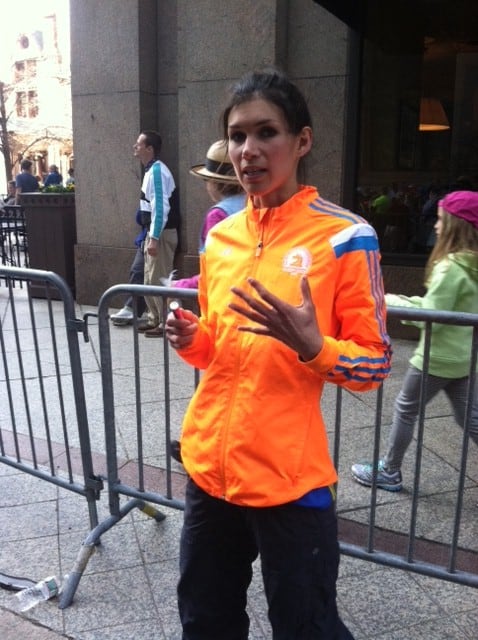 Since the last time I ran Boston was 2 years ago (above picture is right after the finish!) Diana is actually the only kid who accurately remembers any of it.  Drew tells me he's never been to a marathon at all (he's been to 4 out of the 5 I've run) nor a hotel, and Emily only remembers the ice cream: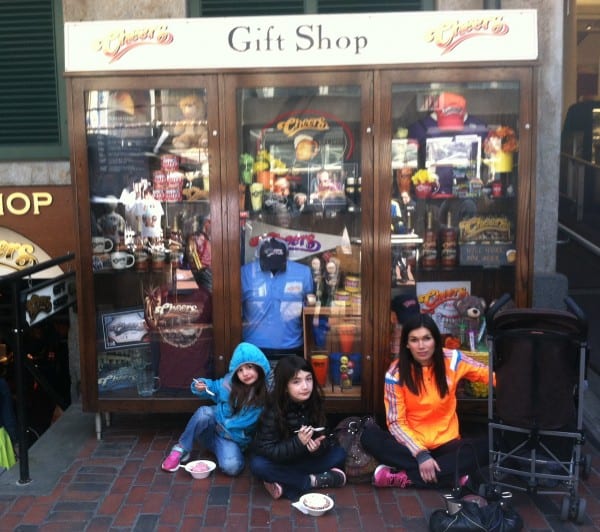 So, it should be like "the first time" all over again.  More fun this time, since I won't be freaking out about packing diapers and other baby gear.  As long as we have our devices charged and iTunes loaded up, it should all work out.
Other random thoughts from my brain today:
I will not check the weather because it does not matter.
I should check the weather at least to figure out what to pack.
The weather doesn't matter.
The weather really really matters.
Why is the weather trying to kill me?
I would take 80 degree sunny weather over someone getting sick in a heartbeat
If it really was 80 degrees and sunny my heart would not beat
I can deal with a max of 65
Stop thinking about the dang weather!
Good thing my period came Wednesday.  Seriously.
I will buy a bunch of bananas every day this week until I finally feel that I have enough.
That is not crazy at all.
To bring coconut water or regular water, that is the question.  Or both, duh.
I hate bringing cold pre-baked potatoes on a trip but such is my life and there are worse things.
Skirt or shorts?  High socks or low socks?  Bright pink, pale pink, or neon yellow?
Okay that's quite enough.  I'll be back with a nice distracting recipe tomorrow and then it's time to pack!
If you have kids, do you they like going to races?
What are some of your pre-race random thoughts?