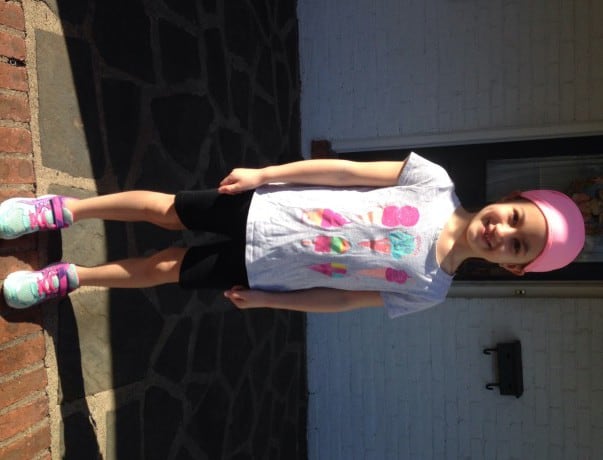 Emily is rocking her 5k training!  Saturday was our third official run together and we went for 2 miles non stop.  It's interesting to see first hand in a young kid how MENTAL distance running really is.  I feel like she's totally capable physically of running the 5k right now, but she still needs to get used to what it feels like to just RUN for a long time. She's getting used to it and although I'm motivating her along the way,  she's really the one pushing herself toward that goal.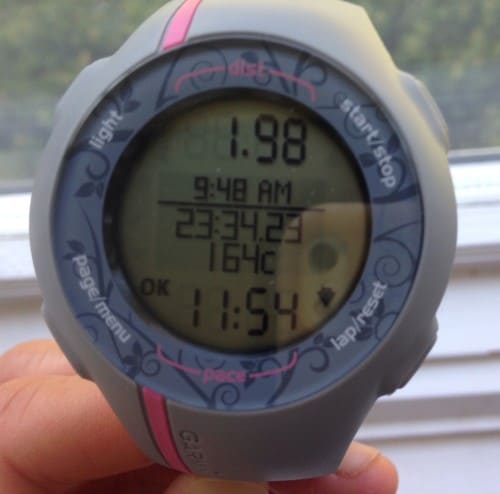 Yes it sort of bothered me that we didn't run the last .02 of the 2 miles, but this is why for my own runs I've been leaving the Garmin at home!  We have 4 weeks left until the race, and next week we'll go for 2.5.  I would love for her to run 3 miles twice before the actual race, but just once would be fine too.  I have a feeling she'll be excited on race day and the extra adrenaline will make it fun and she'll surprise herself.   I was really impressed with her 2 miles, she seems to be getting the feel for pace and the second half is always faster.  She celebrated when we got home by doing cartwheels all over the backyard 🙂
For my own run on Saturday, I wound up doing 10.3 including a big hill at the end because it was early and I was feeling great.  That followed by the run with Emily, followed by vacuuming the house, followed by a trip to the doctor for Drew (turned out just a cold) on top of getting myself ready for the wedding (okay this was really the toughest part) left me with something I haven't had for a LOOOONG time – a flipping headache!   I don't know if all headaches were always this bad (I'm thinking yes) but this one sucked and just made me appreciate the changes I've made for myself in a big way, since headaches like this used to be at least a weekly occurrence.
I still had fun at the wedding, and did what I suppose you have to do if you're nursing a headache for a night out – drink champagne and wine and do not let yourself remember that this will only make it worse in the end.  I don't take ibuprofen anymore at all since I realized how much it messes up my stomach, the drinks just seemed like the better option.  As I'm sitting here on Sunday with headache part 2, I'm not totally convinced.  But who am I kidding, I would've had the drinks regardless of the ibuprofen, so, a smart decision was made indeed.
My bedtime of 3am on Saturday night would have been sort of fine if my body didn't insist on waking up at 6am sharp. Drew sleeping next to me and coughing did not make for a restful 3 hours either, and although I don't nap, like, ever, I might have to nap today.   The weather is absolutely gorgeous and I might just have to get really comfy on a lounge chair to take full advantage!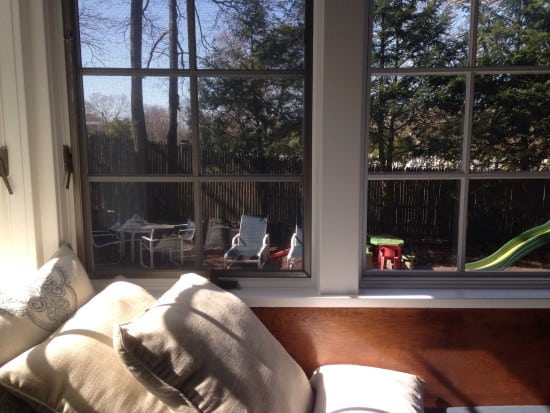 I also tried to cure my headache with this breakfast…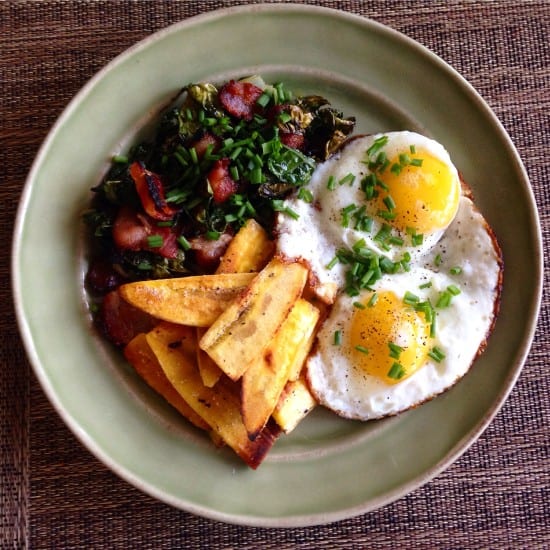 …plus a lot of coffee, and so far it's a no-go.  I'm thinking sleep is the only solution.  I swear, I WILL sleep a full 7-8 hours every day this week if my body cooperates!
Big apologies if this post was a) boring b) incoherent and/or c) repetitive.  If a headache wrote a blog I'm guessing it would be all of those things.  I'm moving up and moving on now to welcome a well-rested start to the week!  I'm assuming by the time post is published my equilibrium will be reestablished and the headache will be long gone 🙂
**One hour later: some stretching and forward folding in the fresh air and sun cured 90% of my headache, like magic!  Just one more reason to do yoga 🙂
How was your weekend?  Best part?
When was the last time you had a headache?  How do you prevent them?
Any go-to headache cures?  Gentle yoga might be it for me now!