We all want to do the right thing, don't we?  What are you doing right now in the name of health that's actually hurting you?
If you've ever been confused about what is or isn't "healthy", you're in good company. It's information overload on a daily basis and each source tells you something different.  While I can't offer you a miracle diet, solution, supplement, or fitness plan, I can for sure highlight 12 things you need to stop doing NOW for your "health" because (surprise!) they just aren't good for you and, frankly, they suck!   Bad, bad news for all of us.   And for each one, you can bet I've been there at some point – questioned, contemplated, and ruminated – and came out on the other side knowing better.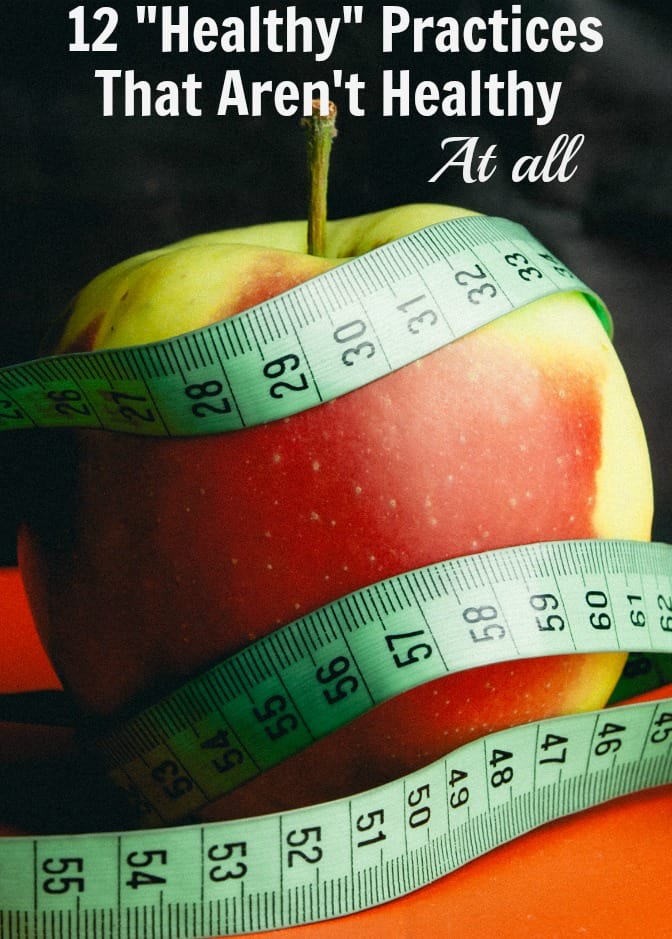 1. Weighing Yourself
Just stop doing this completely.  Get rid of the scale.  Why do you need it?  This one is PSYCHOLOGICALLY unhealthy and can lead you to obsess over changes in weight that mean absolutely nothing to you.  If you're worried your body will sneak up on you and gain 20 lbs while you weren't watching – come one – that's just silliness.  And just shows you how crazy these things can make us.
2. Eating Low Fat and Fat Free Dairy Products
Fat is good for you.  Say it again and let it sink in.  Low fat and fat free stuff used to be considered healthy, but not anymore.  When it comes to dairy, the low fat and fat free kind will not help you lose weight, it's not better for your heart, it contains more sugar, and the additives used to give non-fat milk a white color may be harmful.
3. Juicing
I don't think there's anything wrong with juicing healthy fruits and veggies and drinking that juice in addition to healthy meals and snacks.  BUT a "juice cleanse" where you drink liquid fruits and veggies INSTEAD of eating, chewing, digesting whole, real food is NOT healthy, won't help you lose weight, find happiness, enlightenment, salvation or any other fantasy we in this diet-obsessed society ask our diets to make a reality.
4. Pretending to Exercise
Don't punch me in the face just yet.   Ask not what your current fitness program can do for you, but what you can do for your fitness program.  Get it?  It's what we put into the time we devote to exercise that determines what we get out of it, health wise.  If you're at a fitness class or in your living room with a DVD and you're not completing the exercises the instructor is prescribing, look to yourself, not the DVD or instructor, and figure out what's happening.  Maybe it's not the right workout for you.  Find something that you feel great doing, that you'll want to do several times a week, and DO IT CONSISTENTLY.  But stop pretending.   It's a waste of your time and energy.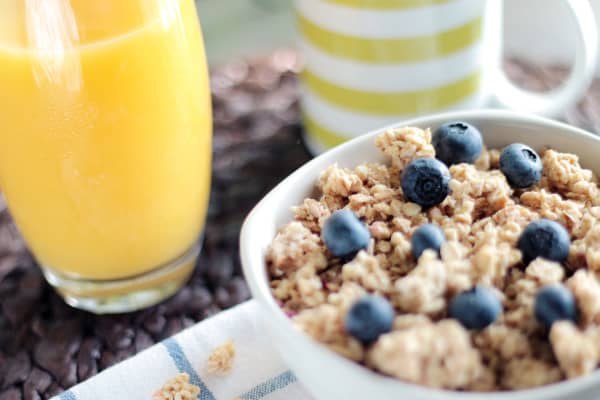 5.  Eating Lots of "Healthy Whole Grain" Cereal
Have you ever wondered why the produce section doesn't have a signs all over the place that say "buy our fat free apples (or broccoli, zucchini, tomatoes, whatever) made with 245 whole grains, 18g fiber, heart healthy, cholesterol lowering, life extending, life saving….blabber blabber…because WE CARE ABOUT YOU!"  Bottom line – why do they have to try so hard to sell something that's so OMG healthy?  Um..because it's not really healthy, but they'd still like your money, please.  Just stop it.
6. Counting Calories
Similarly to weighing yourself, counting calories just makes you obsess and it is psychologically unhealthy.  Calorie counting, I'm sure, has been the beginning of nearly every downward spiral into the land of disordered eating.  Kids don't count calories, animals don't count calories, people outside of western culture don't do it, so why do you feel you need to?  Counting calories puts the focus on numbers when a healthy focus always prioritizes REAL FOOD, including fat, carbs, and not-lean protein.  Real food is all good.   Stop tracking calories.
7. Trying to Lose Weight/Get Lean
Today in society "weight loss" and "health" are nearly synonymous.  But in the real world, they should not be.  You can be thin, medium, or fat and be either healthy or unhealthy –  truth right here.   Imagine taking these words out of your brain and physically separating them from each other for good.  They don't belong together.  Okay, now that you've done that you can see the truth about attempts at losing weight, getting leaner, whatever.  These attempts usually involve extreme behaviors that do our health much more harm than good.  Carve your own path and aim for a better focus.
8. Avoiding Dietary Fat
"Is this fattening?" is something I hear people say all the time.  What they are usually trying to find out is if the food is high in fat, calories, or both, and, ultimately, if eating it regularly will make them fat.  Here's the truth:  Eating high fat foods does not make you fat.  Eating high calorie foods does not make you fat.  Eating whole, real food does not make you fat.  Here are some things that MIGHT make you fat:  binge eating sugar because you counted calories all day, eating a box of "healthy whole grain cereal" in one sitting, eating 3 bowls of ice cream every night because you were "trying to be good" all day and "deserve a treat," constant snacking because you never seem to feel full.  Eat more fat, you'll feel better.
9.  Over-Exercising
The amount of exercise our bodies can handle varies a great deal – not just amongst different people but just for you as an individual, depending on so many factors.  Get to know the signs that you're pushing your body too far and into unhealthy territory.  It's easy to blame other things – because exercise is put on a health pedestal – when your body starts breaking down, and you might not even consider the need for more rest.  For me, I know that when I start feeling random pains, come down with a cold that I didn't catch from my kids, or start dreading workouts that I've pushed it too far.  And if you don't rest things will only get worse, so stop before it's too late!
10.  Being Too Clean
Not talking about your food here, more along the lines of your body and living environment.  Look, I know you want to kill ALL THE GERMS, but "disinfecting" everything around you a) won't kill every germ b) won't prevent you from getting sick and c) might be flooding your house with chemicals that no one needs.  Our systems need to be exposed to some dirt and germs to maintain a healthy immunity and our bodies need bacteria.  Common sense over a compulsive desire to avoid germs will keep the whole family healthy.
11. Assuming Products Sold in Health Food Stores are Healthy by Default
Bottom Line – health food stores are just stores selling products.  You need to read the ingredients of a product and understand what it is before you are able to determine if there is any advantage for you.  Just because something is in a brown package and says "superfood" on it along with a bunch of words that could be intelligent (but you don't know what they mean) definitely does not mean it's healthy.  There is a lot of processed, overpriced, fancy-sounding junk food over at the health food store so please, be a fool no more!
12.  Not Considering YOUR OWN OPINION a Valid "Second Opinion"
Ever visit a doctor for something, have them check you out and hear what they have to say, and, although it doesn't feel right, you trust them over your own instincts?  Well, stop it.  Ultimately, it is YOU living in your body, YOU have lived in that body for, like, forever, and YOU are the primary expert on that body.  Doctors can be incredible partners while navigating a health issue, but never underestimate the power of your own thoughts, feelings, and opinions about your own health.  It's your job to be your body's advocate.
Your Turn Now!  What else are we doing for our "health" that's not really healthy?