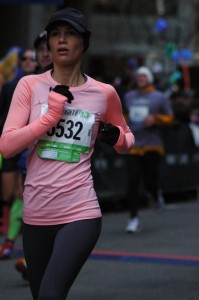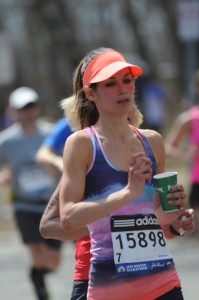 It's probably not out of left field to assume most of us who exercise and/or value nutrition can relate to the title of this post.
Sure, most of us have friends, both online and otherwise who "get" us and value the same things that we do. But outside of that circle what goes on? How do those other friends and acquaintances view our behaviors, our philosophies on life and lifestyle, and does any of it matter?
My first thought is that I have mostly moved passed worrying about what anyone thinks of me, but as I say that I realize that I am still bothered by the view many people take toward health and fitness in general, because I feel deep down that it's misguided and frankly it bums me out. Am I being dramatic? I'll own it. Get ready for a rant.
Once and for all, it is NOT about looks. I have been guilty in the past of feeling pressured to look a certain way from my head down to my (hideous) feet. It is nearly impossible to escape the messages that as women we need to appear thin but curvy, fit but not too muscular, have smooth tan skin, non-frizzy long hair, round eyes, a small nose, and no body hair. Right. The only time I see anyone who resembles the above description it is either a plastic doll or a plastic person, obviously neither reflecting a real human body. And men have their own unattainable standards weighing on their not-broad-enough-shoulders. I do not fault anyone for assuming that I or anyone else is running and eating healthy to fit into a tiny pair of pants. As a society we are just a little obsessed with weight and appearance. What confuses the matter even more is that when we treat ourselves in a way that nourishes our bodies and minds, we DO tend to look like our best selves. Health really can be a beautiful thing! But striving for beauty is missing the point, that's for sure.
How many times, when talking about running or working out, have you gotten the response "well whatever you're doing it's working because you look great!" Or were you given the side-eye for turning down cake "but you're thin?" Or even questioned as a parent for limiting garbage treats sugar consumed by your (skinny) children. Guilty as charged for being the wife who lured her husband in to complete a Whole30 with the promise that he would lose 10 pounds, even though he didn't need to. Oops. Exploited his weaknesses in the hopes he'd take the bait and then understand the truth. But sadly I'm not alone with that approach. Have you ever noticed how EVERY SINGLE HEALTH BOOK has to proclaim weight loss to even sell a copy? How the hell do we stop this? Because seriously, it's not about weight, (even though many people are obese as a result of an array of health issues),and not about looks, or body hair or muscles or whatever.
BUT it IS about pretty much everything else related to your body and mind. It's about waking up in the morning with a clear head, feeling motivated and grateful to be living that day. It's about not giving in to feelings of anxiety, depression, hopelessness and helplessness. It's about allowing yourself to cry sometimes, to feel guilty, to apologize for mistakes, and then get back in the game refocused and stronger than before. It's also about caring for yourself with the knowledge that the body and mind you live in right now is the same one you'll have on your last day on earth and every day in between. That might sometimes mean you skip the cake or the booze if you know it will hurt you. Or maybe not.
It's about taking deliberate actions to improve the quality of the time you spend alone and with loved ones and friends. It's about figuring out how to create an amazing journey for yourself and then embarking on it. A journey that you can feel deep pride in. Like the Ghandi quote, it's about being the change you want to see in the world.
So if anyone is with me on this, how can we help spread the message without luring people in with promises of weight loss, toned muscles and clear skin? I would really appreciate your feedback on what health, fitness, and nutrition mean for YOU and how you communicate that message to the world, verbally or nonverbally. What is it about for YOU?