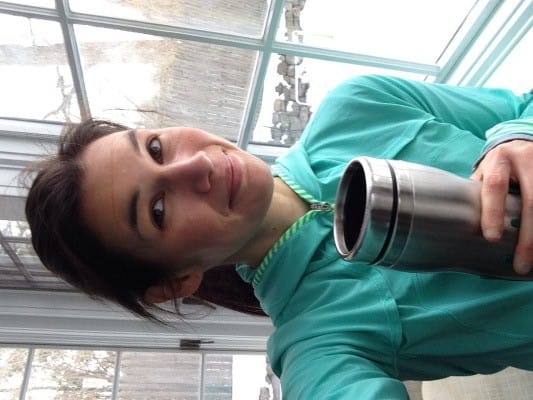 Adam tells me I obsess over all my hobbies.  I always try to defend myself that this is a GOOD THING.  I mean, it can be comical when you see me really obsessing over any of what I'm about to mention, but, I like feeling passionate about different interests at different times.   Looking back I can measure my life out in interests, hobbies and obsessions.
And today, thanks to Amanda, I'm going to Think Out Loud about all of my past hobbies rabid, raging, uncontrollable obsessions.  Let's just say that although I might be The Paleo Running Momma, I could have been a whole lot of other things.  And, sometimes, depending on my mood, I still am some of these things.

I'm sure I was obsessing over something or other since birth, but I'll start where I can remember.  Although, my mom has told me I was quite determined to learn how to walk and I've no reason to doubt that.  But I'll start a bit later on.
Singing – Even though this whole running and paleo thing has taken over, my original lifeline was singing.  From the age of 4, on and off up until maybe 28 (when Drew was born) singing and music had my heart.   Problem always was, whenever I'd get "serious" about it and the pressure would build, I'd back away from really pursuing it.  Anyone who has ever lived with me though, knows that my voice is alive and well.  I even started a youtube channel when I was pregnant with Drew!  Can't believe I just linked to that  – oy!

Scary things – I was literally obsessed with scaring the crap out of myself starting in about 4th grade.  I must have have some adrenaline junkie in me and that was the first place it came out.  I can't watch or read anything creepy anymore but for years it was all I surrounded myself with, and, as with other addictions, I built up quite a tolerance for it.

Weather – I used to be obsessed with the weather in 4-5th grade and would read about the climates of every state in the U.S. in my World Book Encyclopedias almost daily as I recall.  I could not get enough weather.  I'm completely nuts, I get it.  At least as a runner now, a solid understanding of weather patterns is appreciated.

Physiology – Those darned encyclopedias!  After getting sick of the weather, I moved along to the human body.  I studied every system and memorized the information.  This totally speaks to my personality and its origins.  It takes a lot for me to feel like I know enough of what I want to know.  This was all pre-12 years old.   It's possible that I wasn't challenged enough in school, now that I'm thinking about it!

Psychology – I started reading about psychology at some point in middle school and that really did stick, as I went on to major in it in college and then get a masters in Clinical Social Work.  Adam also has a doctorate in psychology. We are just those kinds of really fun people.  No, actually we really are fun, just a touch neurotic, and we all know that makes life colorful.

Gymnastics – I once set a goal when I was home from school, genuinely sick, in 7th grade, to perfect my back walkover by the days end.  It happened, and that was not an unusual thing for me in my youth at all.  I can't remember a time before handstands and cartwheels.

Guitar – I obsessed over the guitar just long enough to teach myself how to play at a very basic level.  I really want that obsession to come back though, since it's one of my cooler ones, but, sadly it hasn't yet.

Writing – This is another really big one that has been around for a almost my lifetime, and, what do you know, I have a blog now and write daily!   The funny thing is that once I push myself to do something on the regular, that whole "obsession" part has less of a pull.  It's the things I don't get to do often that pull me in the most of course.  For years of my youth though it was poetry, creative writing, and journaling.  I really need to get rid of most of it, probably, as I'm thinking about this.

Cooking – After growing up in a household where the microwave was worshipped for it's magical TV-dinner-heating powers, I was desperate to learn how to cook.  The summer after college for me was that time.  I bought the book How to Cook Everything  by Mark Bittman and set a goal for each day.  By the end of the summer I was cooking full meals, baking pies, bread, even bagels.  I also gained like 10 lbs that summer 🙂 It was well worth it because if I hadn't learned before having kids, I would have been screwed.

 Pregnancy and baby stuff – I "trained" for kids even harder than I trained for my first marathon.  My brain thought only of pregnancy and baby issues and I read probably 10-15 books multiple times while pregnant with my first daughter.  I repeated that with each pregnancy too, always with a bit of a different focus.  I think needed to engross myself in all of it for my own mental prep. I also majorly obsessed about breastfeeding and attachment parenting with my second daughter.   Needless to say, this is one reason exercise was not a priority back then!

Yoga – In case you haven't noticed, I'm kind of obsessed with yoga lately!  It hit me when I was looking for yoga podcasts and books the other day.   And then when Adam mentioned it.  AND when I realized that I've been doing it every day and can't can't can't fight this feeling!
The great thing about feeling so passionate about one thing, besides the feeling itself, is that you know that after immersing yourself in it for a while, you will come out having grown in some way.   All of these interests and hobbies have shaped who I am and have given back to me everything that I've put in plus something extra.
I know I've missed a few, but I hit on the big ones and besides, you don't have all day.  I LOVE that I "go big" with whatever pulls me toward it, and, I'm excited and curious to see what else awaits!
Do you "obsess" over hobbies?
What are some of your interests outside of your blog topic?