I just dropped my middle daughter off for her first day of Kindergarten and my oldest for second grade.   And though you wouldn't know it by looking at me, I've been kind of a wreck about the start of school for a few days now.  Like, as in even though I'll be hanging with my son at home today like any day, I still picked out a back-to-school outfit for myself, blow-dried my hair and put on makeup for the whole dropoff scene.  Not because I need to  OMG impress the others moms walking up to the school, but because this is how I seem to deal with difficult emotions.   Looking put together on the outside helps trick me into feeling like things aren't so messy on the inside.  The more anxious I am, the more effort goes into my appearance and the better I'll look.  So definitely watch out if you see me in mascara and lipstick at 8am – sh*t's going down.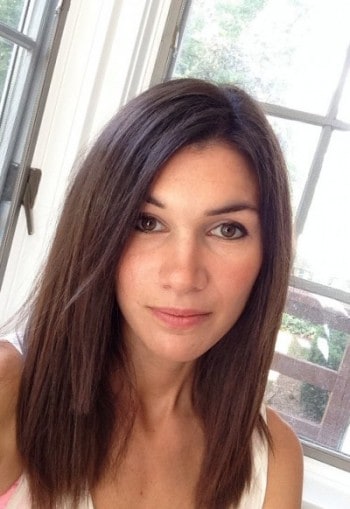 Okay, enough about my neurotic grooming habits and back to the dropoff.  I used to feel a little guilty that I didn't make a big production about the first day of school.  Yes, I make sure they're prepared (just barely) and help them pick out an outfit and do their hair.  But my heart never feels like it's there with them.  And what I've realized only recently is that it's the nerves that get in the way.  Self-protection from falling apart by distancing myself from the whole thing.  While at the school this morning, amongst the crowd I noticed a range of mom behaviors and couldn't help but realize that my own behavior felt unnatural.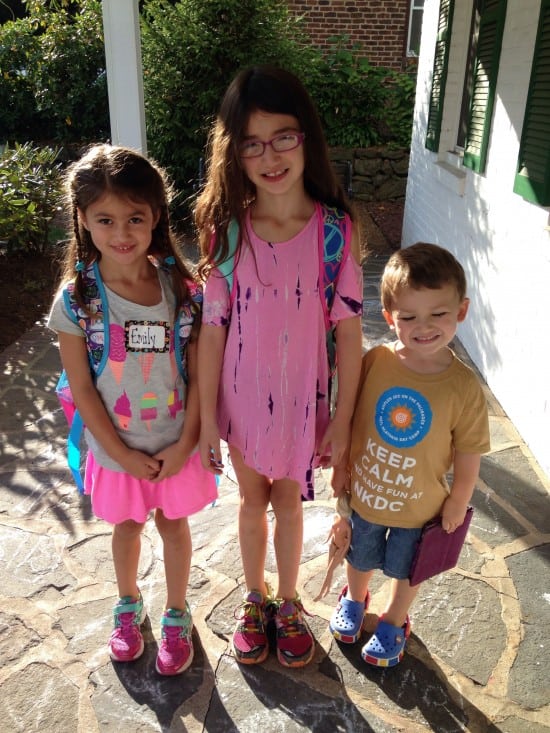 Before we left, I made sure to take the obligatory "first day photos" but felt more rushed and nervous than sentimental. I'm not the mom who overwhelms her children with hugs and kisses before saying goodbye.  Instead I play it "cool" and keep talking about what a fun time they'll have the first day and how many amazing friends they'll make at school.  I tell them they're going to learn so much and it's going to be so exciting.  I tell them their teacher is the best and super nice and warm and that they should always talk to her if they need help.  I ask them a million times if they have what they need in their backpacks.  Then I do my usual rushed-mom-getting-in-the-car routine and off we go.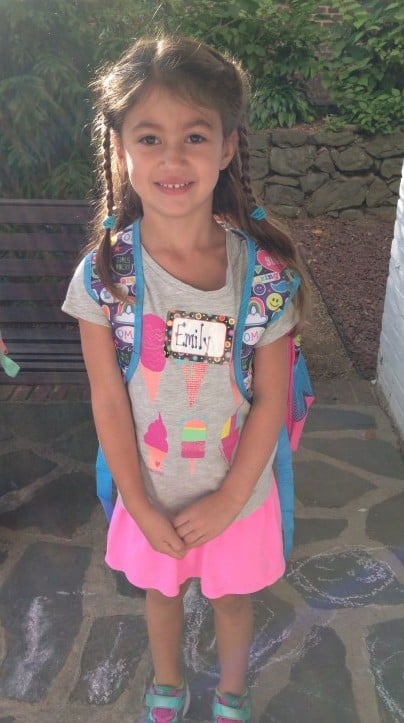 When we get there, I immediately try to look for people we know so they feel comfortable, BUT, I'm not the mom who chats up every other mom and introduces my daughter to all the other girls in her class.   I go the deer-in-headlights route and have trouble formulating a coherent sentence.  It's seriously a good thing it's not me starting Kindergarten today because I'm not sure it would work out.  Luckily my kids are used to this type of crowd and are nothing but excited to find kids to hang with and get into school already.   Maybe the whole "play it cool" thing got to them because they seem to have barely any back to school nerves at all.
I'm not the mom who cries while saying goodbye to her child.
I'm not the mom who will talk to you about what it feels like to watch your child walk into a crowded new school for the first time.
I'm not the mom who chases after her second grader heading into school, just to get one last look.
I'm not the mom who takes lots of last minute pictures.
I'm not the mom who frantically introduces herself to the teacher before leaving.
I'm not the mom who packed all the supplies in her child's backpack ready to go for the first day.
I'm not the mom who wants to hang around at the school for longer than she needs to.
BUT, for the first time ever, today I realized that I'm also not the mom who feels like any of this is easy.  If it felt easy, I would NOT be THIS mom:
The mom who walks back to her car in a daze, toddler pre-schooler in tow, flashing back to the baby she nursed 12 times a day for what seemed like years, because that baby would fall apart without her mom.   Where IS that baby?  What do I do now?  
The mom who cries hysterically in the car for no real identifiable reason except that the first day of school just seems like "a lot" to deal with.
The mom who gets butterflies in her stomach while trying to fill out boring school forms.
The mom who tries to deny the feelings but can't anymore.
The mom who goes home to write it all down.
Just know that when you see me around, I am this mom.  All I ask is that you go easy on me if you see I'm rocking the mascara.
What kind of mom are you on the first day of school?