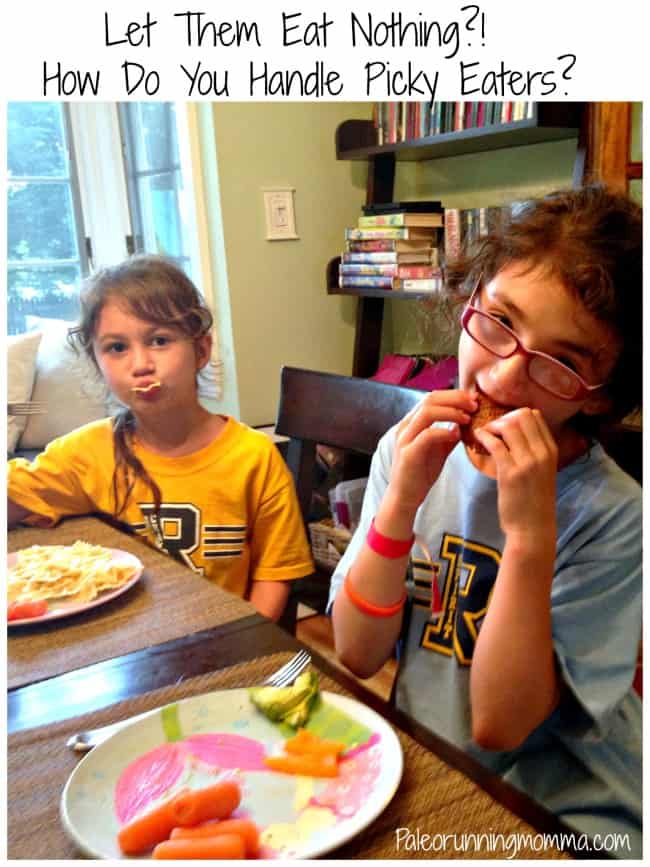 For the past 6 years or so picky eating has been my nemesis.  Before becoming a parent I had every intention of feeding my kids healthy foods, on demand, not using food as a reward, and not making a big deal out of any of it.  BWHAAAAHA!
I laugh in that woman's face.  Dumbass.  In reality, I have not fulfilled any of those intentions.  I have been guilty of feeding my kids toaster waffles for breakfast, WITH syrup, fast food chicken nuggets for lunch, M&M's (shudder) and more pasta with butter than I can ever live down.  And that's not even counting the constant birthday parties both at school and on weekends where it's a free-for-all of pizza and buttercream frosting  and drink boxes.
Loud sigh.  Picky eating is my nemesis, but what kind of battle am I really fighting here?  Am I making it worse when I offer the buttered pasta next to the veggies?  Am I scarring them when I make them try new vegetables and (gasp!) eat non-breaded meat?
At dinner time, right at the point where I'm about to go for "mommy time-out" – after one leaves the table to watch TV without taking a bite, another "never gets mac and cheese" and the last doesn't want the green thing in her burger – I start to think about a time that many of us grown-ups can remember, when parents made a meat, veggie, and starch, put it in front of you and you somehow knew that if you were going to be hungry between then and bedtime that you'd better just eat what's there regardless of whether it's your favorite, or even if you liked it at all.
It was understood that there wouldn't be mac and cheese, pizza, and you couldn't skip dinner and get ice cream and cheerios as a bedtime snack.
But now, there's all this guilt if they don't eat, and all the frustration of having spent time and energy cooking only to get complaints and rejection.  Night after night, for years.  What am I doing wrong?
After learning about paleo and generally becoming a lot more aware of the health repercussions of consuming a lot of sugar, pasta with butter, and fast food, I find myself even more conflicted over what to do with the picky eating issue.  I've had this discussion with friends, and a lot of them struggle with it as well regardless of what they choose to feed their families.
Last night when my "pasta eater" wouldn't even eat the pasta with butter I started thinking (after the raging devil voice came out –  "what do you MEAN you don't want the pasta?!") that maybe I would stop cooking for them entirely.  Not that I won't offer them nutritious meals, but that I would stop trying to guess what will make everyone happy at dinner time – because it rarely works anyway – and start putting some of my dinner on their plates, putting up armour but refusing to battle it out.
I hate being at war and I hate giving into the enemy.  If you can't beat 'em, stop fighting at all.
The thing is, as much as I consider myself a tough, non-spoiling mom, I am living in a culture that is child focused and pleasure focused.   I feel insecure and doubtful when my kids don't eat because they don't like the food.  It makes me feel like a mean mom of the "no wire hanger" persuasion.
My instinct is to offer them cereal or something, when that just sends the message that it's okay to reject dinner whenever it's "not your favorite," as my daughter often says.  Even my older daughter, who likes to eat most paleo meals, freezes up when something is not on the favorites list.   It makes me anxious, and, honestly, it pisses me off.
So, do I let the picky eaters eat nothing if that's what they choose?
Do I deal with the crying when it's not their favorite?
Do I have a chance here or am I just at my wits end and going crazy?  How do I get past the guilt of not making them happy?
I know that I don't want spoiled children who will only eat "pleasure foods" and make demands about small differences in their meals.  Is there a right answer here?
For those of you with picky eaters in your family, how do you deal with the issue?  
Anyone else at their wits end and looking for answers?