In case the title doesn't give it away, what you're about to read is a very special guest post from a kid (my daughter, Diana) who wants to give all the grown-ups out there her best advice on how to get your kid to eat healthy!
Diana is 8 and 1/2 years old, in the 3rd grade, and a self proclaimed bacon addict (the healthy kind.)  In fact, she wrote another guest post several months ago all about how to keep your bacon safe from predators (aka daddy.)
Today she's getting a bit more serious with her advice – in her own words with extremely minimal editing.  Here we go!
How to Get Your Kid to Eat Healthy – 5 Ways – by Diana Rosen
Before I get into all the reasons I want to tell you, if none of these work for you, then you can just secretly put healthy or Paleo food in your kids' meals.  (Editor's note – she had no idea multiple books have been published on how to do just that.)
1) Now the 1st way to get your kid to eat healthy
Make something like a french fry and tell them something about sweet potato fries. Kids like fries and sweet stuff so this might work.  If your kid is into sweet stuff, then talk about how sweet potatoes are sweet.
*If you're wondering how I eat so healthy and if anyone had to make me eat healthy, well no, I'm just born into this healthy family, it's kinda true.  Okay so anyway, try to make the food you cooked sound like something they like.
Lesson 1 – Play up the positive side of the food you want your kids to eat, relate it to what they like, and be convincing!
2) Alright 2nd way to get your kid to eat healthy
Make a deal with your kid.  Everyone knows kids love sweets (ask my sister, she is a sweet expert.) Okay back to the point, let's say you want your kid to eat some eggs, you might also have to give them a piece of chocolate.
Again, if you're wondering if I had to be given a deal, the answer is no and I think eggs are like a treat.
Lesson 2 – Balance!  It works!
3) Okay 3rd way
So if your kid likes unhealthy food like from a restaurant (unless it's a Paleo restaurant, but I don't think so) just tell them how yucky the food is and how unhealthy it is.
If the kid hears enough about it, I bet they'll be like "okay, that's enough, I will eat something healthy." If you're wondering if this happened with me, well the answer is kinda – but look at me now, I'm the one giving tips!  So trust me, it works.
Lesson 3 – brainwashing isn't always a bad thing.
4) 4th way to get your kid to eat healthy
Let them eat all the not-healthy food they want for a week.  I bet they'll want to stop and eat something healthy and get tired of all the unhealthy foods.
Lesson 4 – when restrictions are eliminated, our bodies eventually guide us to the good stuff – as long as it's available! 
5) 5th way – the last way!
Make your kid something healthy, then put like a spice or something on it that they like and they might go for it.
Lesson – make healthy food taste good – spices/seasonings/sauces can make a world of difference, even for kids!
Alright, I thought of 5 ways to get your kid to eat healthy, but remember, if they don't work you can probably just hide healthy stuff in whatever you make.  It's worth a shot. But try these 5 ways first and you might be surprised!
Thanks to Diana for helping her mom blog during this very busy holiday week!
And thanks Amanda, for letting us Think Out Loud today!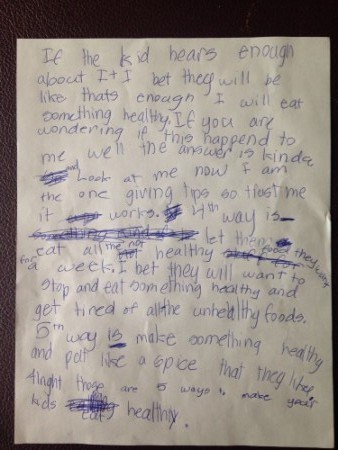 Have you used any of these tactics on your kids?
How did your parents try to get you to eat healthy as a kid?
Have a very Happy New Year Everyone!