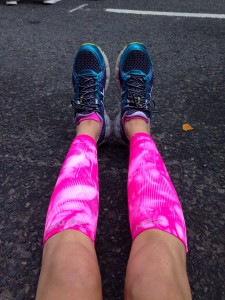 As a brand new runner one of the first things I learned was that it's fun to count your "weekly total".
My goals centered around getting those miles up to "prove" myself a runner. Ah beginners! It sounds silly to me now, even though I'm still aware of my weekly stats there are so many other parts of my training that are important beyond the number of miles covered. But for a second lets forget about all of that and get back to the miles. How many should we run and what impact does that number have anyway?
Any distance runner knows that generally, more miles = more endurance. Well sort of. I mean there is solid science behind why this is theoretically true. These are some benefits of endurance training, i.e. running lots of miles:
"•stimulates more fuel (glycogen) to be stored in your muscles
•increases the use of intramuscular fat at the same speed to spare glycogen
•improves your blood vessels' oxygen-carrying capability by increasing the number of red blood cells and hemoglobin
•creates a greater capillary network for a more rapid diffusion of oxygen into the muscles
•increases mitochondrial density and the number of aerobic enzymes through the complex activation of gene expression. This increases your aerobic metabolic capacity." – Active.com
In other words, your body supposedly adapts to the demands you put on it. Wouldn't it be cool if it were that simple? I could run 100 miles one week and be like a so totally amazing runner. Like OMG the best runner ever. People would be jealous. I'll go start right now…
In reality by the end of that week my life and body would likely be in shambles, with inflammation spreading throughout my system, my lower leg tendons dragging behind me somewhere and no amount of nutrition could pull me off the couch. Because in reality, the mileage game is not straightforward, and since the mileage that someone is fine with one week could have them sidelined the week after, it can be impossible to predict the impact sometimes.
Even the experts are far from settled on the issue. "It's very hard to say how much mileage is ideal to maximize the various cellular adaptations that take place as a function of time spent running," says exercise physiologist and coach Jack Daniels, Ph.D., author of Daniels' Running Formula. "The best answer might be to do as much as you can without losing interest or getting sick or injured." – Active.com But what does that mean? And why is it so hard to understand? The reason is inherent in the training, and it's stress.
When you train, you demand performance from your body and that stresses your system. Your body's ability to recover and adapt to the stress you put on it is how you improve. So there has to be a balance (it's always about balance right?) You have to make sure that you stress your body enough to make significant adaptations but not so much that it can't recover fully enough to make the adaptations. But since we are real people who have other stressors in our lives besides training, the situation gets sticky. "Cortisol becomes a problem when it's released and stays at relatively high levels for long periods of time. As Mark (Sisson) has talked about before, the "flight or fight" stress response from encountering a lion and having to run away is intense but short-lived. The more insidious stress response is the constant, low-level cortisol response from having to work a job you hate for long hours or fighting constantly with your spouse." – Strength Running. All your life stressors come into play, increase your cortisol levels, and impact how your body recovers from training. So how do we know when we are too stressed and need to back off?
I believe the answer lies in recovery. We hear about it all the time, but without it your training is in vain. How your body recovers from various types of runs will determine the stress it will be able to handle afterwards. So, it is not JUST about the miles, but also the intensity of the workout and what comes before and after. Getting to know how your body handles different types of workouts in addition to total mileage, and what it needs to fully recover is key if you want to improve performance. The priciple of more mileage leading to greater endurance is true up to a point. Figuring out your "point" during a training cycle is a challenge, and many runners wind up learning the hard way. I've found that when I'm marathon training and doing a 16-20 mile long run every weekend, I need 2 full rest days and cap the weekly mileage at 40-45, maybe 50 at the most, to stay healthy. The long run really takes a toll on me. But when I'm training for a 10k to a half and my longest run isn't more than 12-13 miles, I only need one full rest day (usually) and can handle up to about 45 miles. With more mileage and less rest, my performance plateaus and ultimately I have suffered when I tipped the balance toward overtraining. Science experiments of one can be painful.
Everyone is different and the same person is different from him/herself depending on what life is looking like. So what's the answer? Well, the goal of running for most of us is to feel good, improve performance, and provide a lifelong meaningful hobby. With that in mind the mileage you can handle is one that keeps your running goals within reach. Sure it's a trick question, most running questions are. That being said, if you want to increase your mileage, doing it slowly enough to take note of any problems is an absolute must. Rushing to get fast has only made me slower in the end.
Do you have a "happy mileage"? How does your mileage vary based on training goals? Have you ever gone beyond your mileage limits and if so, what happened?