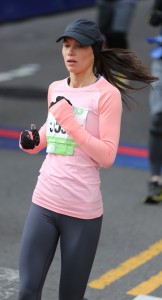 I originally wrote the title of this post as "Does Your Body Image Impact Your Training" but, since I don't like painfully obvious trick questions, I decided to just skip to the good part so we can talk about HOW our body images impact our training. Because if you're thinking that you train in a vacuum or a bubble safe from society's obsession with body image, you might be just a little in denial or even flat out delusional. And if you're thinking I'm sounding hypocritical because I wrote this post you can re-read it, because, although related, this is a separate issue. Yes, our body image affects how we train, but in what ways? Does having a very positive image of your body make you a better athlete and does being critical of your body hurt your training? Do our struggles to accept our bodies place limits on what we accomplish? How exactly does that happen?
Now, this post is a collection of my thoughts and experiences and not a research study, so any ideas are ONLY my ideas, and possibly fuel for your own awareness of how your personal relationship with body image affects your training.
A Short Background
I have never viewed exercise as punishment, but as a way to feel stronger and more capable and also to have fun. That being said, I have not always been accepting of my body, and to a degree I am still critical of it, although in different ways than I once was. I had 3 kids all still in my 20's, and through being pregnant and nursing three times I looked and felt very, very different at different points during those years. I honestly feel that seeing my body stand up to those challenges gave me the courage to push my limits and become more "serious" and "competitive" as a runner (quote unquote because those are relative terms).
So for me, that was clue number 1 that my body image impacted my training. The shift toward a more positive view of my body, brought on by childbirth and breastfeeding, led to me taking myself seriously as an athlete and showing respect for my body's capabilities. So where did I go from there?
My Body, Running
When I started racing, running faster and seeing pretty incredible results, in the back of my mind I think I expected to start "looking the part" of a runner. Whatever that looks like. I think I expected to look a bit more toned, a bit more…SOMETHING…but instead I pretty much looked exactly the same as when I was just a casual jogger. This didn't exactly upset me, but I think it confused me. Can I be doing more? Should I run more miles? Am I running enough? Could I run faster? In hindsight, I was giving weight to what I was seeing in the mirror almost more than the actual results I was getting (like race PRs left and right!) I would be at the start line of a race and noticing how much more defined the other runners calves were and I'd feel intimidated (they must be faster/run more than me/be stronger than me). Never mind that I have a naturally slender-ish body type that doesn't seem to show a ton of muscle no matter what. I was questioning my abilities based on other people's calves. I think I pushed myself beyond what I needed to and beyond what I was ready for hoping the ahtlete "look" would start popping out of me somehow. I was showing that I still had a long way to go with my body image.
The more I raced, the more I realized that fast runners come in lots of different body types. Some were rail thin, some muscular and others very "average" looking. It helped me let go of some of that nonsense and break some of those "athlete body" associations.
But my body image continued to impact my training. Upon completing my first marathon and qualifying for Boston, I felt better about my body in terms of its capabilities to perform, I was in some ways amazed by it. I wanted to see what it could do, to test its limits, and began a road into what I now consider obsessive overtraining and a feeling of invincibility. I thought I could run like this forever and I didn't consider my body would let me down.
Yet when I looked in the mirror I really didn't like what I saw. I was running 50-55 miles a week, not strength training, eating what I felt was the maximum I could at the time (lots of grains and processed junk) and I was pretty self conscious about how skinny and un-athletic I had come to look. I didn't feel "feminine" anymore and didn't know if I should just accept myself this way (since I was happy with my running) or try to do something to change it. I went the route of wearing baggy clothes in my "non running" life and put more emphasis on fashion than my body. But, since I wasn't feeling great with how I looked, I placed extra emphasis on deriving self esteem from my training, running tons of miles, hills, considering an ultra, and I think I was trying to prove to myself that being capable was all that mattered.
My Body, Hurting
That all came to a screeching halt when I developed not only terrible running related digestive issues but also posterior tibial tendonitis (I was running barefoot, oy) and had to reevaluate my entire approach and philosophy. I wasn't angry at my body or at myself, but I knew I had gone off the rails and needed to step back into reality.
Working On It
At this point, 8 months later, I have put on a little weight and muscle naturally through the process of recovering and doing a diet/lifestyle overhaul. I am pretty rarely critical of how I look, although I am struggling with body image still in the sense that I want my body to be able to do more than it has proven it can. I expect too much from my body and when it doesn't give back, I feel frustrated. But, I accept its limitations more now than I ever have, and I hope I can learn to cut it some slack as the years go on and aging happens.
Here are a few questions to ask yourself about body image and training:
Do I expect my training to change how my body looks? How do I think it should look?

Do I train more or less on any given day if I'm feeling badly about my body?

Do I train more or less on any given day if I'm feeling good about my body?

Do I ever expect my body to do more than it's shown me it can while staying healthy?

Do I not give my body credit for accomplishments it deserves?

Do I ever fuel too much or not enough based on how I'm feeling about my body?

Has a poor body image ever prevented me from pushing my body to realize its own strength?
How has YOUR body image impacted how you train? Have any more "food for thought" questions?