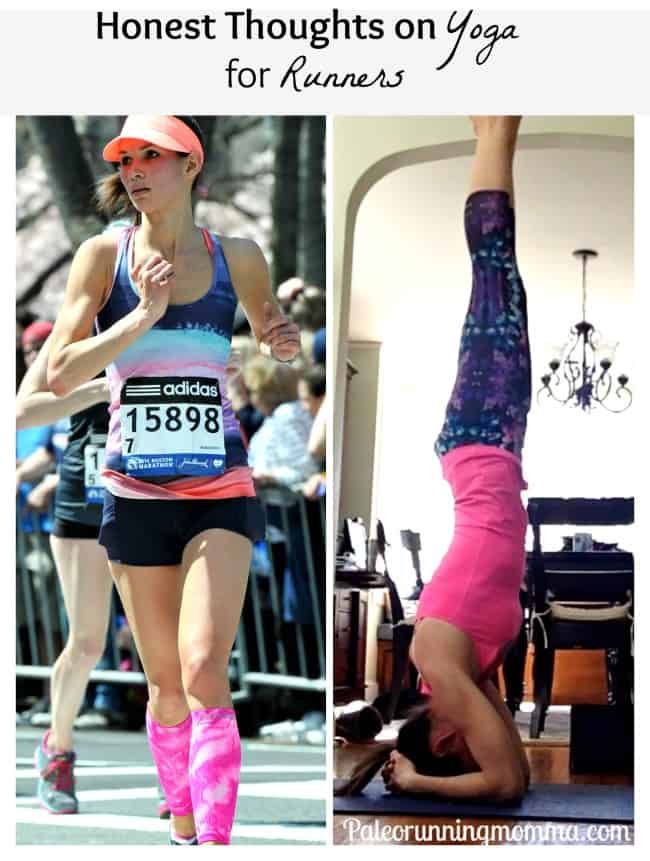 I am still really new to yoga, having only practiced regularly for just under 5 months now and all of it being home practice.  Since then, I've made it a nearly everyday practice, meaning I'm doing SOME sort of yoga every day, with some being an hour of power vinyasa, other days 20 minutes of stretching, and most something in between.
Even though I've only been practicing for a short time, I've really come to view it differently now than when I first started out.  I figure now is the time to share some thoughts about how yoga has benefitted me as a runner and in general.
Thought # 1 – You can't have it ALL, but you also don't have to choose.
When I was in 9th grade, I was a cheerleader and I was also getting more serious with singing and taking private vocal lessons.  My singing teacher flat out told me that I could not continue cheerleading while pursuing vocal music in a serious way, not because of time issues, but because cheerleading would ruin my voice.  What I should have done was find a new singing teacher, but, I went with my heart, chose cheerleading and she subsequently "refused" to teach me.
I'm mentioning this story because I always think about this situation when faced with introducing a new activity into my routine, and wonder if I have to "choose."  And honestly, I do believe it's extremely difficult to fully excel in or master 2 different things at the same time, mainly because passions are as exhausting as they are exhilarating. Cheerleading might have hurt my voice just enough to limit my potential, but I do believe that my singing teacher wanted to test my commitment to singing, because at that point in time, it was my "secondary" passion, and she did not want a student with a secondary passion.
If you're a runner who loves running, as I am, you CAN do yoga and it can definitely benefit your running, your fitness, and your life in general, but it's not straightforward and it's not magic.   There's a lot to consider in terms of time, your body, your training, your goals, and your expectations.   I don't think I'll ever have to "choose" between yoga and running completely, but since they are both activities requiring energy, it's a delicate balance to incorporate both into a training plan.  Sometimes running will take priority (like with marathon training) and sometimes yoga will, as it has over the winter.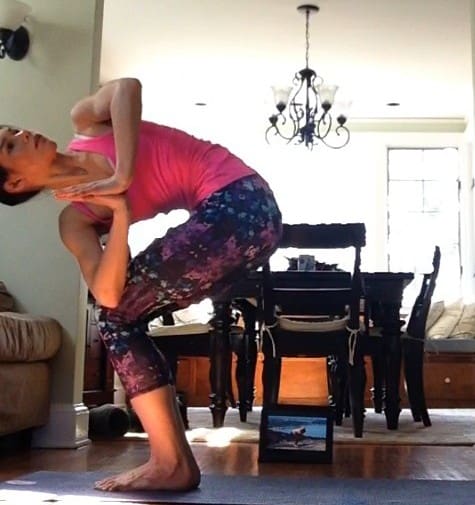 Thought # 2 – Yoga is Not Rest – Yes I know I Sort of Just Said That
Before I got started with yoga, I pictured it being very restful with lots of lazy stretching and holding poses for long periods of time.  Funny how I thought that holding a warrior pose or even a pigeon would be "restful."  I've found that yoga can be very strenuous, to varying degrees and in different ways depending on what you're doing and for how long.  I simply cannot run 10 miles in the morning and then do an hour of yoga without feeling depleted in a bad way.
Additionally, (and in part thanks to Meghan!) I'm now aware that a "rest day" involving 45 minutes or an hour of vinyasa is just not rest.  It's not running, but your body is being stressed, plain and simple.  And I FEEL this.  Waking up with sore abs or hip flexors the day after a rest day probably means you didn't actually have a rest day.  This is something to take into consideration if you're a runner like me, who is tunnel-visioned on running and "forgets" that other things are exercise too (oops!!)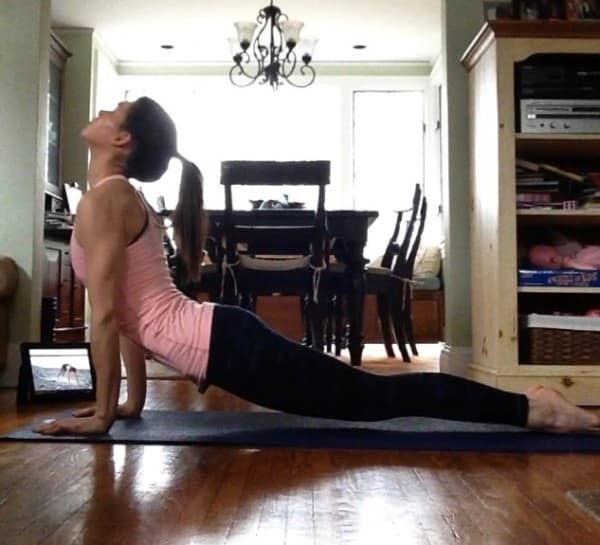 Thought # 3 – Yoga Helps Me Connect "Honestly" with My Body
I'm stealing this from the yoga video "Yoga for Runners – Injury Prevention" with Fiji McAlpine.  Yoga immediately shows you where your imbalances are and introduces you to your body in a way that running does not.  You'll face the tightness and what I can't describe better than "weirdness" in your body head on.
As runners we can be quick to brush off little "niggles" and pains here and there, with yoga you just cannot do that since you will be aware of and feeling every part of your body without distraction.  This is a good thing for me, and has given me valuable information about where my weak spots are (left side is weaker up through my hamstring, right hip and lower back are tight, for example.)  I like that I've seen my left side balance improve slowly but steadily, which tells me things are also getting stronger where I need them to for running.
Thought # 4 – Yoga is very similar to running
You go through very similar and familiar motions and get into your "zone" where everything else in the world melts away and you are present in your mind and body.  I feel that way with both running and yoga, and, I also enjoy the routine and discipline that each provides.  As with running, yoga can feel as relaxing or challenging as you want it to on that day.  Although in my opinion an "easy" yoga day is more relaxing than an "easy" running day 🙂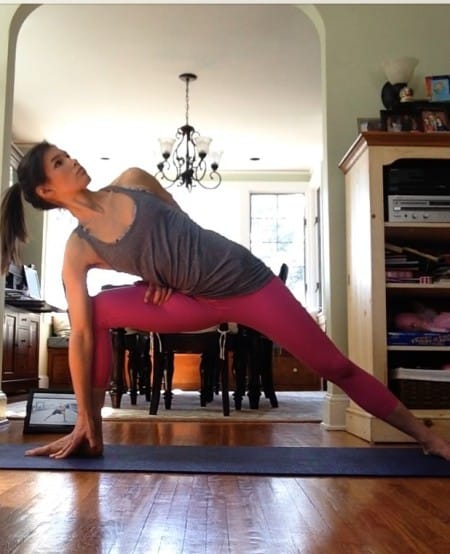 Thought # 5 – Yoga physically feels incredibly different than running, in a GREAT way
When we run our muscles tighten, when I do yoga everything feels like it's lengthening and loosening even as I'm strengthening my muscles.   After 30 minutes of yoga on a run day, my body feels awesome in a way I just never felt before I started yoga.
Thought # 6 – Yoga Has Not Made me Faster 
Yoga is not magic and it hasn't made me faster, I'd have to actually be consistent with my speed work for that to happen!  I think before I did yoga I was hoping that it would magically make me faster (I think I have a tendency toward hoping for magic "fixes") but I can't say I'm disappointed, and I do think it can make for healthier running overall.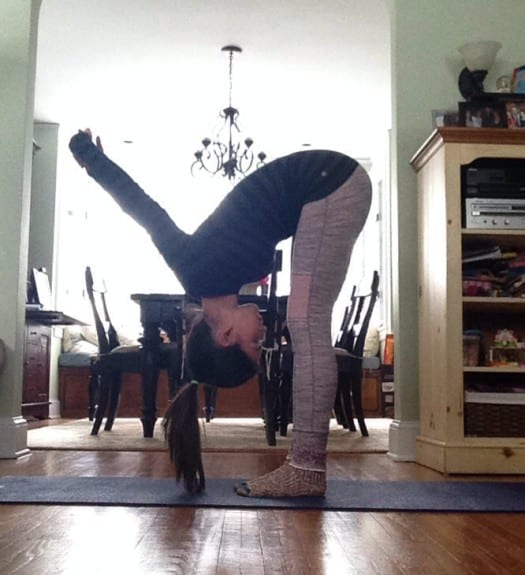 Thought # 7 – Yoga Helps Me Recover
This is where I think consistent yoga practice can indirectly help with speed.  I've always had issues recovering fully from speed work and I do think more awareness of weak spots and a focus on tight areas can be helpful for recovery.  It's hard to tell if this is more mental or purely physical, but I do feel healthier as a runner since beginning yoga.  I also haven't trained for a marathon while practicing yoga, so I can't speak for that yet!
Thought # 8 – Yoga Helps me Connect Honestly with My Mind
From a purely mental standpoint yoga has pointed out a few problem areas, mainly reluctance and difficulty with rest, "doing nothing" and honest reflection.   I've slowly come to the point where savasana finally does not feel like "wasted time" (that sounds crappy, but being honest!) and I will actually lie there and rest, as hard as it sometimes is. Fighting with this reluctance has stirred up some growth, I can feel it, and I'm enjoying it.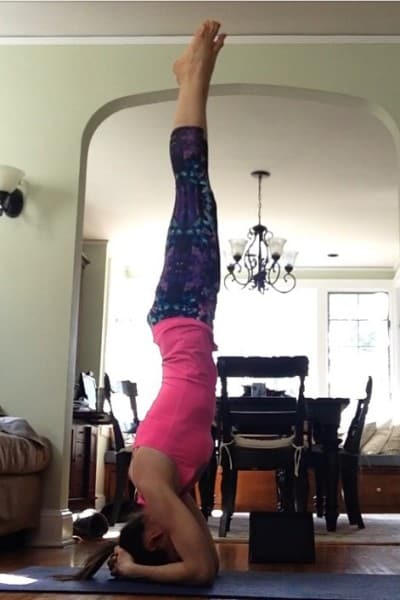 Thought # 9 – Being Upside Down is a Nice Change for a Runner
Although you need to be really careful, especially if you have blood pressure issues, as Meredith realized, being upside down feels pretty darned awesome when you're normally on your feet.  I feel my whole body loosen up when I'm in shoulder stand or headstand or even just a forward fold.  I especially tend to hold tension in my shoulders and neck, and being upside down somehow really relieves that feeling of tension.
As my yoga practice continues, I'll aim to do about one post per month just on yoga, home practice, and benefits and/or problems related to running.  Since it's become a big part of my life, I'm more than happy to write novels on it;)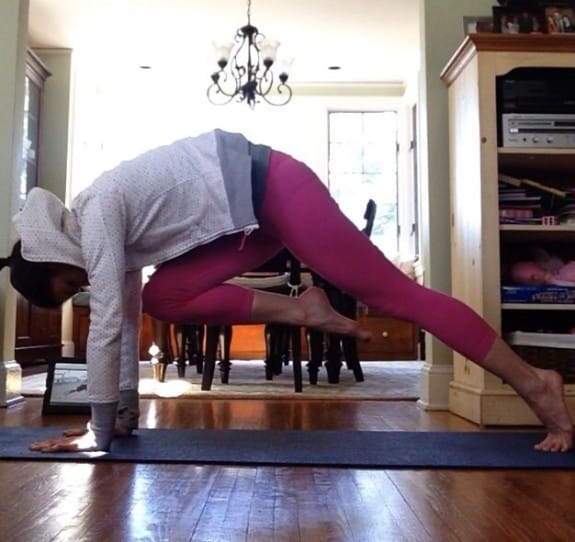 Thought # 10 – Yoga is "free" core work
I hate traditional core work.  Tried to love it and and wound up hating it more.  It sucks for me and I can't make myself stick with it. BUT I love yoga, and core work "sneaks" in all over the place while you practice, and if you engage your muscles you're really engaging your core over the entire practice.  But since I'm not thinking this way, yoga feels like "free" core work.  Like blending spinach into brownies or something.  You're aware there must be something healthy in the brownies but you happily eat them anyway.
Do you practice yoga?
Any questions about yoga specifically for runners?  My big one is how I'll balance it with marathon training this summer/fall.