This post is not actually about my body hair, although it's not like I'm thrilled with the state of affairs in that department either.  TMI, I know.   It's Thursday so this is the thing we do – we think out loud with Amanda and see where it takes us.

So, I'm what I'm really referring to is the morning my flat iron died.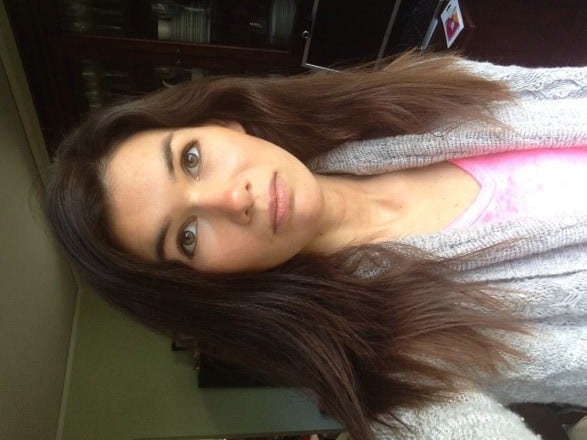 I went through the Kubler-Ross 5 stages of grieving over the course of 10 minutes and was left only with this – my flat iron is gone, and it took with it any and every ounce of confidence in my appearance I thought I'd built up since about 8th grade.  I'm not joking.  This is the text I sent to my sister that day:
I put my hair in the frizziest and oddest shaped ponytail because that's all it would do, and started to reflect.  No, you're not enlightened.  You thought you were winning the game but you just spun a "2" and have to go down the big slide now back to the beginning (that's a chutes and ladders reference fyi!)
My hair sucks.  It's always sucked.  It's not curly, wavy, or straight.  Actually, it's curly, wavy and straight all on different parts of my head.  The one consistent part is the frizz, which is not my imagination at all.   Several stylists have commented that they are surprised at how frizzy my hair is as they are drying it, as they wouldn't have guessed beforehand.
Later that day, of course, I ran into a bunch of "cool girls" while shopping for some kid birthday presents.  The "cool girls" I suppose were just regular people I'm acquainted with, but, when you're feeling like you're 13 again any other female who isn't you or your best friend is a "cool girl."  I literally wanted to knock the ridiculousness of these feelings out of my head – I mean seriously.  It's freaking hair.  Plus no one cares AT ALL how frizzy your hair is.   Although I tried to smack the stupid out of myself, I couldn't, and picked up a cheap new one in the grocery store.
Is it working?  No, at the hottest setting I can touch it with my finger for like 5 seconds without getting burned, so no, it's not helping my hair.
I would tell you the uplifting story of how after almost a week of frizzy hair I have now embraced it as part of who I am, but eff that, it just doesn't work that way.  Not after decades of trying to change my natural hair!  This is real life, and we pick our battles.  I will be ordering a new flat iron as a Mother's Day present to myself and moving on to bigger and better problems.
10k Goals
The goals (or complaining) here are not to be mistaken for the "bigger and better problems" I just previously referred to, just to clarify.
Something funny happened to me this morning on my run.  I thought about the weather forecast for Sunday (hot) and how I would approach the race IF I DID NOT HAVE A BLOG.  What came back to me was "fun run" meaning if conditions won't be conducive to pushing myself, why push?
Although I didn't start my blog with the intention to "impress" I think it's natural to feel self conscious about race performance when you know a lot of people will potentially see your results.  I think many running bloggers must feel this pressure, though I'm not totally sure how it affects each of us.
For me, I think I feel like I should appear "serious" about each race.  Why?  I don't know, I don't have any good answers, because in my heart and good judgement I know that just being real about life and feelings is essential to a good blog.
So the truth about my goals for this weekend's race is, I don't have any real goals.   I'm running the 10k and then the 5k with Emily, and I'm more excited for my run with her than I am for my own race.   Diana is also performing with her dance team after the 5k, my parents will be there for Mother's Day, and I'm just looking forward to having a great time with everyone and not feeling like sh*t from pushing myself too hard in the morning.
What's one part of your appearance you think you'll always be insecure about?  What do you do about it?
How does blogging affect how you approach life?
If you're a runner and blogger, do you feel pressure to "impress" in some way?