Since I'm away this week I thought it would be the perfect time to beg Lisa, my good friend who blogs at Running Out of Wine, to teach me (and you all too!) to foam roll.  And she said yes, so a big thanks to her for getting me started with foam rolling techniques for runners – such an important part of recovery during marathon training!
Hi everyone! I'm Lisa and I blog over at Running Out Of Wine. I am excited to be here sharing some information about foam rolling while Michele is on vacation!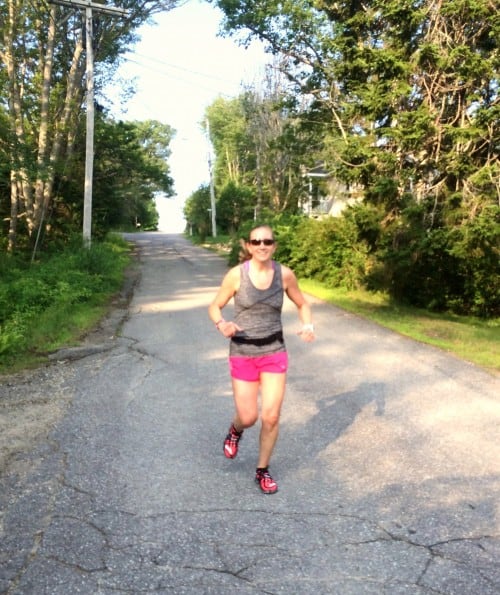 I have been running and working out pretty much since high school, but I still remember the day I read about the mysterious "foam roller" in Runner's World about 5 years ago. At the time I hadn't been injured and kind of ignored the advice, thinking it was just a way for fitness companies to make more money. Fast forward a year later, and I was in PT with an injured hip and what did they suggest I do (besides rest and exercise)?- Buy a foam roller. So off to Walmart I went and purchased a basic $15 foam roller. I made an effort to use it, but honestly, I don't think I had a clue what I was doing or what was supposed to happen so I don't think there were any real benefits. I'll skip the rest of my injury history- because it's a long and frustrating one- but over the years I have learned how to foam roll effectively and just why it is so important for runners. I hope to be able to help some others who are new to foam rolling or feeling a little lost about what to do with this mysterious objectJ
Let me start by introducing the key players here: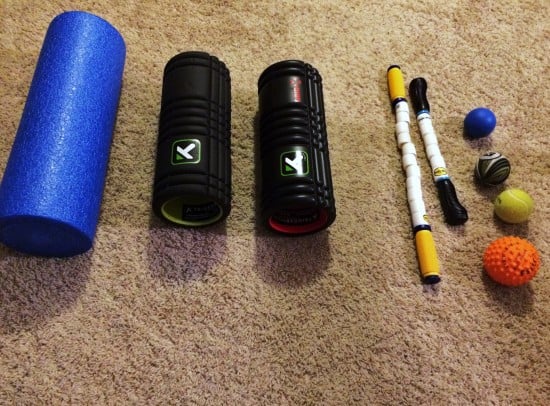 From left to right:  A basic foam roller, the trigger point foam roller, trigger point grid X, "the stick" (regular and mini), lacrosse ball, trigger point massage ball, tennis ball, and some sort of other pointy orange ball which I have no idea where it came from-but it works.
If you have never done any  sort of self-myofascial release before (which is basically a fancy way of saying foam rolling or self-massage) I would start with a basic (softer) foam roller unless you get regular massages or ART (Active Release Therapy) and you are used to putting intense pressure on your muscles. I'll also explain how the other tools can supplement foam rolling, but I'll start with how to use a basic roller.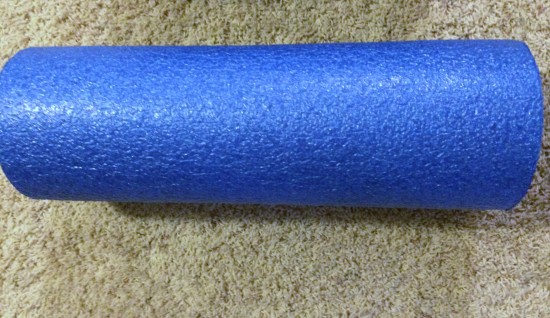 I thought about taking some "how-to" pictures but I figured I would spare you all that, and include links to other resources as necessary:
Start with the quads (you can start with any muscle, but the quads are easy to get to) so lay on your stomach and place the roller under one of your quads. Holding yourself up on your elbows, roll up and down on the roller so it moves from your knee to your hip. Try to cover all areas of the quad. Do this for about 30 seconds, go slow, and try to hold for a few seconds on any spots that you feel a lot of tension. Move the roller under the other leg and repeat.
Next you can work on the IT band and TFL (tensor fasciae latae). Lay on your right side and place the roller under your right IT band. Hold yourself up on your right elbow and if you want you can bend your left leg and place it in front of your right to help with balance. Roll up and down, trying to also hit the top of the leg where the TFL is (the side of your hip) for about 30 seconds and hold longer on any tight spots. Switch sides and repeat.
The calf and hamstring are done in a similar way: Sit down and put the roller under one of your legs. For the calf muscle, roll from the ankle to the knee; for the hamstring, roll from the knee to the top of the hamstring. Do this for 30 seconds on each side and hold longer in any tight spots.
The glutes can be really tricky but are SO important. You may want to refer to a website with pictures to help figure it out. Check out This One for pictures of how to foam roll most of the muscles. The whole back of the hip area- glutes and piriformis- can get really tight in runners and cause lots of problems. Sit on the floor and cross one leg over the other. Put the roller under the bottom leg and roll out your glute and hip area for 30 seconds, holding longer on any tender spots.
Other areas to consider are adductors and low back. But I am going to move on to talk a little about the other tools.
Once you get comfortable with the basic roller, you can try a firmer roller to get deeper into your muscles.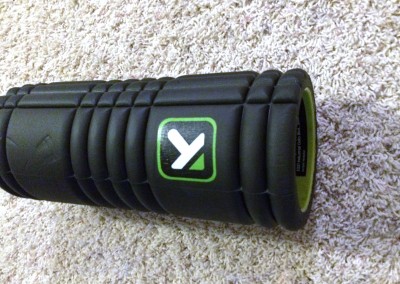 This is the Trigger point foam roller, my best friend for the past 2.5 years. The Trigger Point Website has lots of great resources so be sure to check it out!
Recently I decided that I needed to upgrade to an even firmer roller so I bought the Trigger Point Grid X: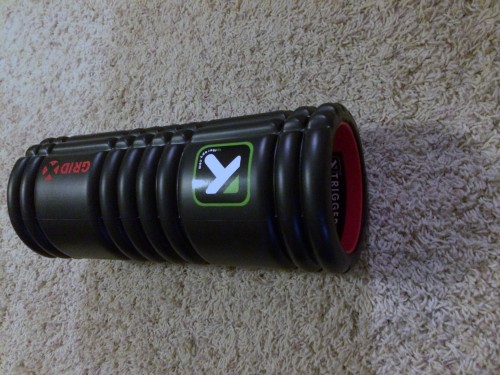 This one is REALLY firm and can be quite painful, but really gives your muscles a deep massage.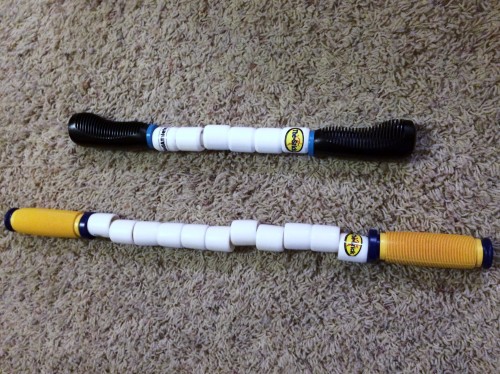 The sticks are a great supplement to the rollers. They are easier to travel with and you can sit on the couch or in a chair rather than rolling around on the floor. I really like using the small one for my calves. It's the same concept as the rollers- you put pressure on the muscles, roll up and down for about 30 seconds and focus more on any tight spots.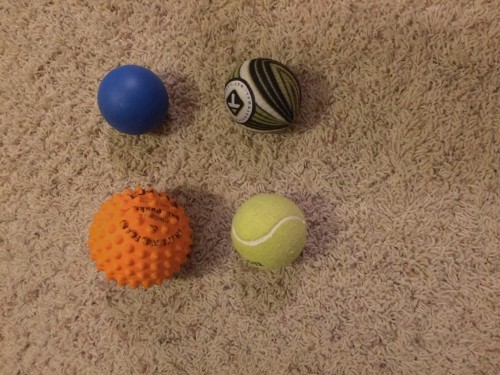 And finally, these smaller tools can help to release smaller muscles. The tennis ball is the softest, then the trigger point massage mall is a little firmer, with the lax ball being the most firm of the 3. I like to use these for my piriformis in the same way you use the foam roller- one leg crossed over the other and put the ball under your bottom hip. This will hurt. I have no idea where I got that spiky orange ball but I have used it for my low back. You can really find random stuff in your house and turn it into self-massage tools.
Well that was quite a bit of information, but I hope you found it helpful! This information is just stuff I have learned from my own experience, and I'm not a medical provider of any sort. If you have any questions you can E-mail me at runningoutofwine(at)gmail(dot)com. Thanks, Michele, for having me!