This post was sponsored by TULA Probiotic Skincare and all opinions are my own, as always.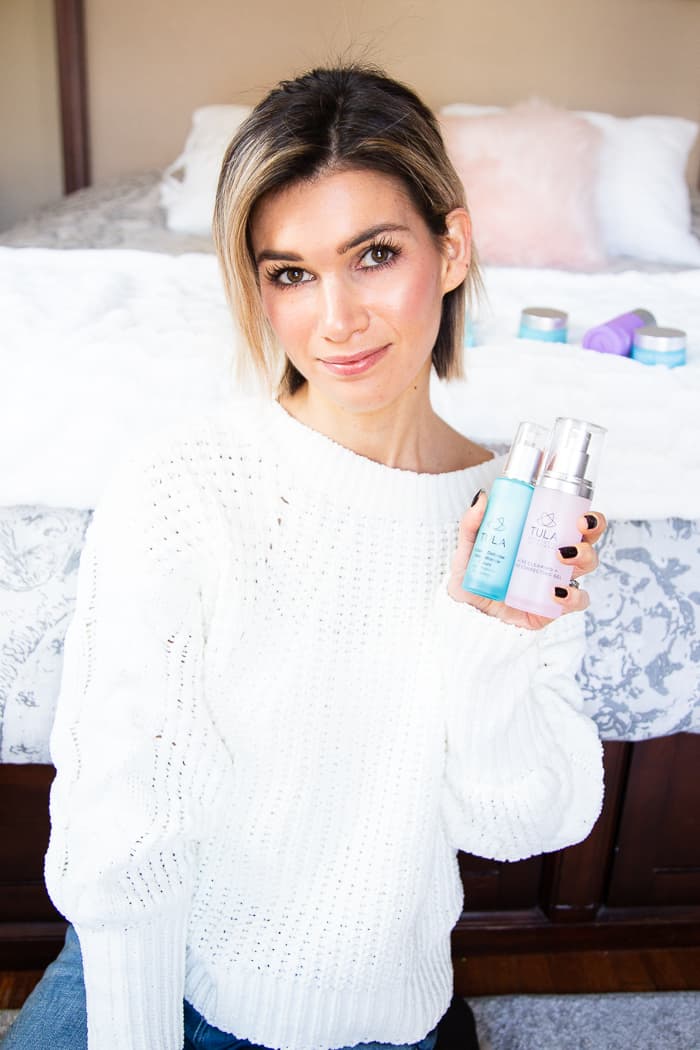 I have lots of gorgeous skin goodies to share with you today!  We're right in the middle of all the chaos and fun of the holiday season and if you're like me, you might still have a gift or two to grab before it's all over.
If you're shopping for the fellow females in your life and would love to gift them the best skin ever, there are so many great products from TULA, as well as holiday gift kits, that are perfect for anyone.
If you're not familiar with TULA, read all about them in my post here.  I've been using all TULA skincare products on my face for over 6 months now, and I started noticing clearer, younger looking and smoother skin almost immediately.
Let me show you all my favorite products lately and also a few of the holiday gift kits!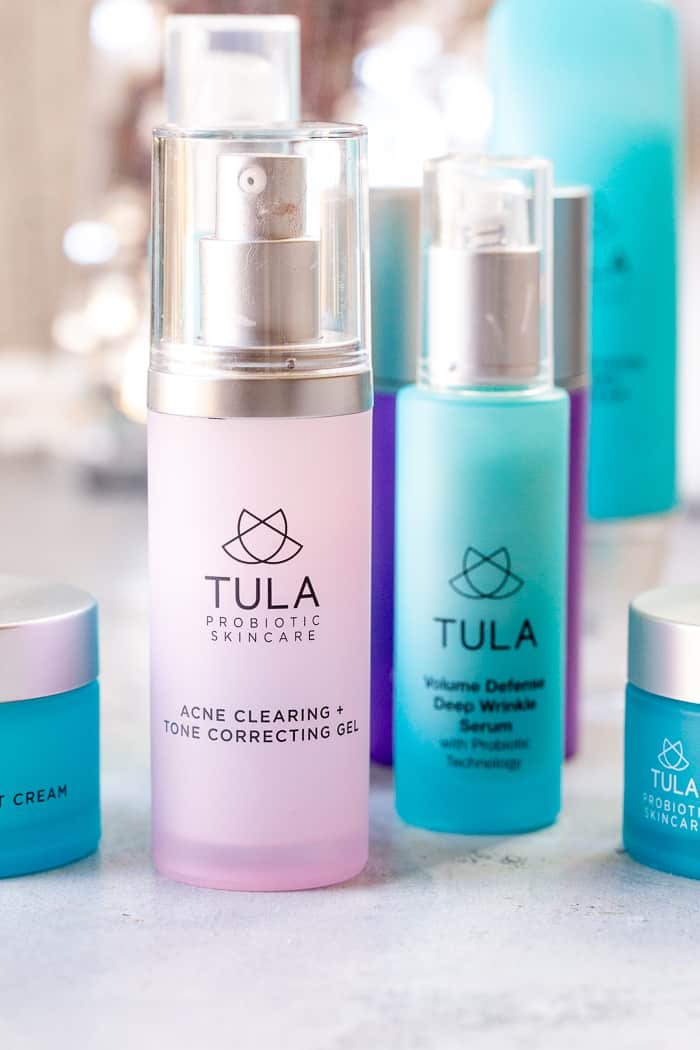 Hands down, I think my favorite TULA product is the acne clearing and tone correcting gel.  I swear by this stuff to keep my skin from breaking out – nothing else has ever worked like this magical gel!  And, let's just say I've been trying different products for a good 25 years.
Within a week of using this gel, I noticed several old dark spots from previous acne were fading, and I wasn't breaking out with new blemishes.
I have oily/acne prone skin that gets drier and more sensitive during the winter months, and now that we're in December, I'm still able to use this gel without any irritation at all.
My other favorite product is the volume defense deep wrinkle serum.  Because wrinkles and blemishes started to overlap somewhere in my early-mid 30's, these are the two products that have made the biggest difference in the appearance of my skin.  I apply this over the acne clearing gel morning and night.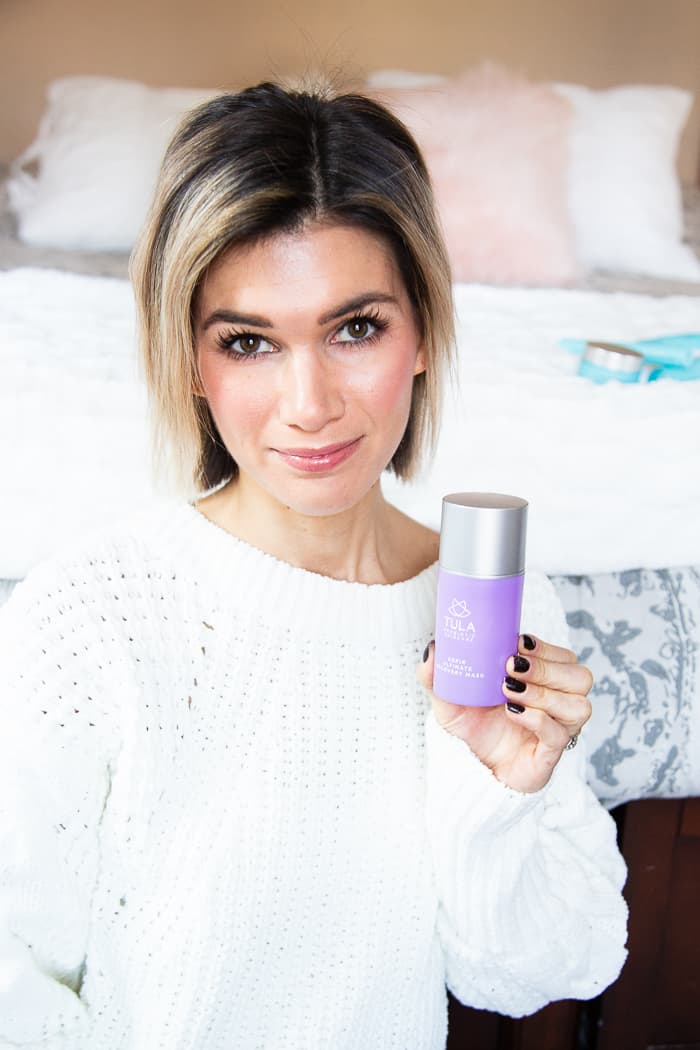 As I mentioned, my skin can be very oily in the summer and then all of a sudden become dry, flaky, and irritated as it gets colder and drier outside and in.
My favorite mask for the winter months is the kefir ultimate recovery mask.  It's formulated to help your skin recover from extreme dryness and signs of distress.
I've been using it once per week and it feels soooo soothing both during and after!  Perfect for rehydrating all skin types when you need something extra.  In addition to the mask, the Kefir Moisture Repair Pressed Oil would be a great stocking stuffer.  This serum is perfect for sensitive, dry skin that's a reality of the winter months.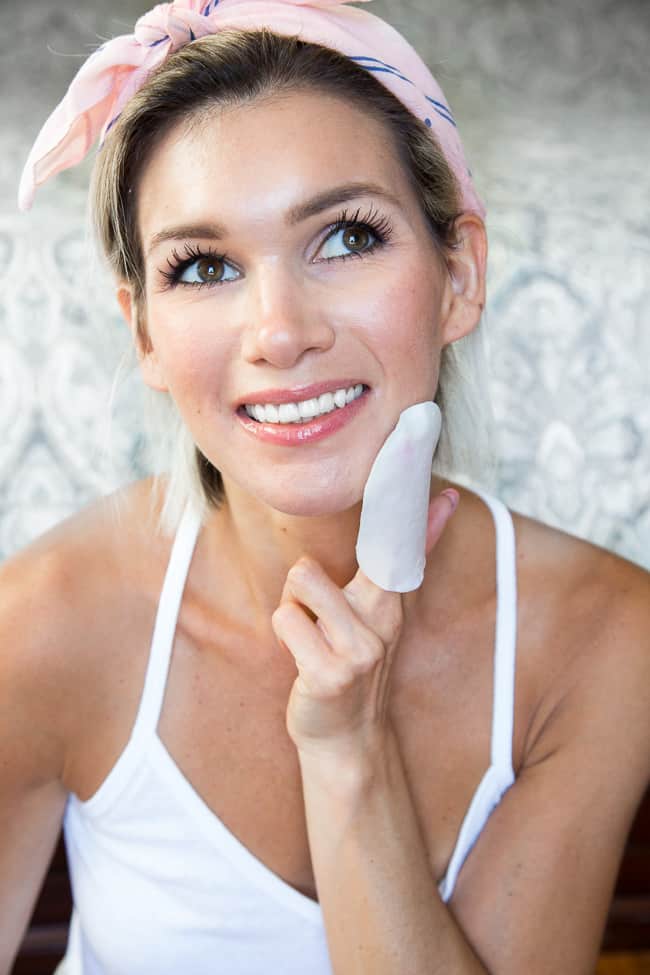 Now for the holiday kits!  The "Rockin Radiance Kit" is great for anyone who wants to get started using Tula products.  The kit includes:
Purifying Cleanser – 6.7 fl oz
Supersize Hydrating Day & Night Cream – 3.4 oz (2x regular amount)
6 Skin Reviving Treatment Pads
Holiday Cosmetic Bag
The day and night cream is completely perfect for all skin types as an anytime moisturizer, and it's actually my third step after the acne gel and deep wrinkle serum.  It provides lots of moisture without feeling greasy, which is super important to me since my skin does get oily.
The skin reviving treatment pads are shown in the photo above.  They're double sided pads that polish and exfoliate your skin just like a mini facial.  Once again, they're suitable for all skin types and perfect for when you need something extra!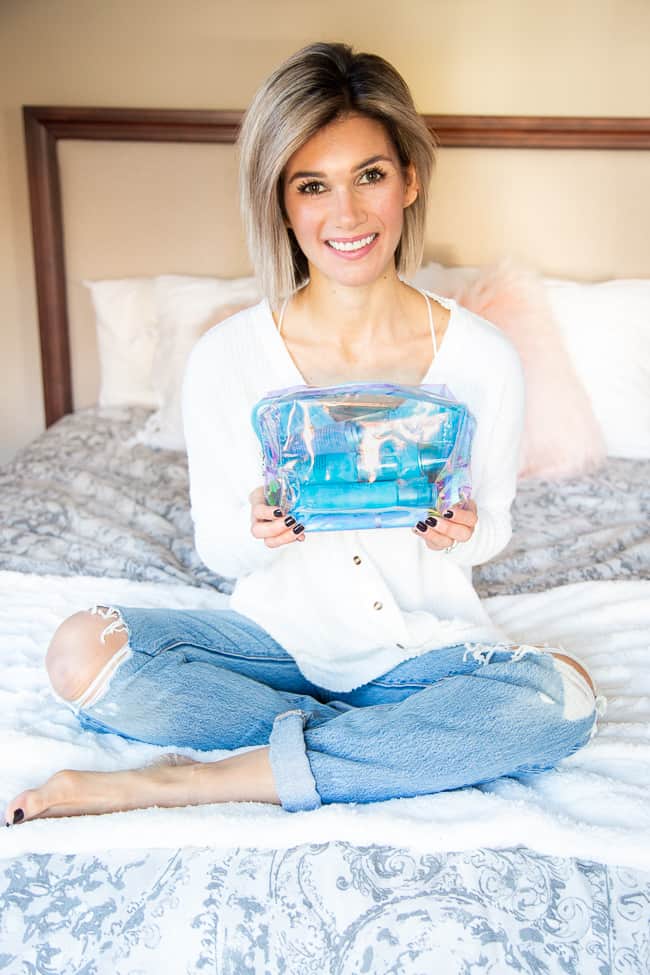 The next kit – "Let it Glow" also contains the pro glycolic 10% PH resurfacing gel which is a probiotic infused alcohol free toner that polishes and exfoliates your skin while also delivering moisture, making is great for all skin types.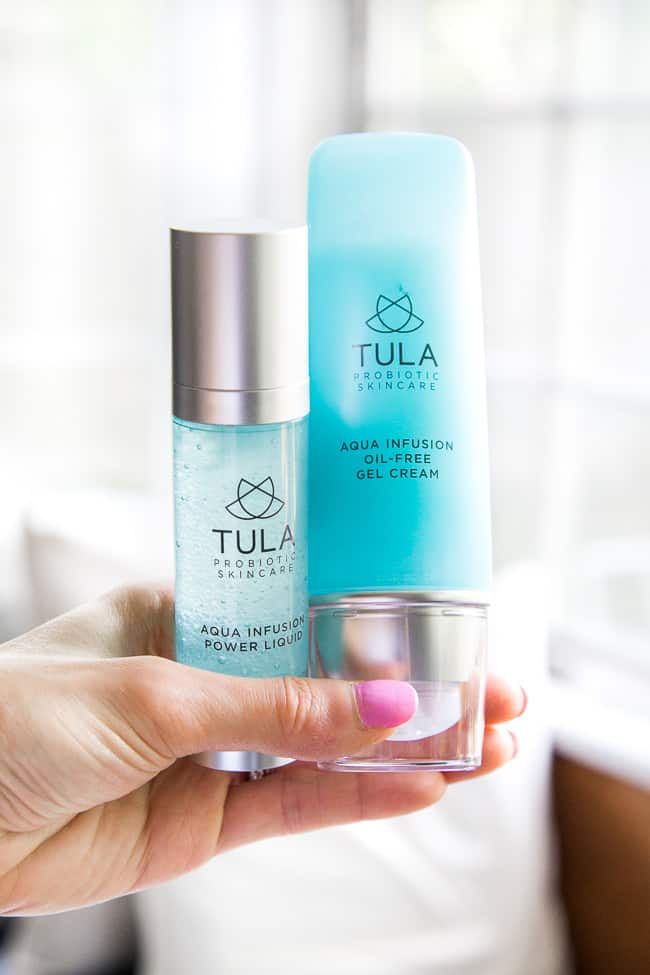 Lastly, I had to include this dynamic duo in this post – the aqua infusion powder liquid and aqua infusion oil free gel cream.  Both give your skin clean, oil free moisture and were great for my skin over the summer when other creams and lotions felt too heavy.
Even though they're oil free, they still give your skin tons of moisture so those with dry and sensitive skin get the benefits too.  Perfect for stocking stuffers or to add onto any of the holiday kits!
Check out all of TULA's clean, toxin and cruelty-free formulas here.  They combine 100% natural probiotics with superfoods like blueberries, turmeric and vitamin C.
You can also go check out all their holiday kits directly here – make sure to use code PALEOMAMA for 20% off your order!
I hope you're enjoying the holidays and of course THE FOOD!  And speaking of food, I'll be back with lots more of it tomorrow – see you soon!