A paleo frittata recipe perfect for using leftover slow cooked beef, poultry, or pork!  This garlic chive beef and potato frittata makes delicious use of leftovers in a savory breakfast or brunch dish.  Grain free, dairy free, soy free, with clean whole food ingredients and Whole30 friendly!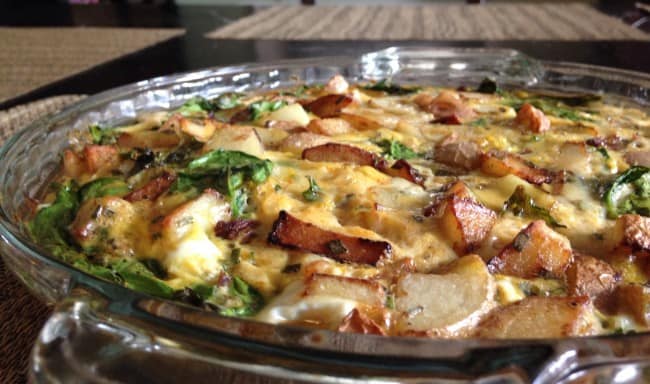 I know I've said this before, but I often really don't know what I'm making for dinner until 5 minutes before I start cooking.
Organization with meal planning has never been my strong point, and honestly, I don't like feeling "tied down" to having something pre-planned. Of course life likes to get in the way of me and my creative dinner madness. Sometimes, we have activities during our normal dinner time that make it absolutely necessary for me to plan exactly what we're having on a particular night.
So what does that look like? It looks like me at the meat counter at Whole Foods asking vaguely for a pound of some sort of slow-cookable meat. What I will do with it is always yet to be determined.
I really like the slow cooker for the sake of convenience. The problem is my husband is really not a fan of the taste of slow cooked or "shredded" meat. He doesn't like pulled pork, shredded beef, beef stew, or shredded chicken. I decided to take a gamble on this meal and "hide" the shredded beef in something else that would appeal to him better – a frittata.
When it comes to frittatas he usually melts some cheese on top and halfway through he's all "what's in this anyway?" so I figured this was my best bet. And in his own words "so as your guinea pig if I don't gag on something it goes on the blog?" yes honey, that's EXACTLY how it works. Trust me, he's a tough audience, and this is pretty darned good.
Ingredients:
For the beef:
1 lb beef chuck (preferably grass fed) *You will have leftovers!
1/2 cup beef or chicken broth
1 tbsp garlic powder
1 tbsp onion powder
1/2 tsp salt
1 tsp chili powder
1 tsp paprika
For the frittata:
1/2 of the shredded beef
large handful of chopped fresh spring mix with herbs (or any fresh greens)
1 cup of roughly chopped red skinned potatoes, skin on
1 tbsp dried chives
1/4 tsp salt
1/2 tsp black pepper
1 tbsp fat of choice (I used ghee)
1 tsp garlic powder
8 eggs
Directions:
To make the shredded beef (I did the day before): Put the beef chuck in the slow cooker and cover with the broth, salt and all the spices. I was low on time (bad planning!) and cooked it for 2 hours on high and then low for 3 hours. I would recommend cooking on low for 6-8 hours. Once the beef is done, take 2 forks and shred away, mixing with the rendered juices and fat. Then either proceed with the recipe or store in an air tight container in the fridge until ready to use. You will have leftovers! You can refrigerate them for up to 4 days or freeze for up to 4 months.
You can also easily use leftover shredded beef, pork, or chicken.
Take out a 9 or 10 inch pie plate or baking dish and grease the bottom. Add half of the shredded beef to the bottom of the dish. Preheat your oven to 400 degrees.

Heat a medium skillet over med heat and add your cooking fat of choice. Once heated, add the chopped red-skinned potatoes to the pan, tossing in the fat. Let them cook for 5 minutes, stirring occasionally to brown evenly.

After 5 minutes of cooking, add the garlic powder, salt, pepper, and dried chives to the potatoes and continue to cook until soft and brown.

Add the cooked potatoes and the chopped greens to the dish. In a separate bowl, whisk the 8 eggs and then pour them on top of the beef, potatoes, and greens. Lightly stir to combine the ingredients.

Bake in the preheated oven for about 30 minutes, or until the eggs are set and the top is beginning to lightly brown.

Let sit for a few minutes before cutting into slices for serving. Eat it alone, with a salad, with fruit, really with whatever you want! A great all-purpose meal that saves well too if you want to make it ahead of time. That's what happened with us. I made this early in the day and then quickly reheated once we were home and ready to eat.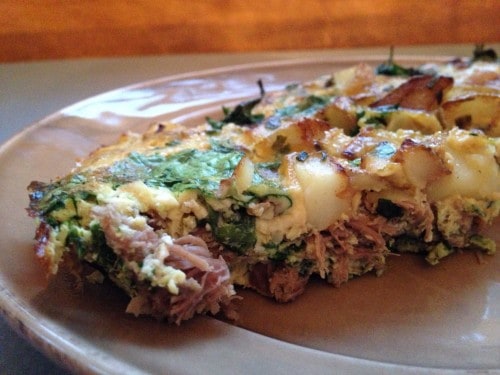 Do you have a slow cooker and do you like it? What is your favorite thing to slow-cook? How do you plan for the days when there's no time to make dinner?