So – where are you now?  
As for me, as of 5 minutes ago I was standing on top of my dining room table – and it wasn't to kill a bug or clean my light fixture.  If you asked me 3 years ago to predict where I'd be now, there's a 99.99% chance that standing on dining room tables on a regular basis would not be my answer.

I recently admitted to myself something obvious – I'm a food blogger. (No, you're an idiot..)
I know you won't choke on your egg yolk when you read that given that I've been trying to make this food blogging thing work now for a while, but there were a few recent moment when I just knew that I've totally surrendered into food blogging madness.
Just a little thinking out loud with a side of melting freezer fudge for your enjoyment today.
So, as I said, there were a few recent moments all within the past 24 hours where I stepped outside of myself only to find myself looking back at a hopelessly passionate AKA borderline-completely-nuts food blogger AKA me.  And what was I doing?  Well, besides standing on a table meant for eating.  I'll share my food blogger problems now.
First, I found myself attempting to freeze my own hands to avoid making my freezer fudge melt into goo while trying to shoot it.  Did it work?  No, it did not.  The freezer fudge kept melting anyway since it was about 75-80 degrees in my dining room and the frozen hand trick did nothing.  So, back and forth to and from the freezer the fudge went, for the sake of the pictures.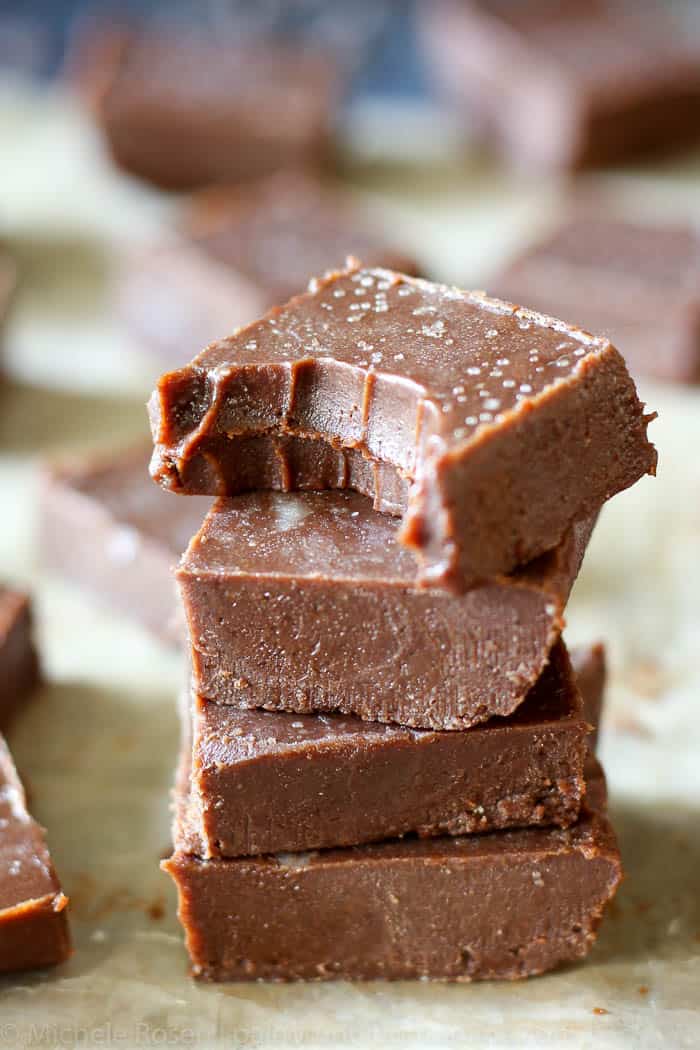 Second, the very same day, Adam came home at 9:45 pm from work to find me disheveled and attempting to figure out/use Adobe Lightroom to edit pictures of banana cookie dough.  I had a food photography book with instructions balanced on my chest and my laptop on my knees, an empty bowl of chocolate next to me.
And seriously?  That's how I like spending my nights, really.  I mean, maybe I shouldn't be staying up until 11pm like this, but, it just sort of feels right.  I obsess over all of it and love every minute, just like it says on the sidebar of my blog.  I guess I know myself better than I realize sometimes.
Third – I came scarily close to being locked out of my own house earlier today (I was already almost late picking Drew up from school.) I was just about to slam the locked door behind me when I thought to myself "gee, my keys feel really light."  Well, the reason they felt light was because they weren't my keys at all.  Instead of keys, I had grabbed my camera memory card before flying out the door.  Let's just say I avoided a big-time crap situation by realizing this before following through with the door slam.
Fourth – That brings me to the standing on the table thing.  Yes, I have a tripod, BUT I have to get myself as high as the tripod to see the picture, sooo…I stand on my dining room table, like, multiple times per week.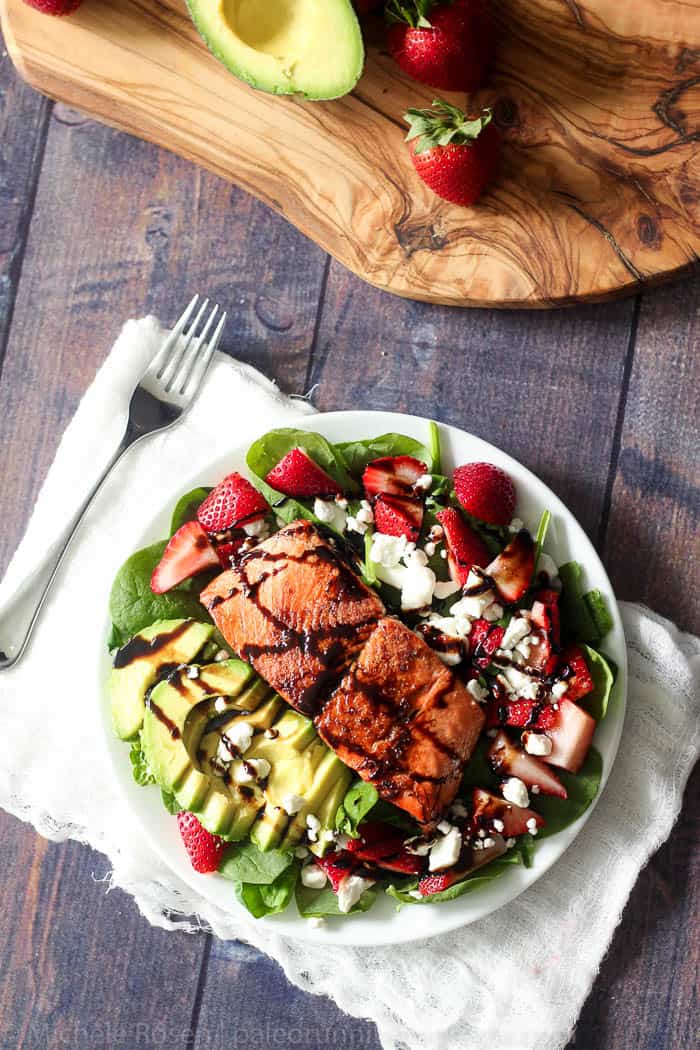 I do realize there is higher tech equipment avoid these situations, but, for now this is how it is.  Too bad the lighting is terrible on the floor!
Fifth – See that avocado?  Well, after shooting this salad (which is really a reshoot of an old recipe) I decided to put it in the dishwasher.  Mainly because I was putting 1023506 other things in the dishwasher and figured the avocado should be in there too, in its little clear plastic baggie.  Luckily just like the key/memory card situation, I caught it before bad things happened.
You guys might conclude this post saying I just need more sleep, and you wouldn't be wrong.
But anyway, If I had to make a prediction, I might say that 3 years from now, I'll still be standing on tables, but, my life has shown me that there's a good chance I'll be standing in/on something else that just can't be predicted right now!  I'm just hoping it's a mostly solid surface and not something, like, thin ice.  Especially if it's June.  Unless I'm trying to keep freezer fudge cold, or something.
Where are you now versus 3 years ago?
Can you predict what you'll be doing 3 years from today?