We're on vacation and it's already Thursday, how does that happen?!  Since my kids are awesome mini bloggers-in-training, Diana decided to help me out this week with a "guest post" – sort of a Thinking Out Loud about being a food blogger kid.
She gets random – as she should for TOL, so there could be a few surprises along the way.
I'll just let Diana do the talking now – she has a way with words as you'll see 🙂
Apple Crisp in August – Food Blogger Kid Thoughts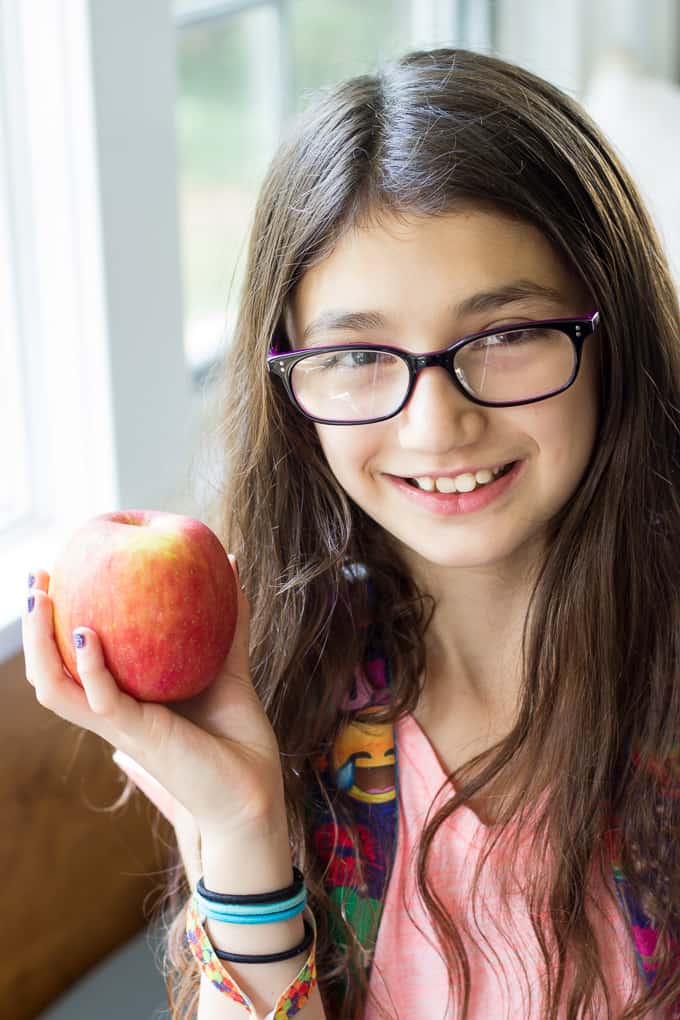 Hi!  It's Diana.  Alright come on now and let's get to the good stuff.  So I am just really confused about what I've been hearing lately about fall coming up.  
I just want to get something straight – do most people eat apple pie, apple crisp, pumpkin pie and other foods like that in the actual fall?  Well if so, then I'm telling you that's not how it works.
You eat apple pie, apple crisp and pumpkin everything in the summer, winter holiday food in the fall – I know – you guys really have no experience with this food blogging business if you don't relate to what I'm saying.
Not to spoil anything, but my mom made this awesome apple bread recipe, it was really good and if you think it's only for fall, you haven't tried it yet during an August heatwave.  Are you convinced?  Are you still thinking still thinking apples are for fall? INCORRECT!  This is starting to get annoying (no offense.)
Another thing I've heard is that pumpkins actually happier being cooked in the summer.  Not sure if I really believe this, and maybe it's just a legend, but, whatever.  Okay fine, I made that up.  But pumpkins are good in the summer – I said it.  And now just another thing about the fall I'm thinking about – school.
All school really seems to be about is teaching stuff, which is mind blowing, really.  Because have you guys noticed?  You can actually just look up anything you want to know on the phone or iPad.  Am I right?  My mom doesn't want me to write about this, but she also said it's "Thinking Out Loud" so here I am writing it.  And now you know.
So that's everything I feel about fall.  NO!  I forgot about the good things – and there are some.  
1.) Mommy's birthday – I get to make stuff and cakes and art projects.
2.) I get new clothes and a backpack
3.) DANCE STARTS AGAIN!
4.) That's everything!
Toodles!  
What are 3 things you love about the summer -> fall transition?
What do you hate?
Could you tell I was being sarcastic about the apple stuff?
Love, Diana
I'll be back with a recipe tomorrow that involves no apples, so see you then!   My regular posting schedule will return next week when we're back from the beach 🙂
You can follow paleorunningmomma on Instagram for updates until then!