Since I'm writing this on Wednesday and it's the first day of school for my girls, I admit I'm distracted by my mommy first day of school nerves, an unwelcome headache (because I still cry, privately, on the first day) and Drew, who has not started school and is asking me one question every 30 seconds on the dot.
Most of his questions relate to playdoh candy and kinetic sand.  It's fine, really, this is the quality time I know I'll miss soon enough when it's gone.  Plus,  I have to say I'm impressed by the playdoh food tutorials on YouTube Kids.   So much going on that you wouldn't know about unless you're looking for it 🙂

I'll just get to the point and start Thinking Out Loud.  I guess technically that started with my intro, because who would plan to write about kinetic sand in a blog post?  Besides me, who's mentioned it in probably 6 different posts already.  Does anyone else even know what this stuff is or do you think I'm nuts?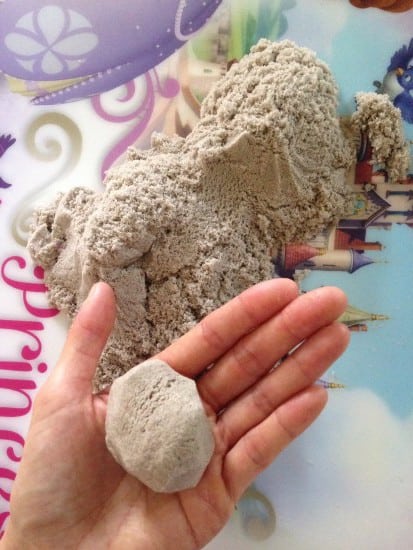 Here it is.  It's supposed to stick to itself and magically clean itself up.  It does sort of stick to itself, but that's not the whole story.  In fact it's mostly BS – it's a pain to clean up.
But going back to my first day of school nerves.
I always feel like the crappiest mom on the first day of school. I even wrote a blog post about coming to terms with some of these feelings last year, titled "I'm Not the Mom."  I used to feel like a crap mom because I would play it cool and deny I had feelings about the first day at all.   I'd be all "You're fine!  It's fun!  Going to Target now, see ya!"
And then slowly, at least partially due to the blog helping me reflect on weaknesses and anxiety, I realized that I was doing the same damn thing that I did when I was the one in school.
Now I feel like a crap mom because I'm reliving the feeling that I'm a crap kid on the first day of every school year.   It sounds so ridiculous and I know I'm hard on myself, but I just go back to the whole "I should feel this way.  I should do this and I should wear this.  I should talk to those people."
But then of course, I don't talk to anyone because I'm too caught up in my own head.  Nothing is new here. Just one more thing to work on and probably never check off.  To sum up – the first day of school can be hard for some interesting and maybe not obvious reasons.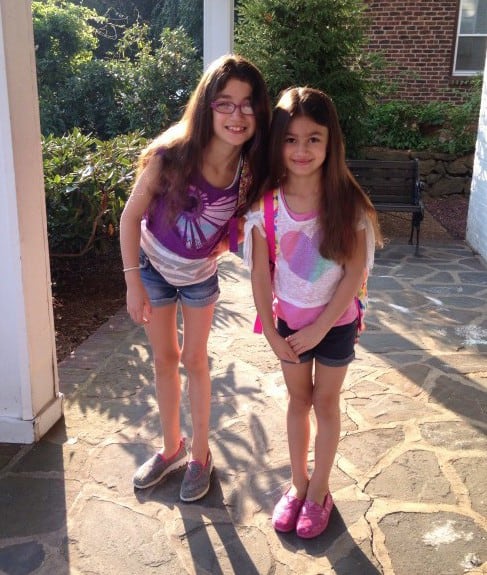 They were so excited and happy today though.  I really have zero to worry about, at least I'm 75-ish % sure I don't.
Moving on.  Something else new for the week was Emily starting pre-team in gymnastics, which means an hour and a half twice per week.  She loves gymnastics and has been flipping around every chance she gets in anticipation of pre-team.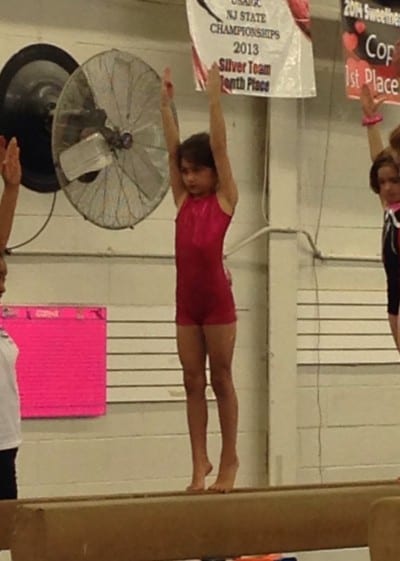 I watched her, she was great.  She looked happy.  Would not have guessed anything could be wrong.
After class she started crying and told me that her leg (pointing to her left hip flexor) was sore and she couldn't "do her best."  I asked her when it started hurting and she didn't really know, but that wasn't the concern to her.  Her leg didn't actually hurt that much, she assured me.  The knowledge, frustration, and disappointment that it prevented her from accomplishing what she knew she could otherwise – that is what hurt.  "I just couldn't do my best."
She's 6 years old, it seemed odd hearing this from such a little person.  Not that it surprised me at all given that she is my child, but hearing it made me think.
Why doesn't anyone tell you that the hardest part of having children, is having to look at your own conflicts, troubles, weaknesses, in various stages of formation and maturity and somehow "parent" them?   
We figured out that after doing probably 20-30 one handed round-offs on Saturday in my parent's backyard, that she probably strained it due to the force on her legs being stronger because of the whole one-handed thing.   I told her not to do any dance or gymnastics AT ALL between Wednesday and Friday, her next class.
I also told her I feel the exact same way whenever something hurts me and I can't do my best, but that we don't need to feel this way, that it doesn't matter if we do our best all the time.  It just doesn't matter, we do what we can given how we feel.
Being that she's just 6 years old I figure she has a better chance of actually allowing this to really sink in, but who can tell yet?  I have a much harder time.  Do as I say, not as I do?  Clearly, we'll have to revisit this!
As a parent, how do you feel on the first day of school?  How did you feel as a kid?
Do you recognize your own "quirks" in your kids?  How do you approach them?