From the beginning, I've always wanted this blog's "voice" to be authentically mine.  That's the advice I saw everywhere and it seemed like I didn't have a choice anyway if I was going to write in this voice almost every day.  Good luck at trying to be good being something you're not for the long haul, no?  It doesn't matter that the "voice" I'm supposed to be writing in has slowly driven me to a breaking point of madness day in and day out for the past 32 years.  In fact, that could even be its charm.   That's what blogs are for.  Be yourself and be loved.   And hated.  And make people laugh a little so they don't claw their own eyes out at work.  Or kill their bosses or spouses.  Really, I'm just here so you don't kill anyone.
But okay back to the voice.  Why don't we all just celebrate that reminder of who we've always been.  You know that voice in your head?  Or, at least pick the one that's been with you the longest (I'm kidding only if you want me to be.)  Give that authentic voice of yours a little pat on the back just for being "you."  You guys have been through a lot together, after all.   That voice has seen you through your best and worst moments, and, whether it's supporting you, tearing you down, or making you laugh at inappropriate times, it's totally loyal to YOU and you only.  Let's be kind to it and accept it as a reflection of our truest selves (OM.)  I don't do yoga or know what I'm talking about but that just seemed right.
So for that I want to link up for MIMM.  Thanks for all the marvelous Katie! 
Now let's go back to Saturday when I did my long run at OMG 9am instead of 6am.  I wish I could say it was awesome and I truly appreciated the sun shining and all of that blah blah run-happy talk. But, I felt off the entire time, and, although I hit the splits I wanted to for the last 4 miles, it felt very forced and that made me die a little bit inside, not gonna lie.  And by "die inside" I just mean it made me worry how the heck I'm expecting to run a 3:25 marathon in 2 weeks.  Only time will tell I suppose.
As I was running Saturday I had a few thoughts.  Nothing too deep, I was way too whiny for deep thoughts.  The first was that the sun makes everything feel hotter than you'd ever think.  YES I'm going to complain about the heat during a run when it probably maxed out at 40 degrees.  You thought I had limits but I just don't.  I will complain about the heat in the snow if it's sunny out.  You'd never know I was such a heat generating type by looking at me, but man was I overdressed for that run.  If I could do it over I would've done shorts and a thin long sleeve instead of crops and a half zip with gloves.  The gloves wound up stuffed in the front of my pants and I spent half the run trying to keep them in a spot that didn't look weirdly obscene.  It was pretty out though, I'll give it that.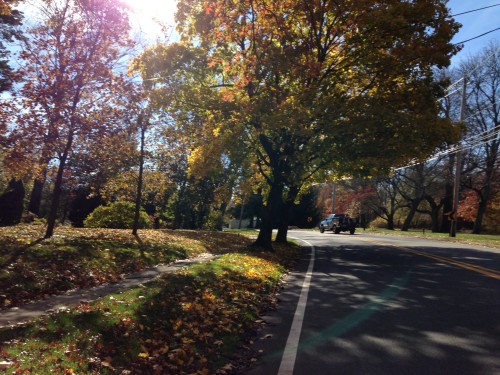 At least being too hot on this run gave me an idea of how I should dress for the marathon based on temperature and sun conditions.  Like, I will be wearing shorts if it's above 30 degrees, no doubt.  It's the top that always gets me.  Do I invest in some arm warmers and do a tank?  I don't know why I'm even thinking this far ahead because obviously I have zero clue what the weather will be.  It's because I'm driving myself nuts with worry, that's the short answer.  The longer answer involves an odd obsession I've always had with weather predictions but that might just be another blog entirely.
Another thought I had on this run was "you won't know if you don't try" which was in response to me wanting to back out of the last 4 miles at goal pace.  I was in a pretty negative state of mind for a lot of this run, at least as far as confidence in my abilities, and I didn't want to "fail" at my last 4 miles, so considered backing out.  Well I didn't.  I said to myself  "Michele, maybe you won't be able to run a second below an 8:30 pace today.  It's entirely possible, but you won't know if you don't at least TRY to go faster."  So the 10 mile mark came, and I sped up.  And although I still felt lousy-ish, I held a pace of 7:45-50 the last 4 miles and felt (slightly) more confident by the end of it.  Basic life lesson learned again for the 500th time:  you won't know unless you REALLY try.
The first photo above is what I finally decided on eating before the run.  It was kabocha with 2 eggs.  Not typical pre-run fuel, but I just really didn't want a banana and a larabar, and I didn't want to be full for the run and risk stomach issues.  I also had a Powerbar Performance Energy Blend at mile 6.  Honestly, no food was saving me from my blah-ness during that run!
The rest of the day was good old sweet-relief-the-run-is-over, although my legs were significantly achier than usual and I wasn't sure why.  I guess the timing really did throw me off.  My parents came over and I got a little break from being home alone with bored, still sick kids.  They are doing much better now thankfully!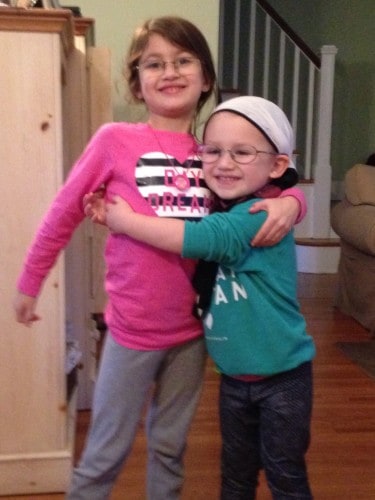 The little one likes to dress up in his sister's clothes.  They're also both playing with my parents' drug-store glasses.
So here's your homework assignment for the day.  It's optional.  But do it.  
Take a minute to identify that voice in your head that is so "you" that you can't even stand it most of the time.  Now just let it talk as much as it wants to, even if it says strange or offensive stuff (mine is strange, offensive, and really funny sometimes.)  
Does it make you laugh?  Annoy you?  Act as a supportive friend?  Critic?  Enemy?  Is it something you share with the world or is it mostly kept privately comfy in the back of your mind?  Give it a hug today, and let it be.  
Have a great day!