I'm sitting here writing this post with another tab open to the live Boston Marathon Coverage (elite women are about halfway through) so needless to say I'm a little distracted and this won't be long!  But I just have to share that feeling of inspiration, awe, and adrenaline rush I get while watching a marathon, not that Boston is just ANY marathon of course!
I don't think it's any secret that since running the Philadelphia Marathon in November that I've been struggling with feeling motivated and inspired to run.  I've explored yoga while continuing to run mostly easy and I've only raced once. I've done a lot of thinking about how running has been both a positive and negative way of coping with anxiety and other life things and I don't look at my training and racing quite the same as I did even a year ago.  To be totally honest, it's been a bit of a "running identity crisis" for me over the course of the winter. That's a big sort of crisis for a runner I guess.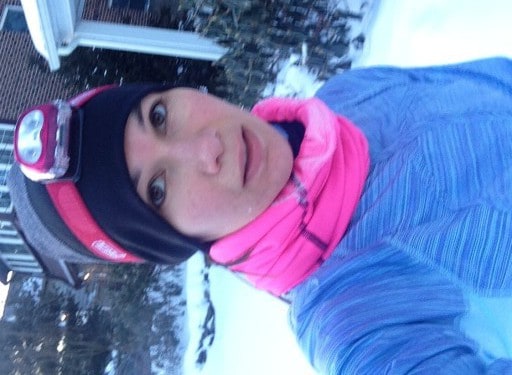 I was putting almost all of my "running eggs" into the one basket of the NYC marathon for 2015, and I was THRILLED to see my credit card charged on March 3.  I am sure I have never been happier about a credit card charge in my life.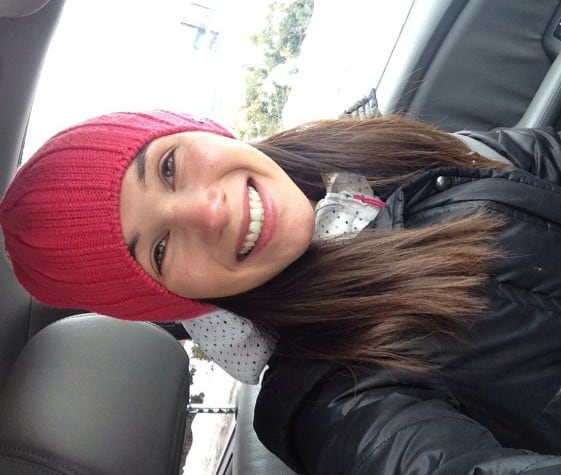 And, yes, I'm still really excited for next November, but, well, it's next November and my brain is a long way away from it!  I've been going through the motions with my running, some of my runs feel great and some just have that "brushing my teeth" feeling, as in, "this is what I do so I just do it."  I would not say I feel incredibly inspired to run or excited about my runs lately, even if I'm mostly enjoying them.
And that is fine, it's all part of the deal with distance running I think, because we can't always have that adrenaline and excitement (if we did it would be oddly unnatural) and sometimes we forget why we're running, where we're going, what our goals are and just basically run on blind faith that we are doing ourselves good and that there is a purpose.
I don't pretend to know exactly what that purpose is, but I do get this FEELING when I watch a marathon, as I'm getting now watching the runners in Boston.  Part of it is a feeling of gratitude and appreciation for what the human body can do.  I'm sure not everyone would agree that running 26.2 miles is necessary to appreciate your body, but I see marathon training and running as a celebration of the ability to move, breathe, and watch all your systems come together to do something purely incredible.  Yes, there is an aspect of control, competition, and pushing limits and I can't lie, I really love all of that even if there CAN be an unhealthy side to it.  As I watch the race and reflect on my own experiences,  I don't think there has to be.  We can be inspired to run and run out of love for the sport without damaging our minds and bodies.  I'm sure of it.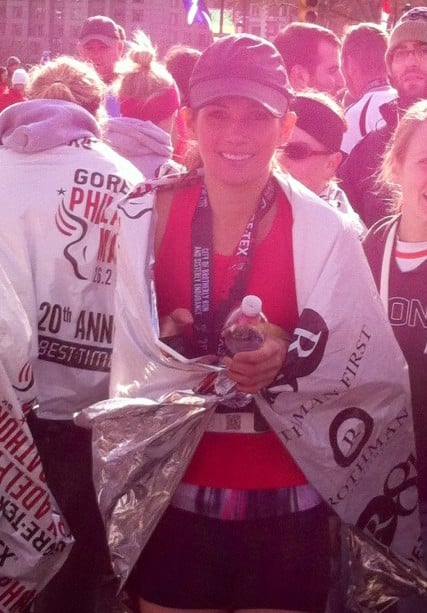 I'm coming to see as the months and years pass, that running healthy is very, very possible and it's all about what I personally bring to my running.  When I begin my NY training this summer I am inspired NOT to get the best time possible, but to train to run the healthiest race possible both physically and mentally.  It sounds cliche but I love the journey involved in marathon training and racing, and each one leads you around and through to a new life lesson.
It's not all about the pain and learning how to push through it mentally as I once saw it.   The exhilaration doesn't come from knowing I can handle pain, that doesn't feel empowering to me anymore.  I don't exactly know WHAT it's all about without that, but I'm starting to feel that stirring, and I know it's about something a whole lot bigger than pain, and I'm excited and inspired to RUN, train, and figure it out along the way.
Who watched the Boston Marathon?
What feelings do you get while spectating/watching a big race?
Congrats to all you Boston runners!  I hope you had an amazing race!