In my opinion there's a difference between "eating" and "feeding."  Feeding is purposeful, sometimes it might feel methodical or even forced (as with my children when they were babies!) for the greater good of nourishing the body in a way you know will be helpful for growth, or in the case of the runner, fueling and recovery.
Eating is fun and not really purposeful, in that when I'm not training I just eat and don't think much.  Feeding can be fun too, but there's a lot more thought involved for me when I'm training for a marathon.  I don't count calories or macros, but I have a sense of how much and what I need when the mileage creeps up to stay healthy.
Truth is, what I need is often more than I'm hungry for (after a tough run for example) and I have to become more purposeful about nutrition.  Then there are those times when I know I need to hold back if I want to have a good run the next day.  It's a lot of trial and error and no two people are alike!  For me, it's a balance of intuition, experience, hunger and cravings, and what I need/want my food to help me accomplish. What can your food do for you?   In today's WIAW I'll explain what I'm hoping mine is doing for me!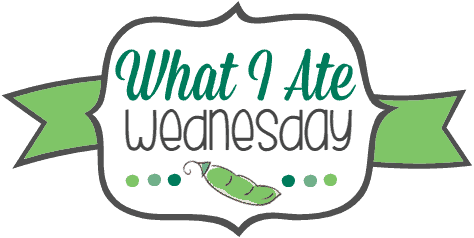 Now that I'm in my 8th week of training and my mileage is in the mid 40's and building, I'm getting to that point where I feel like I'm feeding the machine I want to build to run that marathon.  Fueling rather than just eating.  I admit I find this part of the training puzzle really fun – I mean who wouldn't?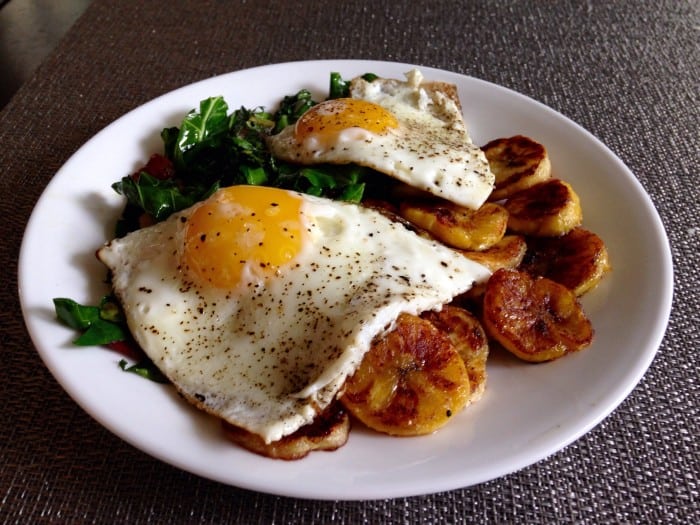 You guys probably know by now what my go-to breakfast involves!  When I'm training hard it just becomes more of the same, since I know I need the calories in the form of extra carbs, protein, and fat.  I don't discriminate.  This was sweet plantains fried in bacon fat with sauteed collards and bacon plus two eggs.  Hard to tell from the picture but there are a whole lot of plantains on this plate, and this was just meal #1.  I also don't hold back at all with salt when training in the summer – it feels like I sweat round the clock.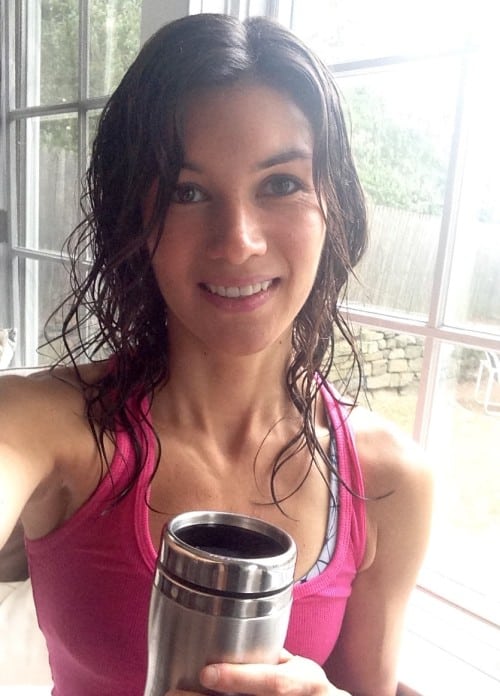 And there I am, with my coffee, after my shower, sweating.  I know you're telling me to shut up and stop drinking hot coffee if I'm sweating all the time, because I'm yelling at myself about that right now.  Good thing I have a blog to show myself what an idiot I am sometimes.  I may or may not be sweating and drinking hot coffee as I type these very words you are reading.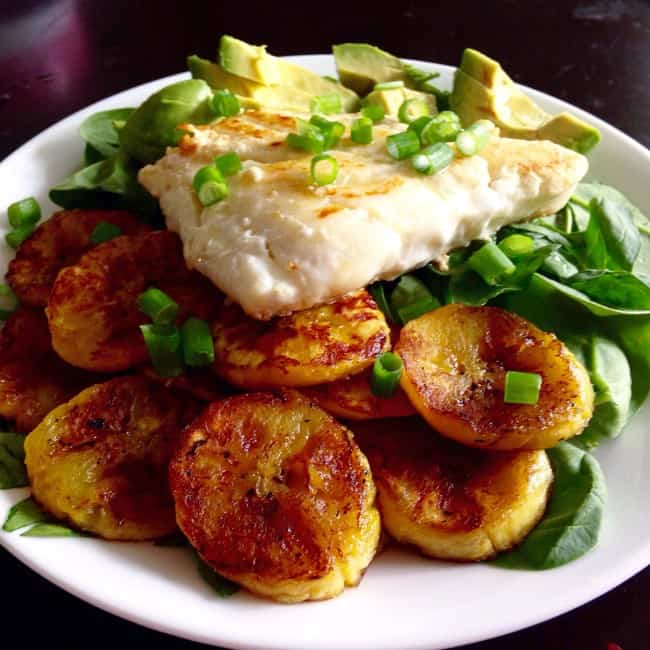 More plantains with lunch, just as I hinted above.  With 90 degree temps this week I wanted to take advantage of a few nice ripe plantains before they turned black before my eyes.
This was a simple and quick but super delicious meal – Sizzlefish Haddock, cooked in a nonstick pan in Organic Ghee
 and coarse sea salt, then topped with fresh lemon juice and scallions.  Alongside ripe plantains also pan fried in Ghee
, half an avocado, and baby spinach.  It was perfect!
After lunch I had some of my homemade kombucha, which I forgot to take a picture of.  I'm really loving the home brews and plan to write a post on the process for next week so stay tuned!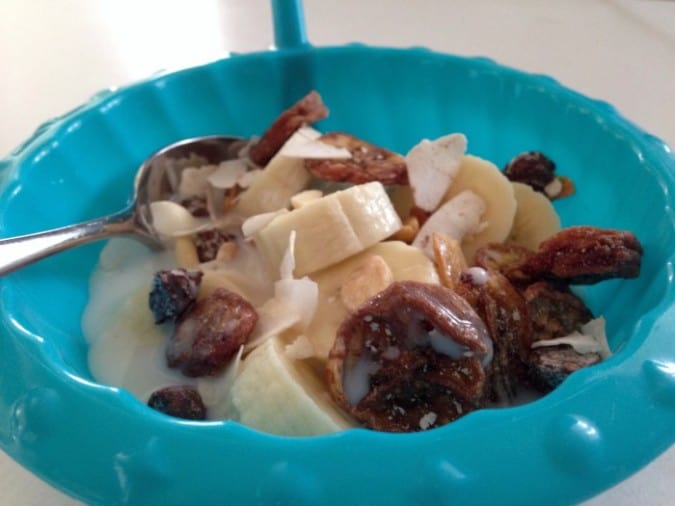 You know I only eat snacks in kid bowls, right?  When I'm training, I make sure my afternoon snack is something substantial and I lean toward carbs, especially when there's a harder run on the schedule for the next day, which there was.  This was a banana, sliced and topped with trail mix (dried mango, cashews, dark chocolate chips, coconut, dried bananas) and unsweetened almond milk.  Sweet but not too sweet and a great snack when it's flipping hot outside!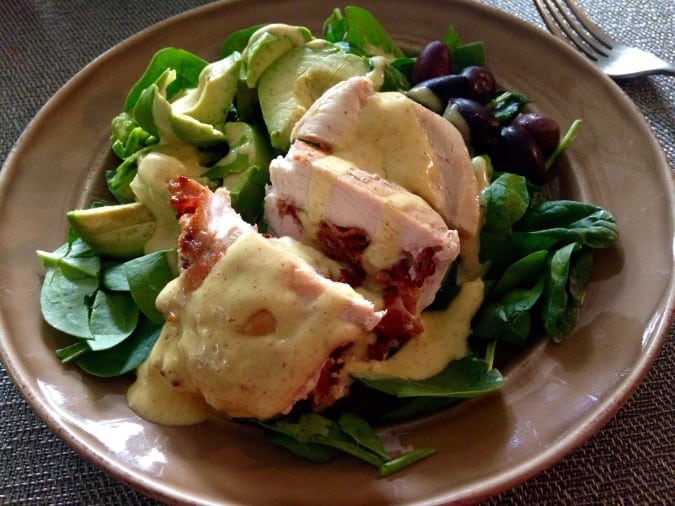 Dinner!  At this point of the day, I can't even say I'm truly hungry as my exhaustion from the day and cooking/sweating over the stove sets in.  I do notice though, after I eat a fair share of carbs earlier on, it's all about protein for dinner.
This was bacon stuffed chicken breast cooked in a mix of bacon fat and ghee (wild, I know) and topped with my honey mustard!  This was very kid friendly which made me happy!
I will eat more of anything when there's honey mustard on it, that's a fact.  The salty/sweet is addicting in a very good way.  Had the chicken with the second half of my avocado from lunch, kalamata olives, and baby spinach.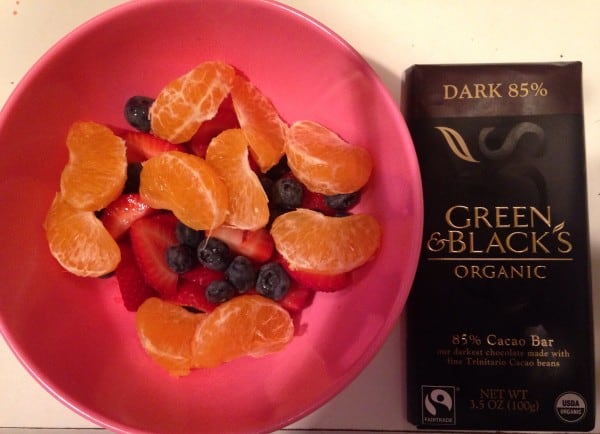 I wish I could say there's a fueling purpose to my dark chocolate, but, I think we know it's just delicious (and it's healthier than a snickers) and that's the only reason I need to eat this stuff every night.  Plus I love my fruit with it – I'm always needing something a little juicy at the end of the day, since likely I'm not drinking enough!  This was a mandarin, some strawberries and blueberries, and I believe I ate about half of the chocolate bar.
I wish I'd gone to bed soon after this – since I had a 9 mile run with goal pace middle miles the next day – but I got caught up reading The Girl on the Train
 which my friend loaned to me and I finally got around to reading.  So much for reading before bed helping me sleep!  I stayed up until midnight which was dumb and made me anxious about my run.  Plus, I still didn't finish the book.  Think I need to go do that right now, so excuse me…
Is there a difference between "eating" and "feeding"?
If you're a runner, do you feel like you sometimes have to make yourself to eat more than you're hungry for?  Eat less?