Because showing you 3 meals and 2 snacks just feels incomplete today.  Not enough.
Happy What I Ate Wednesday people!  It's time to start the party, and, today I'm going to show and tell you about my current (like past 3 days) favorites in the paleo-running-momma-sphere.
Ever notice that your meals ever-so-slightly change each week?  Could be the same ingredients rearranged or whatever, but still, we all have our "food combos of the week" that we just can't get enough of until we run out and go back to the store and pick something new.  Preferably something new that's also on sale.
Thanks so much Jenn for hosting this link-up!  Now, let me tell you a story about all the good stuff I had the pleasure to *feast upon recently.
*I went to Thesaurus.com to find a synonym for "eaten."  Highly recommend you check out some of these.  Aren't you glad I didn't choose gormandize?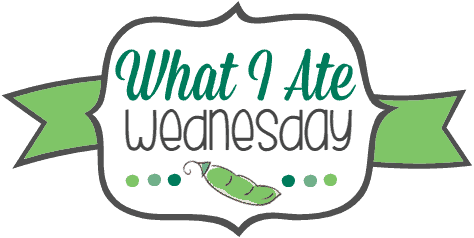 Breakfast!
If I thought it was perfectly acceptable to eat the same thing 3 times per day, I'd probably make myself breakfast 3 times per day.  Secretly I sometimes do this, uhh maybe not 3 times but twice.  So now you know.
You already know I like eggs so I won't even get into that.  One combo I've been digging a lot lately is bacon cooked with parsnips and plantains.  I think I had some leftover parsnips and plantains one day and randomly combined them and didn't look back.  I've been frying them up in hashes together and also roasting into fries.  I could eat them together all the time, at least this week.
My lunches lately are one of 2 combos – spinach topped with a burger (bacon with this, but not always) tomatoes, kalamata olives and homemade mayo.  Salt + fat = good stuff!  If I'm craving something more carby I've been topping my spinach with fried plantains and pre-cooked sausage, usually Aidells brand.  I buy the chicken-apple or the pork Andouille.  I throw some avocado in too and holy yum – easy too.
Snacks
My afternoon snacks are all over the place.  If we have a leftover treat I am all over that.  Since paleo treats tend to be very high in fat I don't find that my energy dips even if there's a decent amount of sugar in it.  For the past few days I've been eating something chocolate since we had both double chocolate cupcakes and a gooey chocolate brownie pie.  With V-day almost here I don't see the chocolate phase ending until at least next week!
My favorite Kombucha
I still love GT's kombucha and have been drinking the ginger and citrus flavors pretty often.  I seriously love this stuff, it's so good that I question if there are addictive properties in there!
Dinner time
Sometimes I feel like we eat the same 3 dinners over and over.  We don't actually but everything is sort of similar since I've finally found things that everyone likes (for now.)
You know when your (young and picky) kid likes something healthy and you get so excited and make it constantly?  That's what's happened for us and baked sweet potato fries.  My son loves them so much and I just can't NOT make them!  When I roast white potatoes or plantains I still roast him some sweet potato fries.  I'm really hoping I'm not on a slippery slope back to "kid dinners" but I can't say no to his sweet potato love.  I'm right there with him so I can't complain at all.  Meat and sweet potatoes for the winning combo here.
Some favorite meat dishes are burgers, boneless skinless chicken thighs, and ribeye steaks.  We don't eat steak often, but no one complains when we do.
Time for bed!
I've been eating the same fruit combo before bed for a few days:  sliced bananas, strawberries, and clementines.  I've never been big on citrus fruits but with all the germs we've had I figured I'd go for some oranges.  Turns out they're better than I remember so I'm sticking with it!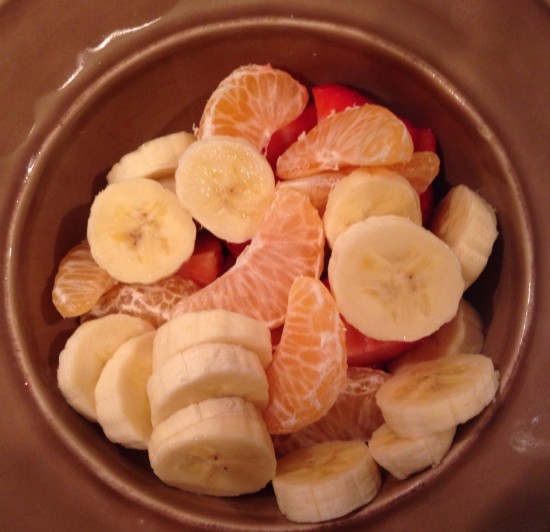 And with that unnecessarily large close up of my fruit, (as if you couldn't have guessed what it looked like) I'll being going now.  Happy cooking and eating to all of you 🙂
What are your current favorite meal/snack combos?