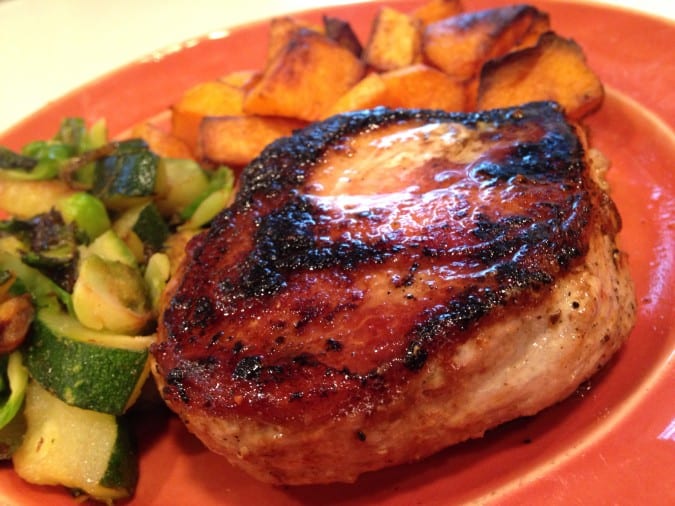 You know those evenings when you're in the car until the last possible second before everyone (including you) melts down in harmony with a major hunger tantrum?  Between after-school activities, squeezed in appointments, playdates, and temporary meal-plan amnesia these nights happen at least a few times a week.  If you are lucky enough to have some pork chops in the fridge though, then I have the meal for you (random coincidence?)
Last night was one of those nights.  If dinner isn't on the table by 6pm in my house the kids take it upon themselves to scavenge for scraps of candy or half-finished bags of pirates booty.  This is actually major improvement from the 5pm it was a year ago.  So when we got home from 2 hours of fun at the eye doctor I had to act fast.  These pork chops took 15 minutes to go from fridge to plate.  I served with a side of sauteed brussels sprouts and leftover roasted butternut squash (for the advanced tastebud crowd) and sliced raw red peppers and baby carrots (for the pickys).  It's paleo, fast, and it was eaten.  (If you have little ones who don't do spices you can just rub theirs with a little salt and onion powder and cook with the rest without skipping a beat).
Quick Cajun Rubbed Pork Chops
Super simple and quick cajun rubbed pan fried pork chops, gluten free and paleo!
Prep Time: 5 minutes
Cook Time: 12 minutes
Total Time: 17 minutes
Course: Pork Chops
Cuisine: Paleo
Servings: 4 -6 servings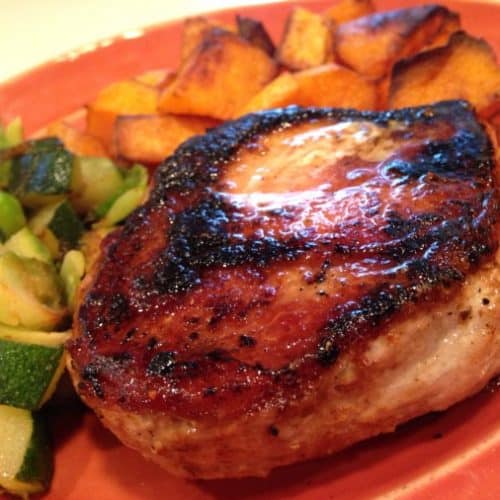 Instructions
Heat a large heavy skillet over med-hi heat

In a small bowl, mix together the cajun seasoning, onion powder and salt to create a spice rub

Coat your pork chops with the mixture, rubbing in it well on both sides

Add the ghee to your pan to melt

Add your pork chops to the pan and cook 6 minutes on each side, getting a nice char on the outside (lower heat to med if they start to blacken too much)

For the last 3 minutes of the second side, cover the pan to cook through. (I always test for doneness on one for my kids that will be cut up anyway!)

If you are sauteeing veggies as a side dish, you can do so while the pork chops cook. I chopped up some zucchini and brussels sprouts, sauteed them in ghee and tossed in some salt, pepper and onion powder.
 Dinner's done!  Now time to clean up, fold laundry, and bathe the kids.  Almost there 😉