Since I felt like a post devoted to my own food would be  overkill at this point with all the instagramming I've been doing, here is one whole day of everything each of my kids ate.
Because we all know how everyone loves judging what other people feed their kids right? I'm okay with this, really.  Plus my daughter keeps asking me to post her meals online.  I've created 3 little insta-foodie-monsters.
I don't pretend to have it all together when it comes to my feeding my kids (see this post and this post) and it remains a challenge between the groceries, figuring out what to make for each meal, and dealing with the complaining/refusing to eat.  But I'm getting better.  I'm learning how to give them healthy (ish) options and let them take it from there.  So let's start this ride. Typical Sunday, every bite that went in.   Disclaimer: the pictures will not be appetizing.  This is for informational and educational purposes only!
Meal 1:  Breakfast 8am
After Amy posted her grain free pancakes last week I promised my kids (and hubs) that I'd make them on Sunday.  Lucky for all of us Amy's recipe turned out great – relatively easy (yes I quadrupled it so that took some math skills) and delicious.  I did burn them a little but it was an overall success.   Two of them ate sliced bananas with them, my older daughter added bacon, and I drizzled a little pure maple syrup on top of everyone's.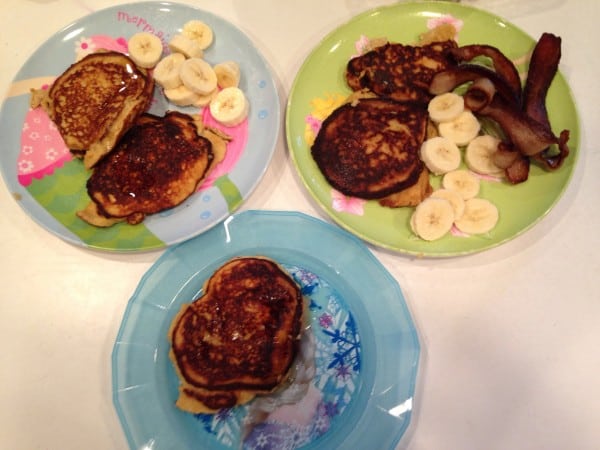 Basically all of that was eaten, plus the little guy with the Elsa plate had another pancake or 2 after that.  They loved them, the kitchen was a mess but I was satisfied.
Snack 1: 10am
My kids seem to want snacks all the time, regardless of how much they eat in the previous meal.  They are fine with fruit and sometimes cut up veggies, which means we buy a lot of produce each week.  The red grapes and blueberries were for my daughters and my son wanted applesauce (he's obsessed.)  Everything was eaten, that's the name of the game with snacks.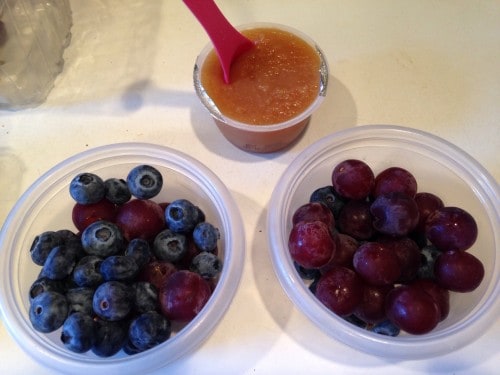 Around 10:30 we took them to the pool.  I forgot to take a picture of my son's "juice cup" which is a sippy cup that he wants to drink from almost constantly.  I fill it to the top with water and add a splash of orange juice to make it "juice." Weening him off the splash might have to be my next project.  Isn't parenting a blast?
Meal 2: Lunch 12:30pm 
Coming back from the pool everyone was hungry.  I always ask what they want and then as long as it's reasonable go with that.  The two girls wanted hot dogs, my son said PB & J.  PB & J is not even a little bit paleo but lunch generally isn't for them.  The girls each had a grass-fed hot dog with sliced cucumbers and peppers.  All was eaten.  My son had grapes and a few bites of his sandwich.  Lunch is not really his thing.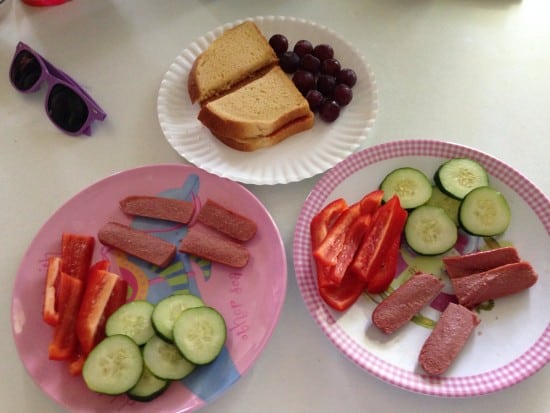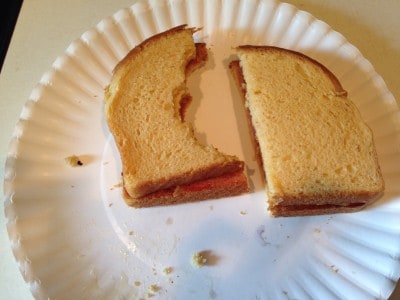 Snack 2: 3pm
My husband promised the kids frozen yogurt that afternoon to celebrate my daughter passing her deep water test at camp.  He likes to "celebrate" a lot of things with frozen yogurt.  He's sneaky that way.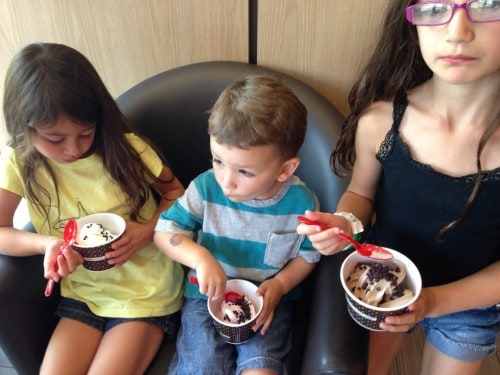 They all got dark chocolate chips on top – good choice I think!
Meal 3: Dinner 6pm
For dinner I made sirloin steak with caramelized onions and carrot fries.  The kids got the steak, carrot fries, and some raw veggies since they like raw veggies much better than cooked.  The little one is not having the veggies really, although he does try and spit them out.  Don't worry, no picture of that.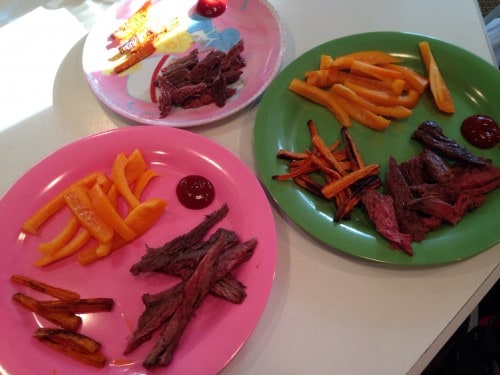 Of course there is ketchup on all of their plates.  If my son can dip his meat in ketchup he winds up eating twice or more of what he would otherwise.  I get the organic kind but I still don't love them dipping everything in it.  Baby steps?  They all ate most of what you see on the plates, except my son didn't eat the carrot fries.  He tried and spit, oh well.  He also insisted on calling his steak "turkey" and asked for more turkey two or three times.  "It's turkey!!!"
My daughters drink water throughout the day and they're totally fine with that.  I already told you about my son's juice cup, but seriously, the kid's addicted to that cup.   I need to intervene, I know.
Snack 3: 7:30 pm
Since everyone mostly ate dinner they were all eligible for a bedtime snack.  The whole bedtime snack thing is an obsession for my middle daughter.  It's not like she gets anything really special, it's just fruit, but she holds onto it like do or die.  So here they are, the sacred bedtime snacks: strawberries, grapes and blueberries.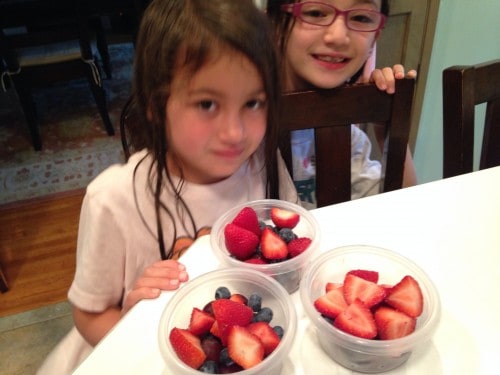 But of course, they were still hungry (the younger two) so here is round 2.  A yogurt for my son and yellow peppers for my daughter.
I think they went to bed about 8:15 or 8:30 that night, which is typical.  I'm exhausted just looking at all these pictures and thinking about how much food prep I do for my kids in one day!  Sometimes I wonder if there's any way to feed my kids healthy without a lot of work but there really isn't – most of what they had was really basic and yet because there are three of them it adds up to a lot of time in the kitchen for me.  And that's with the frozen yogurt!  Other snacks they sometimes have include cheese sticks, more yogurt (I try to do organic full fat), baby carrots, gluten free cereal with whole milk, and lots and lots of fruit!
What are some healthy snacks and lunches that your kids love?  How much do you involve them in decision making when it comes to their daily meals?  I tend to give a choice for breakfast and lunch only nowadays.