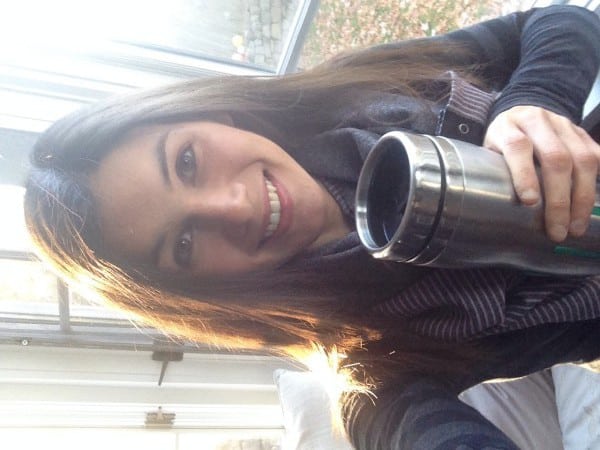 Happy Wednesday to everyone!!  I'm a lunatic this week as we all know since I've been shouting it from the rooftops of the internet and blah blah marathon-on-Sunday blah blah.  Well this post is not about that.  And don't worry, you're going to get to see and read in great oversharing detail everything I ate lst Sunday – but first – a little note on "we are what we eat" or, rather, "we are NOT what we eat."
Thanks for the WIAW link-up Jenn!  May we all eat and be as we please.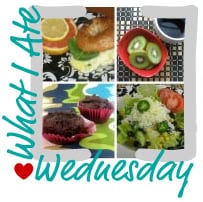 I joke with myself about my real name and blog name becoming synonymous lately.  With all the blogs I comment on as "Michele @ paleorunningmomma" I sometimes forget that I'm really just Michele and that Paleo Running Momma is just the name of my blog.  At the time I started the blog, I created this name impulsively based on the subjects I planned to cover without thinking about any identity implications for myself.  I'm fine with this and actually find it funny to call myself by my blog name, but it DOES get me thinking about how what and how we eat can get all tangled up with our identities.
Here are some examples of what I mean:  "Team fill-in-the-blank-with-"scandalous"-food-of-choice" or any group who's members are at least somewhat defining themselves through a food they choose to eat or not eat.   Team white rice and white potatoes come to mind, which I guess I'm a member of.   "Paleo" "Vegan" "Vegetarian" "Healthy Eater" "Gluten Free" and there are just a ton of other categories someone might identify with based on what they eat. Except sometimes it goes further than just being WHAT THEY EAT.  Sometimes, and ESPECIALLY if you write a blog related to food or healthy living and it's in the darn blog name (guilty) it becomes WHO YOU ARE.   But it isn't who you are.  We are not defined by what we eat or do not eat or how much we eat or how we eat.  Period.
I am kind of a rule following type and I've noticed that putting "paleo" in my blog name sometimes leads to me asking silly questions in my head.   Like, "should I comment that the recipe looks delicious even though it's not paleo?" or "can I still be friends with someone if they eat gluten-filled cookies?" See how ridiculous that sounds?  Just for the record these were never SERIOUS questions I asked myself, but rather some vague uncertainty about where my "brand" ends and where I begin.  It's like I'm unsure if I can just be Michele instead of ALWAYS the Paleo Running Momma.  Because Michele actually thinks some pasta recipes look pretty darn tasty.  Let's remember that Michele ate pasta for 30 years before discovering Paleo.
Okay done with the weird 3rd person speech.  Just wanted to throw the topic out there to get your thoughts on it.  And now, here's everything I ate in a day, specifically last Sunday.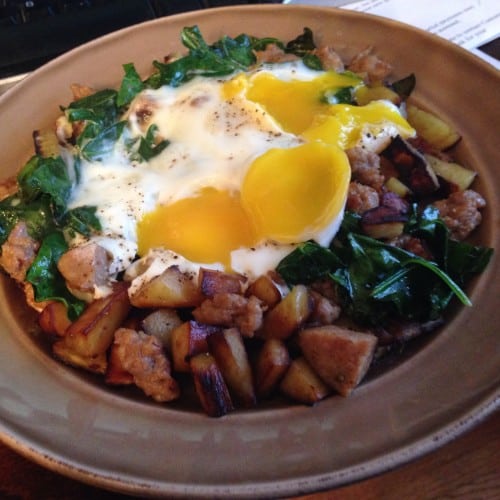 Breakfast!  I am loving my new pans.  Nothing like sliding a hash onto a plate in one swoop, eggs and all.  This is Japanese sweet potatoes sausage, and collards fried in Leaf Lard from Fatworks (their link is on the right sidebar, awesome stuff!) topped with 2 eggs.  I cooked the eggs right in the skillet with the hash, lowered the heat and covered until the whites set.  Delicious!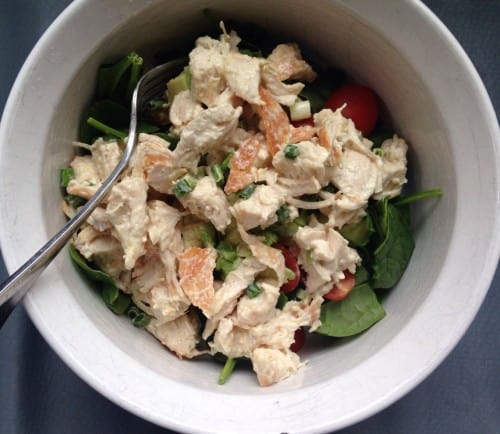 I made homemade chicken salad for lunch, which is a definite favorite for my whole family.  I use cooked chicken breasts, usually sauteed in some type of fat and then cooled, chopped, and mixed with my homemade mayo and other goodies if I have them on hand.  This time it was green onions.  Put some of this over spinach, grape tomatoes and avocados.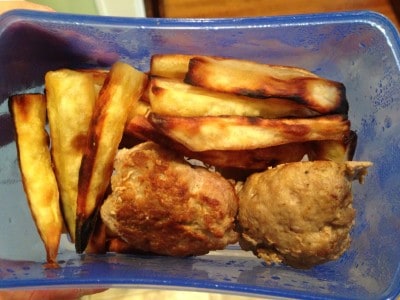 For an afternoon snack I heated up leftovers.  This is 2 small turkey meatballs and some white sweet potato fries.  Also had water, not pictured.
And then I made cookies!  The recipe for these will be up this Friday.  I didn't eat one of these until before bed, but while I was making them I had about a tablespoon-ish of the uncooked dough.  You don't want to put your cookies in the oven if the dough tastes like crap, that would be a mistake and a waste.  These are cranberry chocolate chip.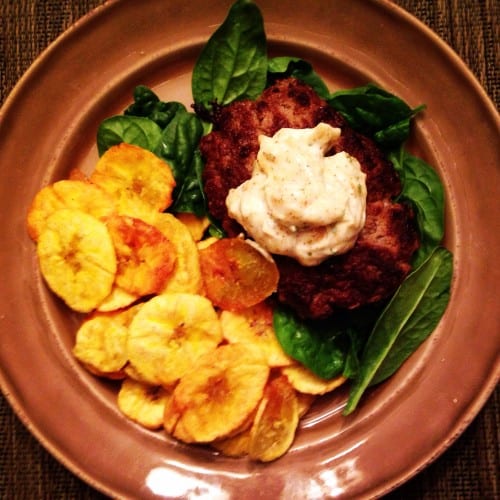 That's my Instagram filter making this photo look super orange.  For dinner I made a grassfed-beef burger (okay 5 of them, but one for me) and homemade plantain chips made with thinly sliced green plantains fried in coconut oil.  Also made chipotle mayo to top our burgers made from the leftover mayo in our chicken salad.  Chipotle mayo is definitely one of our favorite flavored dips!  Served this over a bit of baby spinach and BOOM.  Good stuff right there.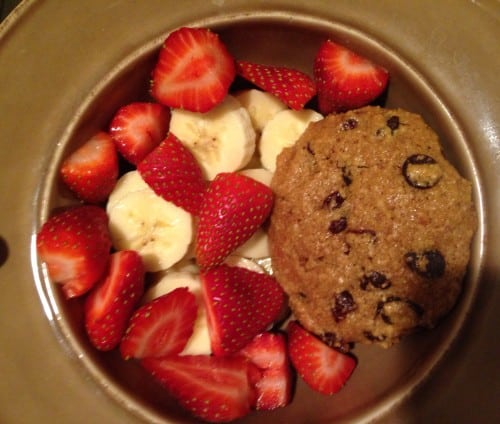 My after dinner/before bed snack was a sliced banana with some strawberries and finally one of those cookies I'd made earlier.  We plowed through this batch and my kids have already requested another.  Not sure if they're just that good or if my kids are cookie deprived.  Probably somewhere in between 🙂
After my snack I had chamomile tea, which I've been having almost every night.  No picture since I must have put my phone to bed at that point.  I usually put my phone to bed right along with the kids.
Do you ever feel like your food choices, preferences, or dietary restrictions mingle with your identity?  How do you reconcile this?  Do you think it's okay for bloggers to not BE their blog/brand all the time?