I kid you not, when I was about 10 years old I had 4 dreams/goals in life, in this order:
-Become a famous singer (okay fine I skipped that one)
-Get married
-Have 3 kids
-Run the NYC Marathon
Keep in mind that at the time, I thought the NYC marathon was the only marathon in the world.  I grew up in Queens and on Long Island and never lived more than 45 minutes outside of the city, and I didn't know any runners.  So, "the marathon" was the only marathon in my world.  I had vaguely heard there was one in Boston too, but it was of no significance to me really at 10 years old.
Truth be told, the fact that when I met Adam he had already run the NYCM not once but TWICE, well, that was a big selling point in my book.  As far as bang-for-your-buck goes, I saw the potential to knock out 3 big dreams with one smart decision.   The heart wants what the heart wants.
Okay, I'll stop being so romantic now, as Adam would say.  Just wanted to get a few thoughts out today about how I'm feeling after getting the good news yesterday.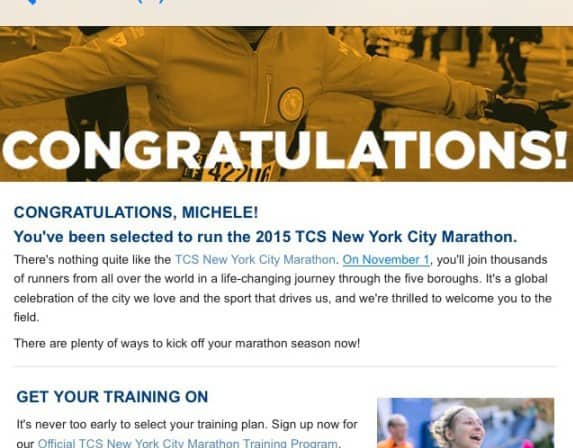 I'm linking up with Amanda for Thinking Out Loud, since I'm too excited to do anything else 🙂

As they say, the third time's the charm, and this was in fact my third time applying to the lottery.  I had heard from Emily that the first thing to look out for is the race fee charged to your card, and it's a good thing I knew to look!  I didn't actually get the acceptance email until 7:30pm Tuesday night, but I was stalking my credit card activity all morning.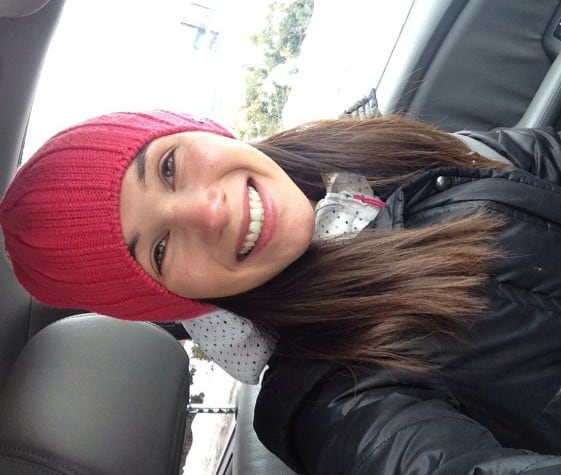 Here I am, in my car after grocery shopping, crying hysterical tears of joy after seeing the charge to my card from NYRR.  Charming, right?  I honestly did not realize I wanted to get into this marathon so badly until I actually DID.   I had managed expectations and inhibited my excitement, but, all of that was gone in that moment when I realized that I will be running the NYC marathon 2015!
It makes sense though that this year was the one that held the most weight.  The first time I applied, I was already set to run the NYC half and was training for my BQ, so my running life was very full.  The second time I applied, I was training for Boston and THRILLED to be recovered from injury and able to actually run it.  The excitement for Boston made the NY rejection much easier to swallow.
But then here I am now.  No marathon this spring and nothing going on with my running, bad or good.  If I hadn't gotten in, I would have picked another race, but, my heart was REALLY set on this one for this year.   My kids were thrilled for me too.  They know that NYC is the one we watch on TV, and of course that is enough for them to understand that it's a big deal!
There's one more little superstitious piece to this, and before you start thinking I'm legit cray just hear me out.  I've had this "thing" with the number 33 since being a kid and leaving for the bus stop every day at 7:33.   Yes, it started out as a fixation but it sort of took on a life of its own, and I "see" (really see) the number 33 more often than seems normal.
Anyway, I'll be 33 years old at the time of the marathon, and it definitely adds another "layer" to the significance of it for me.  I'm just hoping this alone can fulfill the lifelong mystery and doesn't mean I'll actually drop dead during or shortly after.  I'm not normally superstitious and am accepting that it's likely just a random (creepy-ish) coincidence. My sister on the other hand, recommends consulting an astrologist before running it.    Yup, that's my family!
Anyone superstitious, with numbers or otherwise?
What's your dream race?  
Was running a marathon a big goal/dream for you?