There was just nothing that really popped out to me about the day I chose to take pictures of my food, so I figured the "theme" will be just to share all the boring details of the day with you guys 😉 So here we go with my day in the life WIAW – let's get started right away!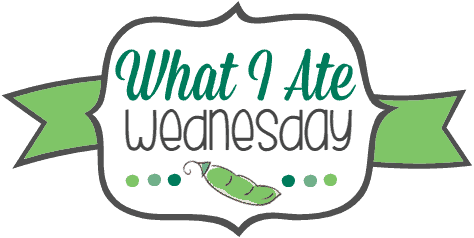 It was Friday, it was a rest day.  That means no running, but I still woke up at 5:30 because I have no trouble at all filling that running time slot with other extremely important tasks!  Like reading blogs and posting on facebook.  #justkeepingitreal, this is my early morning when I don't run.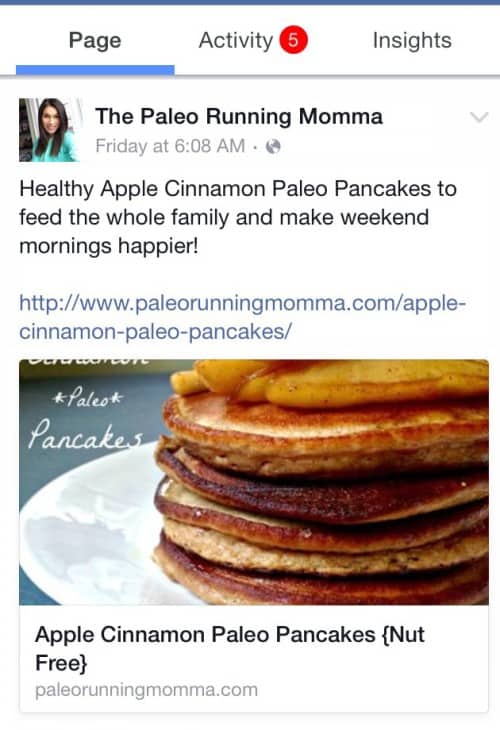 See?  It was the day of that yummy pancake post.  And if you don't already like me on Facebook, now is your chance!
Since school has started I can't just sit around in jammies while my kids destroy the house and I pretend to be a Very Important Person with "things to do."  I showered, unloaded the dishwasher (a true pleasure) made breakfast for the kids, and finally for myself: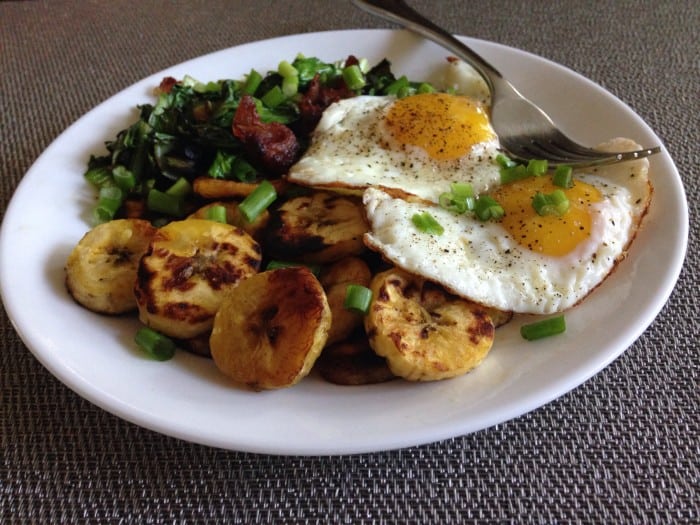 You can always tell how pressured I'm feeling by how my plantains come out.  Today they were kind of burnt and unevenly cooked, which means I was already struggling.  Can you imagine I told this to a therapist?  I'm thinking a lot of smiling and nodding would follow that one.
Also on my plate was bacon, baby bok choy (sauteed with the bacon) eggs, and scallions that happily grew in my windowsill.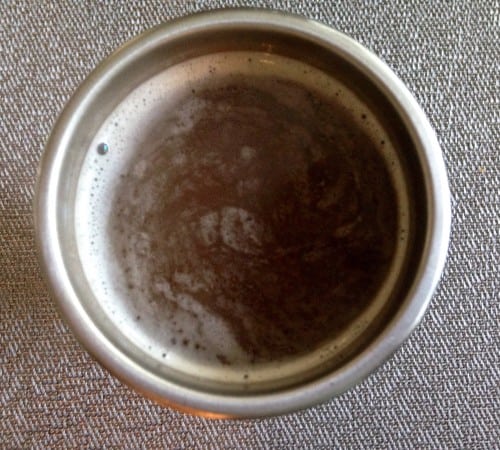 Don't tell me coffee is bad for anxiety.  Just don't say it.  I know I should probably switch to decaf or just quit it completely.  One day, maybe.  There's my frothy full-fat coconut milk in here, which I whip up with my immersion blender before stirring in.  I quit the maple syrup – my coffee actually started to taste too sweet to me with it in there.
While I drank my coffee Drew and I headed to the grocery store.  Or maybe I should say while I went grocery shopping I drank coffee?  What's the main event here?  Anyway, we had a lot to buy – all the usuals including 10 lbs of fruit to get through the weekend.  That's not an exaggeration, in fact it might actually be an underestimate.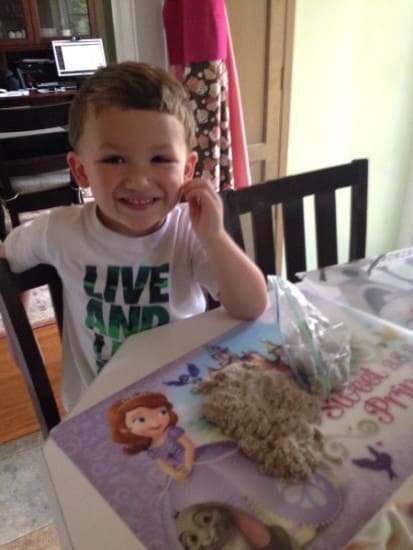 I was talked into buying more glitter putty at the store so Drew played with that and kinetic sand when we got home.  I spent the rest of the morning with emails/blogging, and hanging with Drew.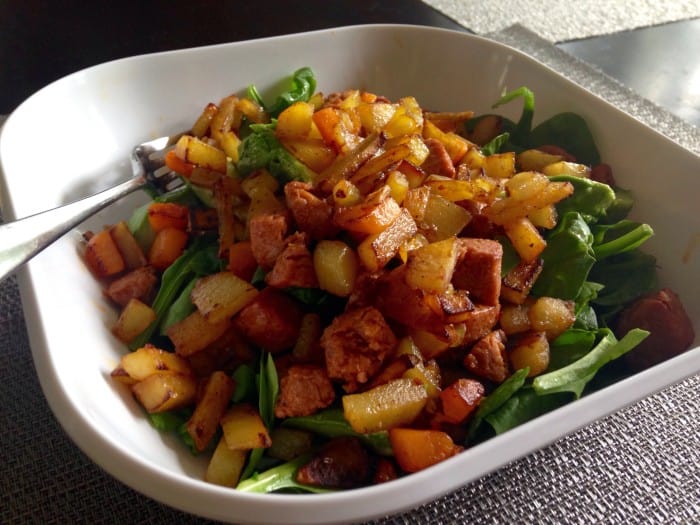 Around 12:30 we both had lunch.  Drew has been really into smoothies lately (makes me happy!) so I made him one of those and threw some chopped sweet potatoes and chorizo in a pan with bacon fat for me.  I had that over baby spinach and avocado and it was delicious.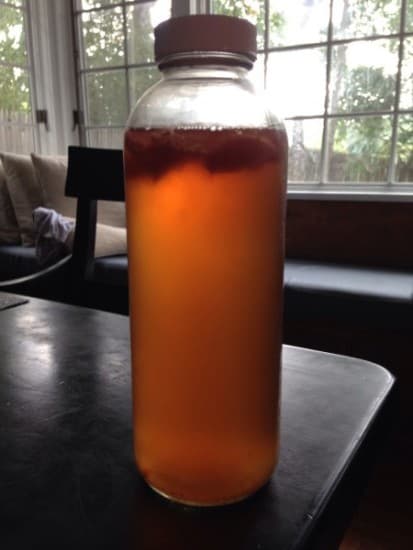 Followed by home brewed strawberry flavored Kombucha!  I haven't forgotten about a post on this, I will definitely be doing one over the next month.  It's been nothing but a pleasure to make it on my own and surprisingly very easy to get a tasty finished product.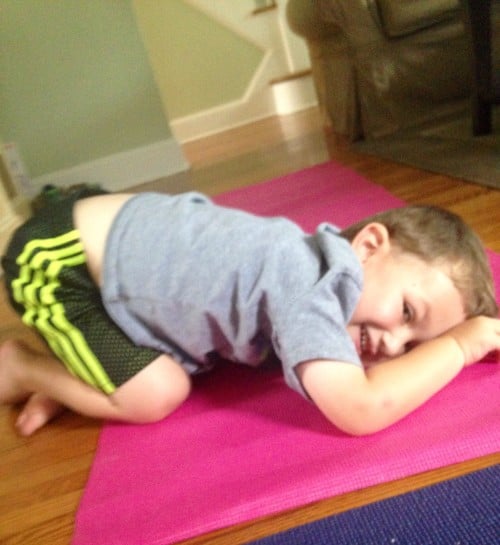 Sometime around 2pm Drew and I attempted to do yoga together.  While I do manage to stretch this way, it's not exactly practicing yoga the way I'd want to, as you might imagine.  It's entertaining and fun though.  He loves doing cat/cow and saying meow/moo 🙂
We left to pick the girls up from school around 2:45 and returned at about 3:15.  Emily has gymnastics now from 5:30-7pm on Fridays so I have to figure out how dinner will happen each week going forward.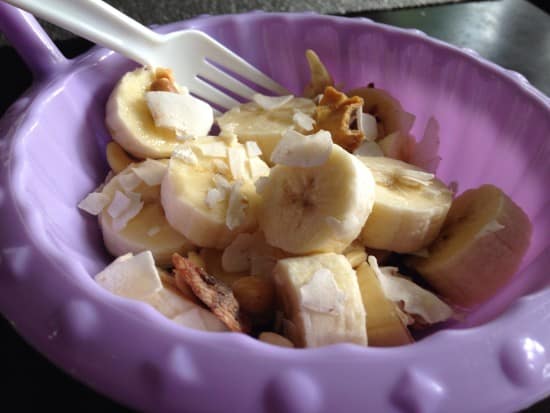 At 3:30 I made myself this snack – sliced banana with trail mix (nuts, coconut, chocolate chips, dried fruit) and answered blog comments before going through school papers and ultimately putting them in a pile, unfinished.
I also started thinking about my long run the next day – 16 miles with 6 at goal pace – and decided with that sort of run I should just bring a tupperware dinner to gymnastics.  Kind of goes back to my WIAW last week about eating versus feeding.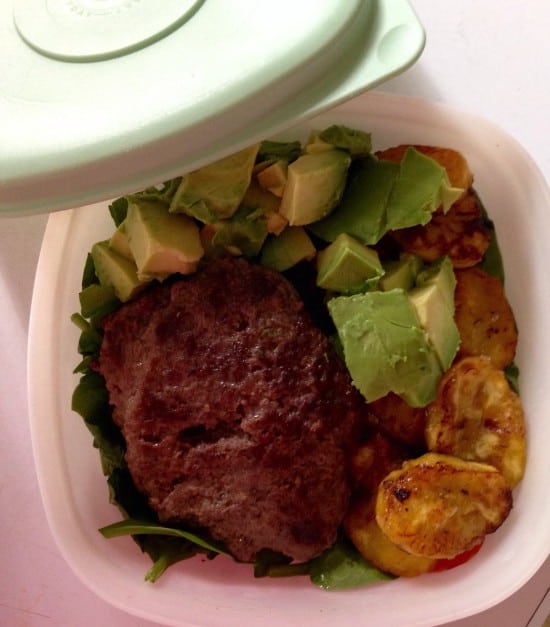 So, before we left I cooked up a burger and plantains (same pan) and put it over spinach and avocado once again (second half of the avocado from lunch.)  After taking Emily to gymnastics, I took Diana and Drew for pizza and ate my tupp dinner while they dug into pizza.  Everyone was happy, and I even got just the right amount so Emily had enough to eat in the car on the way home.  It's those little things that make mommies happy 🙂
When we got home at around 7:15, it was bathtime right away and I brought up laundry to be folded.  I always fold laundry at that time, even when it's the last thing I want to do.  It's a habit now, and really, whatever gets it done – there's never a good time for laundry in my opinion.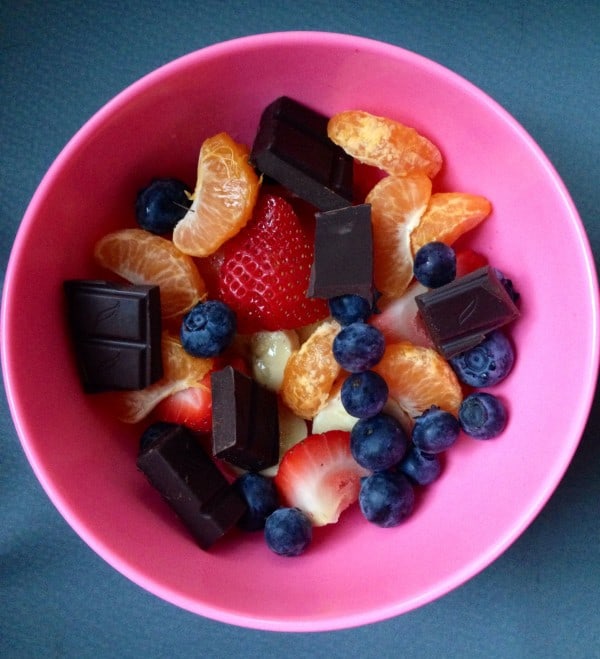 This is technically not the fruit/chocolate bowl I ate on Friday, but, it's identical to what I had.  After putting the kids to bed I completely forgot to take a picture of the actual bowl, but some things don't change that much and this is one of them!  I had sliced banana, mandarin orange, strawberries, blueberries and even the chocolate was Green and Black 85% like this one.
Adam had been at a Cross Country race and got home around 9pm I think; he came home with probably 15 bananas and a case of Larabars 🙂  I think we finished the bananas in 2 days. We chatted for a little bit and then I actually got myself to sleep by 10pm in anticipation of my long run the next morning!  Nothing like getting a decent night of sleep before running 16 miles!
Does dinner get tricky with after school activities and sport for you?
Are you a daily coffee drinker? Has anyone had a good experience quitting coffee?