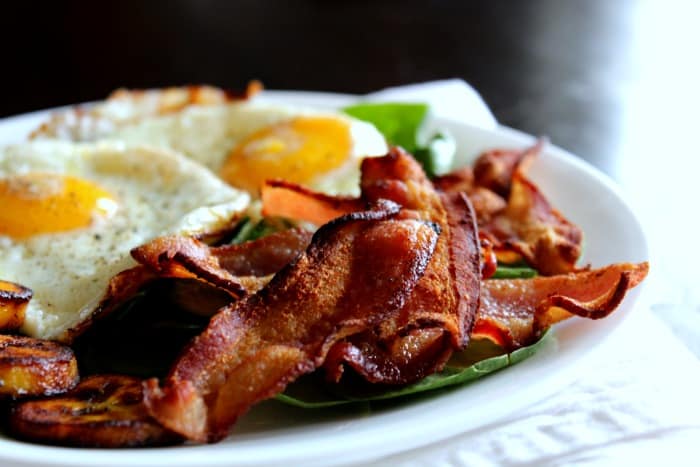 So, this week really is turning out to be all about food and nothing but food over here, and yes, you're about to see some more delicious eats!
But please, hang onto your bacon-loving seat because we're going to venture into healthy and natural meat-lovers heaven while I tell you about an incredible, new-to-me company – D'Artagnan – and let you in on their beyond awesome $500 holiday shopping giveaway that's happening right now.
D'Artagnan Meats Review & Giveaway
Meat as a gift?  For me?  It's not like it wouldn't have had a top spot on my holiday wish list, if I'd actually made one.  So let's just say that I jumped high up in the air for a chance to review some of D'Artagnan's conscientiously and humanely raised meats after I received an email.  All my family's favorite meats delivered to our front door makes for a very happy day no doubt!
A little bit about D'Artagnan before showing you what selections I made.  For many years, long before "free-range" "grass-fed" and "sustainable" were buzzwords, D'artagnan was committed to these humane farming practices, so to offer people the best tasting, healthiest conscientiously raised meat possible.
They offer a huge selection of various fresh and cured, fully cooked meats (nitrate free) including basically any type of sausage you could imagine, grassfed and pasture raised beef and lamb, duck and other poultry like turkey, goose, quail, and pheasant.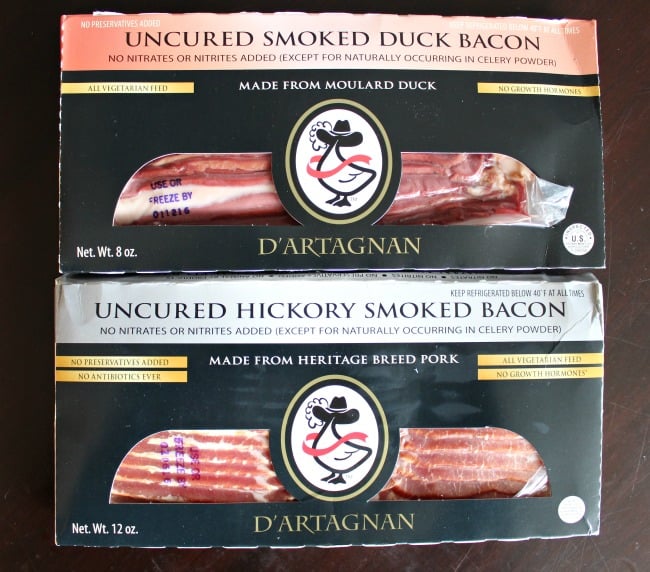 And what did I choose?  Do you really have to ask?  Being the good mother I try to be to my bacon-addicted 8 year old daughter Diana (where the heck does she get that from?!) I decided to go with 3 different types of bacon – Applewood Smoked, Hickory Smoked, and Duck Bacon.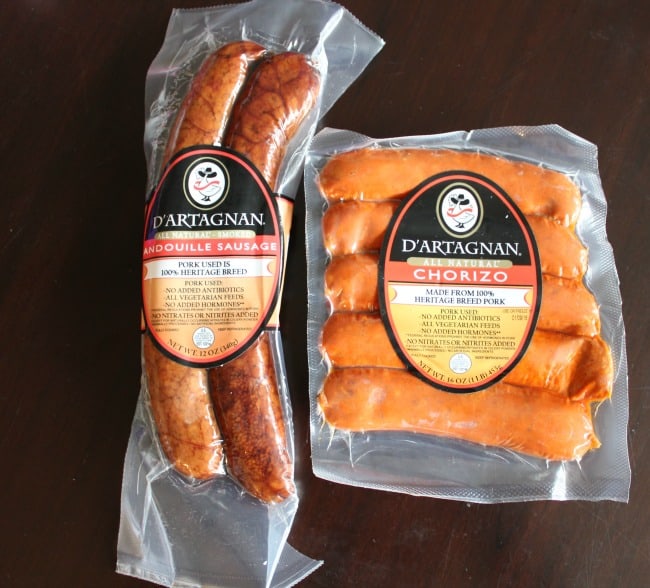 I also chose fully-cooked Chorizo and Andouille sausage, and buffalo burger patties. In addition to all the bacon we consume, Diana and I have a thing for bison burgers whenever I can find good quality buffalo meat – so this choice was non negotiable!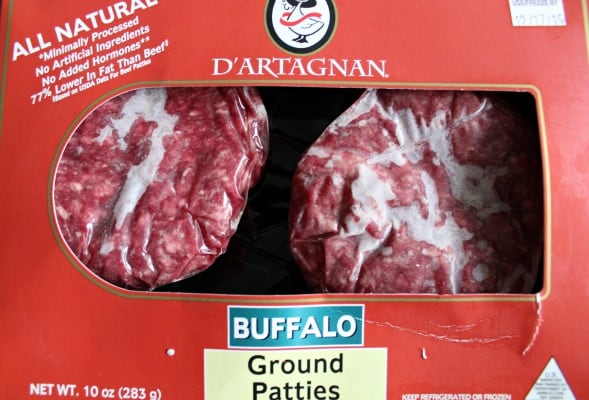 Oddly, even though she and I tend to prefer fattier meats in general, we both have a thing for super lean ground buffalo burgers, and Adam loves it made into taco meat. Could it be the bacon fat that I wind up cooking it in?  Possibly, but I also think there is just something wonderful about the texture and flavor of buffalo that speaks to us when it's cooked just right.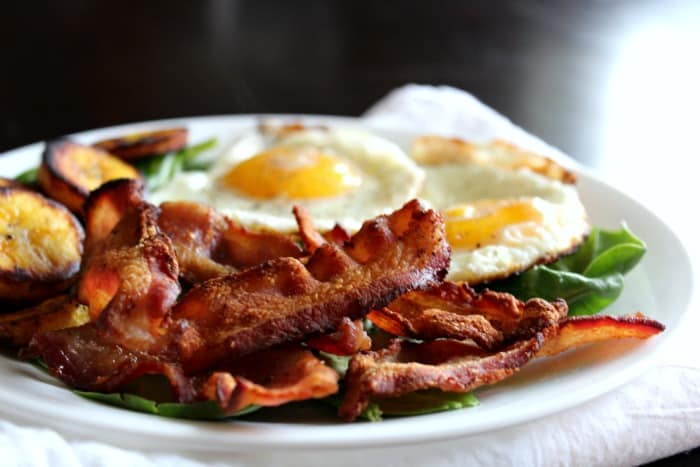 So far we've cooked up the Applewood Smoked Bacon and the Duck bacon, and both were seriously dee-licious.  The perfect medium-thick cut, great flavor, and of course renders incredibly delicious fat which I don't waste a drop of.  I typically buy various brands of uncured bacon and this is my favorite right now, although I'm partial since I just ate it this morning, of course 🙂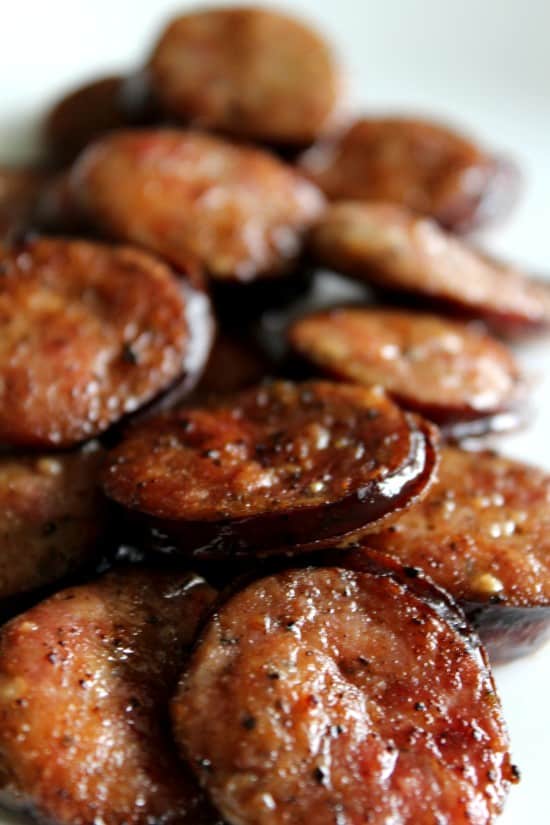 The fully-cooked andouille sausage was also very impressive.  The only ingredients are pork, water, salt, and spices which makes me happy!  Since it's fully cooked you can easily just slice and eat, although I couldn't resist crisping mine up a bit before digging in.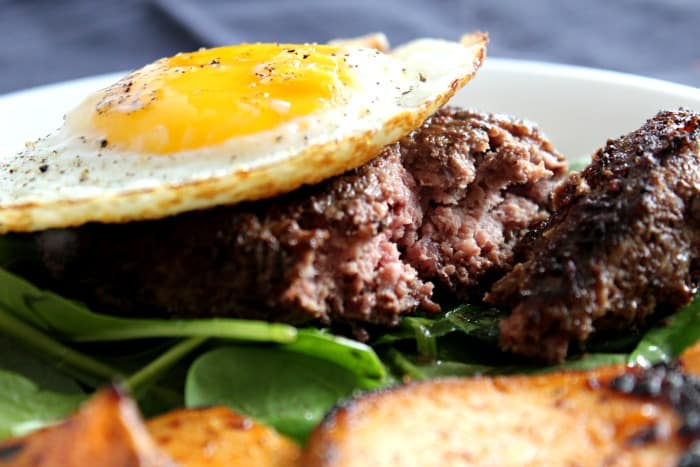 As for the buffalo burger, it was definitely another winner – especially topped with a fried egg alongside fried sweet potatoes!  I haven't had an egg-topped burger in quite some time, but I have to do it more often – if you haven't done this, you must try!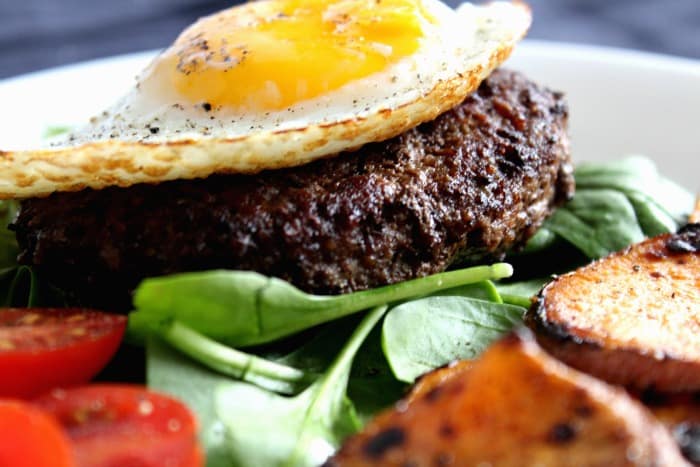 To sum up, if you like good meat, this is one giveaway you definitely can't miss!  Enter below for the chance to win a $500 shopping spree with D'Artagnan!
Make sure to head over to their social channels below to see what other yummy savory goodness they're cooking up:
I'm so thrilled to have been able to review these delicious products and share this giveaway with you guys – you must check out the D'Artagnan website to really see for yourself what variety of quality products they offer.  I'll definitely be back for more.
I received products of my choice from D'Artagnan to review and share their giveaway.  All opinions are 100% my own 🙂
Have you tried duck?  How about duck bacon?
Yay or nay to buffalo burgers?  
Most "adventurous" meat you've tried?