I go through phases with my coffee.  I simply can't go too long drinking my coffee one-way only or I get seriously bored.   As you might remember from yesterday's post, my coffee maker is more than a friend to me, and, that means I treat my coffee like family too (?) or something like that.
Anyway, it's time to Think Out Loud because somehow we landed on Thursday again, even though I swear it was just Sunday.
Thinking Out Loud: Current Coffee Obsession, Pain and Random Life Stuff
1.) Speaking of Sunday.
Before I get into the exciting world of my coffee preferences, let me tell you what happened on Sunday.  I really, really wanted to run, but it was pouring in the morning and there was no way I was heading outside.
I didn't feel like doing yoga because I wanted something cardio-like, so, I went on Youtube, and this is what I found.
I haven't done a HIIT workout in, um, YEARS and I knew I'd be sore afterwards.  What I didn't know is that I would be POST MARATHON SORE, plus upper body sore, for 4 days and counting.  Are you kidding me?  Am I really that unfit?
Anyhow, it was a wakeup call to do a HIIT workout once per week.  Anything that causes me that much pain must be conquered, or at least brought down a notch.  Goal: just be sore the day after, not the whole freaking week.
2.) Chocolate Coffee = Yes please.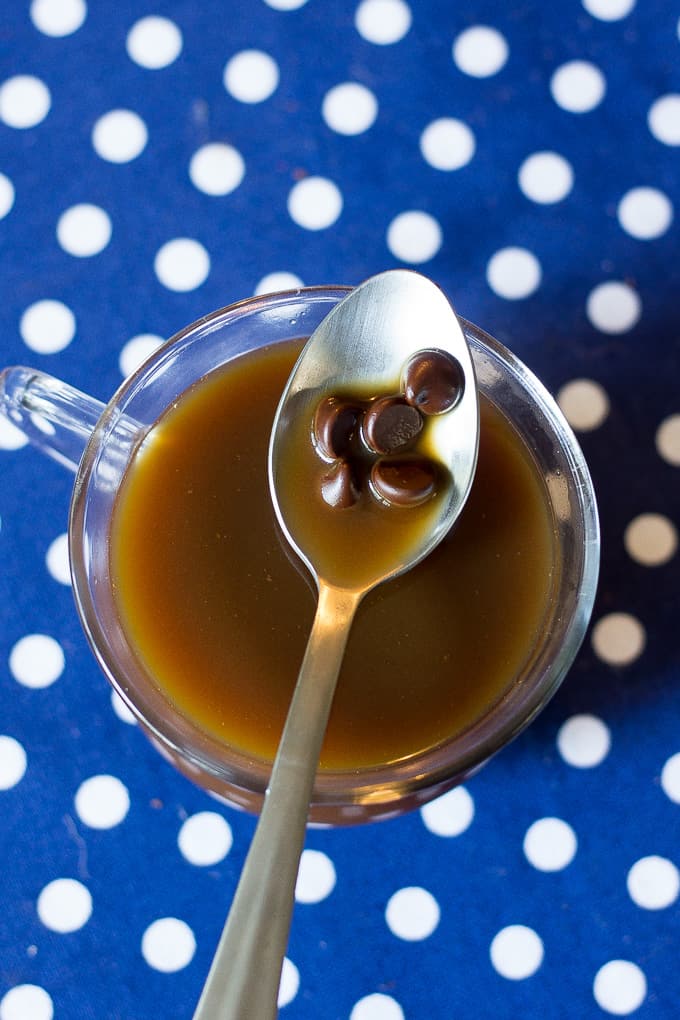 What started this obsession was a fudge-fail.  My fudge was a bit on the creamy side and I decided to just start putting a square in my coffee each day since the base was coconut milk anyway.  So what happened?  I got hooked.  The fudge is long gone – even failed fudge doesn't last around here – and I'm now putting almond milk and chocolate chips in my coffee every day.
Yes, a lot of it sticks to the bottom, which is part of the appeal.  No shame in wanting to consume chocolate every morning, right?  And every night, and usually mid-day too.
3.)  Getting rid of old junk is a form of therapy.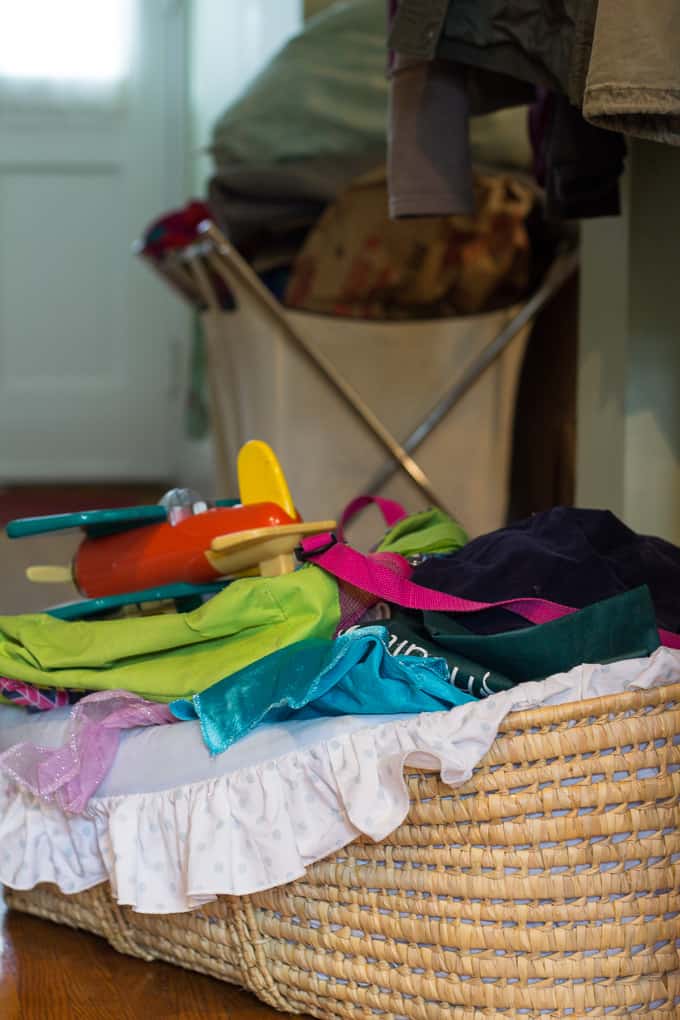 I guess not all of it is junk, but rather just things we no longer need/use.  We're getting ready to renovate the basement and that means throwing out everything that isn't necessary.  I personally hate holding onto old stuff, with the exception of a few heart-string tuggers, but really, old dress-up clothes and random toys are not near and dear to my heart.
What I LOVE is getting rid of those old things – it's therapeutic, isn't it?  As if I'm cleaning out my brain along with the basement.  Moving on.  Plus, it'll be fun to have a nice clean basement to put nice clean new things in.  Or no things at all.  I'm constantly fighting clutter so I'd be happy with nothing but an empty room – TRUTH.
4.) Drew has a a couple of things to share.
Drew is always asking me to share things on the blog and I always tell him "on Thursday I will", so it's now or never.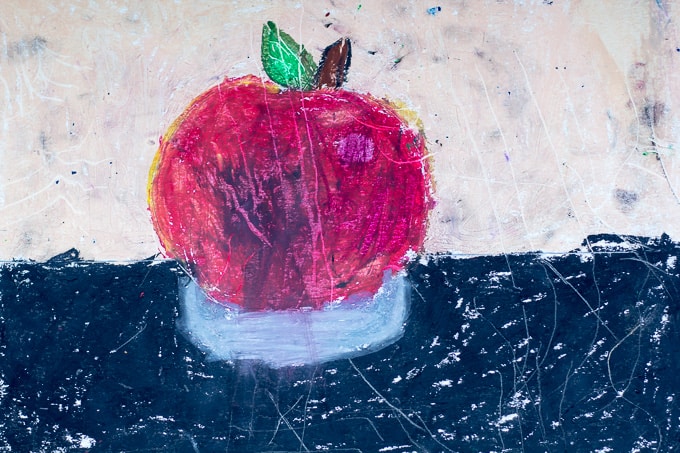 First, his apple.  He's taking a drawing class and this was his first masterpiece.  He loves telling/showing me where he added the shadows and highlights!  What do you think – should I have him start making me photo backgrounds?
Second, his most recent Youtube video – how to make a paper bag puppet that looks like Katy Perry.  I don't make these things up, of course, how could I?  The video is 33 minutes long – just a warning 😉
5.) I really hope you like sweet potatoes.
So, I've made about 300 sweet potato recipes in the past 3 days.  Or something.  But really, I have a lot coming up so I really hope you're into the idea of baking (and no-baking!) with sweet potatoes!  I actually haven't properly experimented with sweet potato baking until about 2 weeks ago, and yup, new obsession!  Bread, savory muffins, brownies, no-bake cookies.  I might do one more – a sweet muffin – and then call it a day.  Or so we'll see 🙂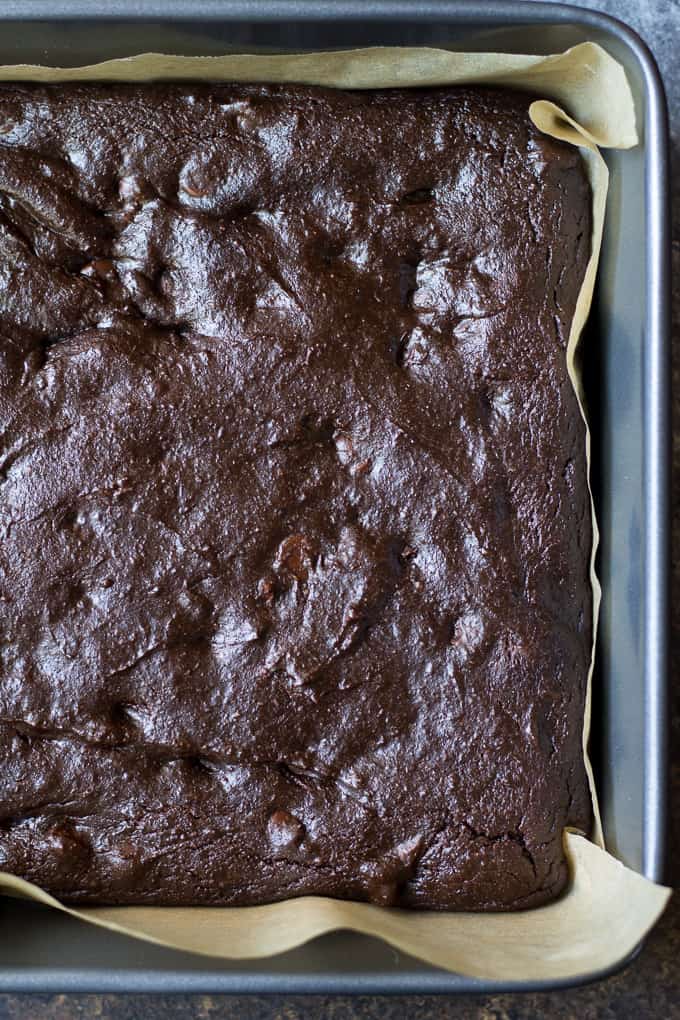 And that wraps up my thoughts – for now.  To sum up my week, I'm hobbling around with chocolate coffee in one hand and chocolate sweet potatoes in the other, while my kids produce fine art and make Youtube videos.  At least I'm throwing out lots of garbage – it makes me feel like I'm moving up in the world 😉
Tell Me!
Do you like throwing things out or do you keep everything?
Do you like drawing/are you good at it? 
What are you putting in your coffee lately?