I recently learned about Scout & Cellar clean-crafted wine and have been MORE than a little excited about it lately!  You might be wondering what "clean-crafted" really means and if it's truly possible for wine to be grown and produced without all the junk that generally makes us feel unwell.
In this post, I'll provide you all the details plus answer some of the most frequently asked questions I receive about clean wine.  I'll also share with you which bottles have become fast favorites over the past couple of months!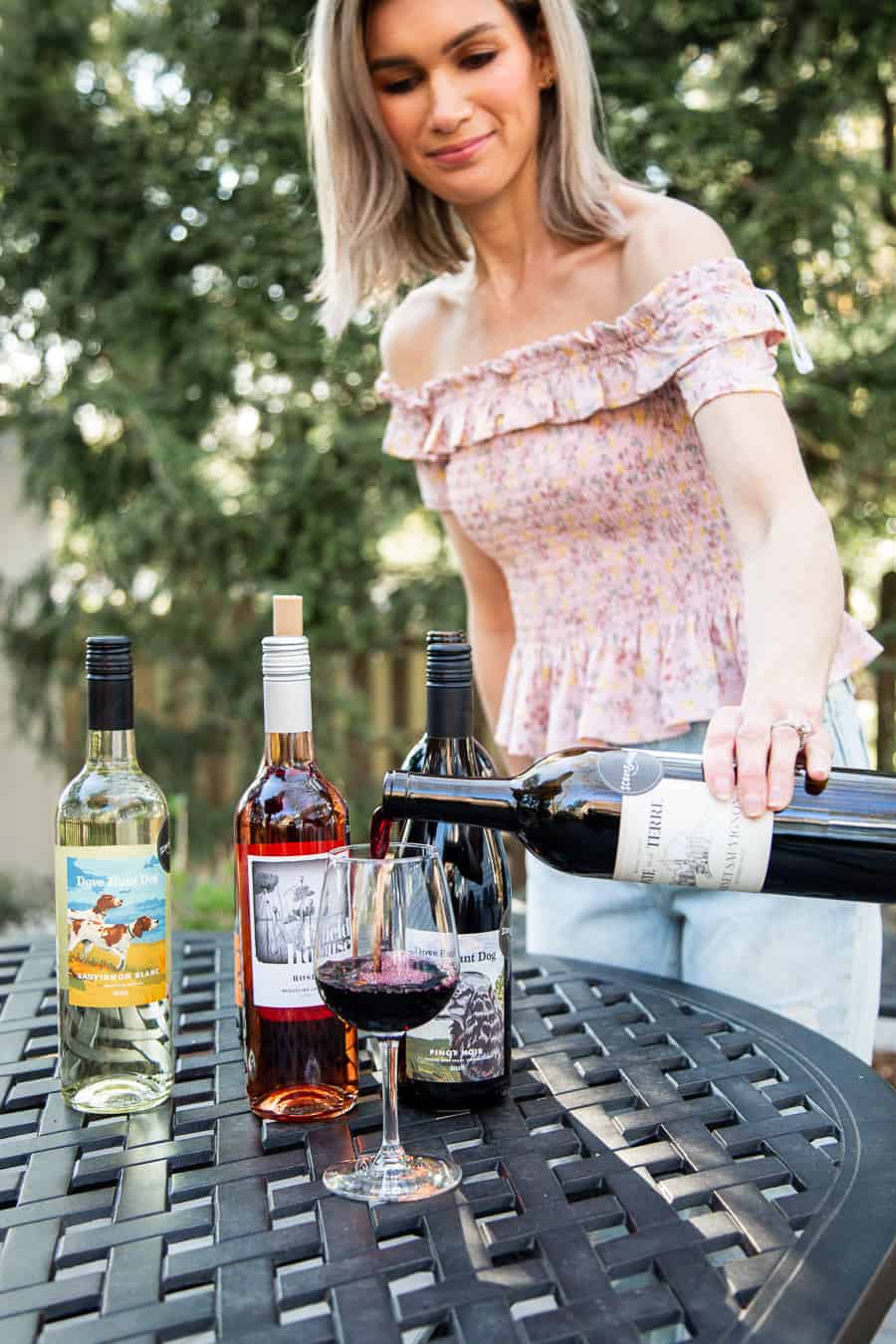 It was actually during the days when my kids were babies that I discovered how much I loved wine.  Not because I was secretly drinking huddled in the corner of the bathroom or anything (although a relatable feeling, so no judgement) but because my momma group hosted "wine and cheese" and "pizza and vino" playdates every Friday afternoon.   This was back in the days before paleo, before I realized the consequences of putting junk in my body.
Things changed and for a period of time, I drank NO alcohol at all in any form because I didn't like how I felt after I drank. Headaches, fatigue, stomach upset, and, you know, that overall feeling of "grossness" that comes with a hangover.
I missed wine, and still wanting to have my "cake" and eat it too, I started trying several organic and clean wines.
What I've found is that there really is good, clean wine out there.  Wine that won't leave you with headaches or migraines.  Wine that won't leave you with a hangover and upset stomach!  But it can be tough to figure out where to begin to look for clean wine!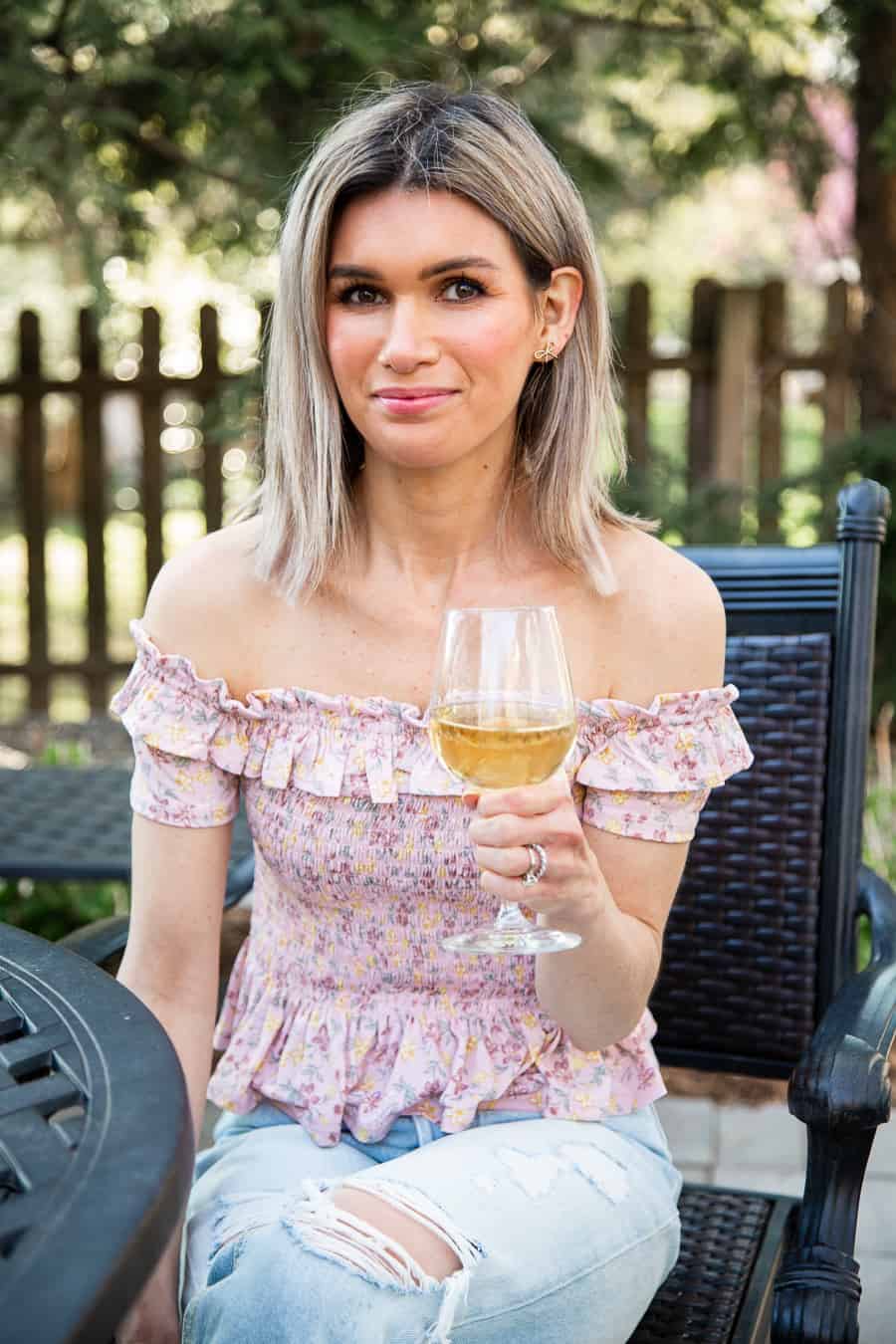 Here's why I'm loving it so much and why I think you will too.
Scout & Cellar wines are:
Naturally grown with NO synthetic pesticides (because good grapes don't need 'em!)
Tended by actual people – not mass produced by industrial agricultural methods
Sustainable, organic and/or biodynamic farming methods
Wildly delicious and always distinctive year after year, like nature intended
ZERO added chemicals
Low sulfites (most < 50ppm all must have < 100ppm.  As a point of reference, the FDA allows up to 350ppm.)
Independently lab tested
ZERO grams of added sugar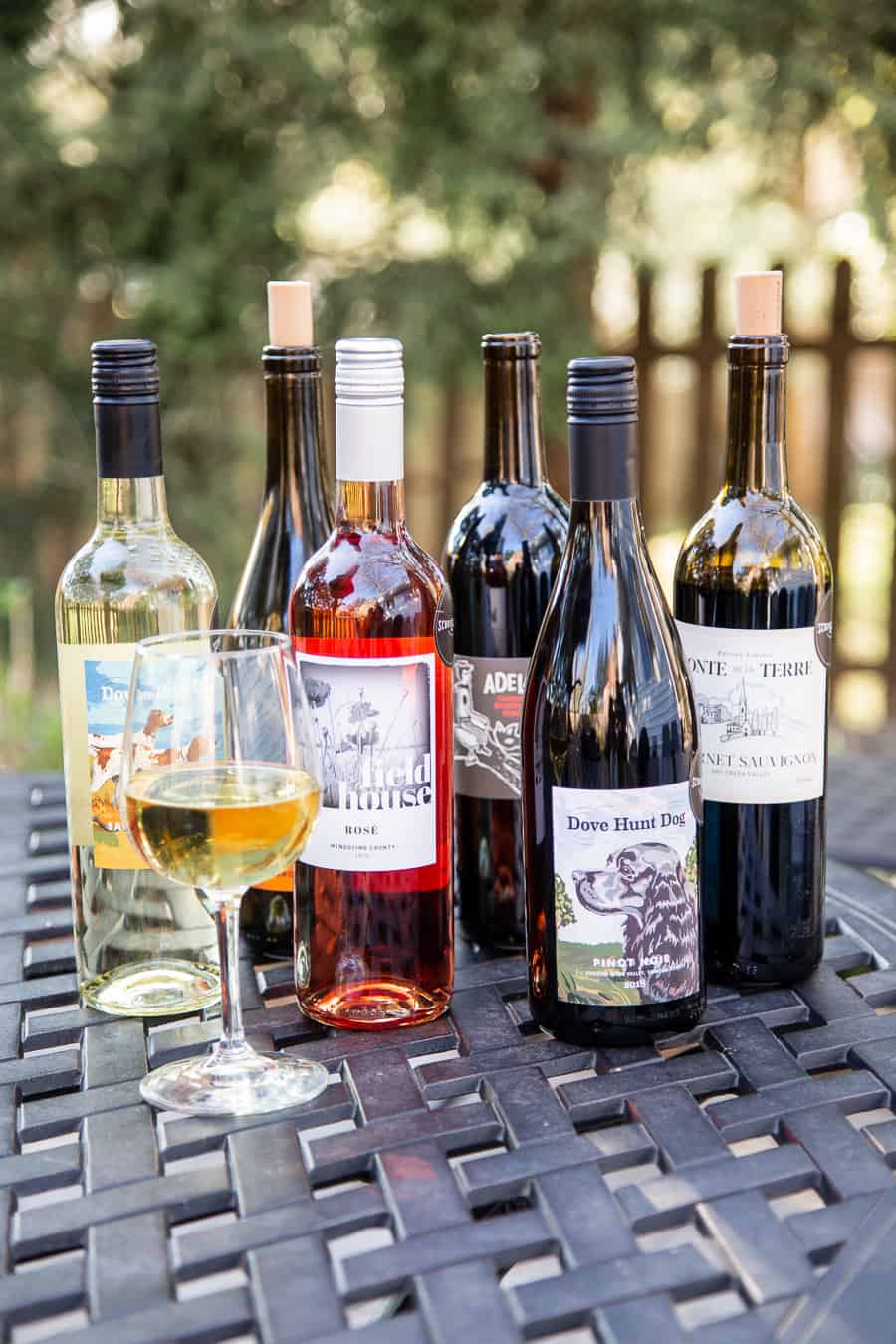 Scout & Cellar Founder Sarah Shadonix has dedicated her life to taking the headaches out of great wine, literally and figuratively!
Sarah struggled with day-after headaches while studying to become a sommelier.  Rather than giving up, she took it as a sign that something in the wine was off.  She did her own research, speaking with renowned naturopaths and other medical professionals and consulting with vintners.
What she found was shocking, but also made a lot of sense.   There are up to 300 pesticides and 250 chemical additives permeating almost all mass produced wine!  Yes that sounds crazy, and Sarah thought so too!  So, she promised to discover and deliver a cleaner, healthier option to everyone!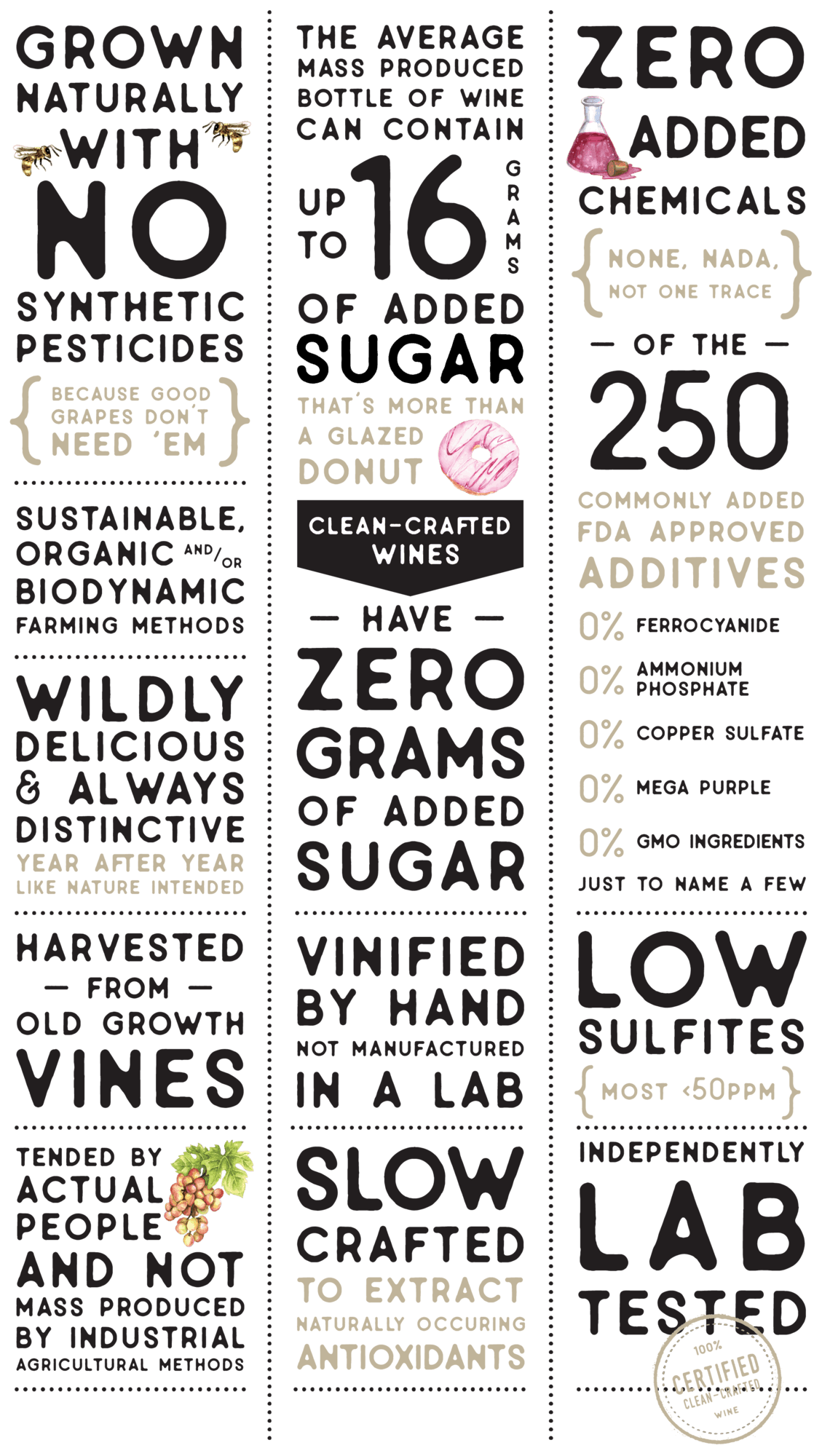 The photo above outlines the standards for a wine to be considered "clean-crafted".  Scout & Cellar doesn't have a vineyard of their own.  Instead, they source Clean-Crafted™ wine from all over the world, creating and bottling wildly delicious wines with an authentic sense of place and working directly with growers and producers who embody our Clean-Crafted Commitment® in their daily practices.
They walk through the vineyards, visit the cellars and share meals together. The end result is delicious wines that are better all around – not just for us but for the planet!
Frequently Asked Questions About Scout & Cellar
Q: Can I shop wine a la carte or do I need a subscription?
A: One of the best things about S&C is that you can shop the exact bottles you want a la carte – no commitment or subscription necessary!
Pick just one bottle to try it out OR get a volume discount for 6 bottles (5%) or 12 (10%).
If you prefer having bottles picked for you and delivered on a schedule, they ALSO have an amazing wine club called Scout Circle!  I love that you have options with Scout & Cellar!
Q:  I really prefer sweet wines.  Are Scout & Cellar wines all dry or do they have sweet options?
A: Since none of the wine contains added sugar, they are on the drier side.  However, there are varying amounts of residual sugar in each bottle, giving you an idea of which wines are sweeter.  Here are my picks for sweeter wines (click each link for more info):
Q: Do they ship to all 50 states?
A: At this time, S&C is unable to ship to the following states: Arkansas, Delaware, Kentucky, Mississippi, Rhode Island and Utah.  They also do not ship internationally at this time.
Q: Where are Scout & Cellar wines sourced?
A: From all over the world! We produce our wines from grapes grown in the best and still-being-discovered wine regions from Napa Valley to Willamette Valley to Mendoza, Argentina, to Provence, France to La Mancha, Spain. And so many places in between.
A: How do they verify that the wine is Clean-Crafted?
It's a multi-part process that involves tasting for deliciousness and a sense of place, working with the grower to understand their practices in the vineyard, verifying reports detailing the viticulture and vinification process behind each wine and conducting at least three distinct lab tests testing down to the parts per billion to confirm that there are no synthetic pesticides or chemicals present and there is less than 100ppm of total SO2.
Q: What are sulfites?
A: Sulfites are naturally occurring antioxidant and antibacterial compounds in grapes and are utilized to protect the wine from oxygen until it reaches your glass. Because of the slow-crafted, intentional way Scout & Cellar wines are made, they require very little sulfur additions to remain stable. Most have less than 50ppm, all must have less than 100ppm. As a point of reference, the FDA allows up to 350ppm.
Q: Which bottles have been your favorite?
A: I've loved many of them – these are my favorites (click on each link for more info)

I became a Scout & Cellar Consultant because I fell in love with the wine itself!  I love that they make it so easy for everyone to enjoy healthier, clean wine that complements a paleo lifestyle.
What else do I love about being a consultant?   As a consultant you earn money on your own purchases!  Clean-crafted wine delivered to my door PLUS a little extra $?  Sign me up!  If you're interested in joining my team, email me at paleorunningmomma @ gmail . com for more info!
XO (and happy sipping!),
Michele