My sleep schedule is ridiculous lately.  I guess I'm just going to dive into Thinking Out Loud today, because, possibly due to sleep deprivation, my brain just won't do the whole intro thing.  Okay that was the intro – it's go time now!

Apparently not marathon training DOES NOT mean a free for all to stay up really late, get up really early, multitask like a lunatic and get away with it.
I think running helps me structure my life, actually, because now that I'm not training for anything, my brain is on Spring Break, except it's not fun, I'm not in Mexico and I'm not drunk.  Or tan (not even fake tan), or wearing a bikini.  Nope, I'm just (old) and sitting on the couch in sweats until 11:30pm with Adam as we go through the music of the 80's and 90's on Youtube and act really surprised when we realize that in 1988, I was 6 and he was 18.  Scandalous and hilarious every time.  Here were a couple of winners from last night:
EEK!
YUP – DOUBLE EEK
The cheese is too much!  I'm dying! (I am lactose intolerant after all, haha.)
Anyway, although at 11pm it feels totally worth it to stay up way too late (it's been midnight-ish) spending my time viewing the above, the next morning when I inevitably wake up at 5:30 and jump right on my computer and either get work done or get out to run, I'm not setting myself up for a good day.  And I'm feeling it – by noon I'm wanting to nap, which is just not like me at all.
And I'm not just feeling tired, I'm thinking tired too.  For example, my multitasking and decision making in general has been out of control.  Exhibit A: I decided it was the perfect time to give Drew a haircut between the time he came home from school (2:10) and the time we have to pick the girls up (3:00).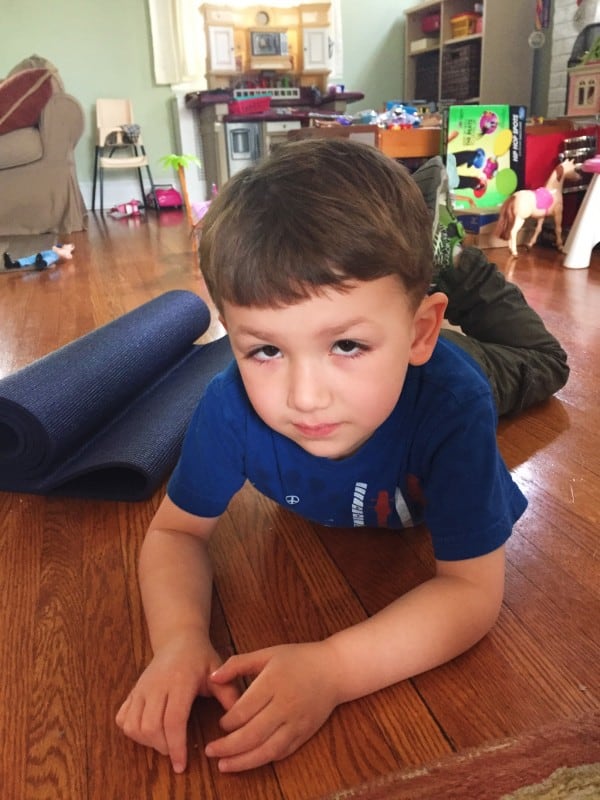 He also ate a snack during the haircut.  Given the circumstances I think it came out okay. Not saying I'm a professional 😉
Somehow, I had an extra 15 minutes before 3pm so decided I'd take a few more pictures of the brownies I made (and photographed) earlier in the day.  Because that is totally enough time for a photoshoot.  NOT!  (See, back in the 90's.)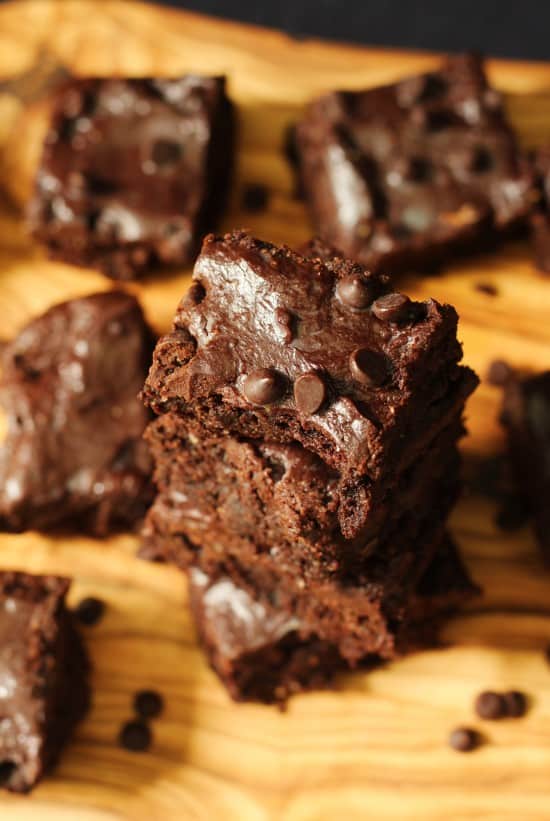 These brownies were good but the photos tried to kill me, I'm telling you.
Other less-than-ideal situations I've created are trying to do yoga while Drew has a Barbie pool party next to me: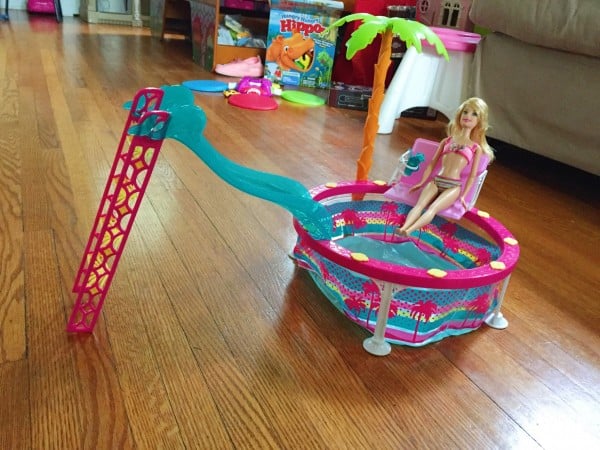 Plus writing a blog post while frying chicken thighs on the stove, as in exactly what I'm doing right now.  That will be followed by eating (fast), a parent teacher conference, making lunches, yelling at kids, doing laundry, putting kids to bed, and more chocolate and Youtube.  So the cycle continues!  I think I need to find a way out of this.
And then, I remind myself that these are actually the good times.  Things will never be perfect, meaning I'll never feel "balanced", always feel rushed, always try to squeeze too much into a day (and maybe always the wrong things) and I'll probably never get "enough" sleep.  Oh well.
As it turns out, I'm pretty happy this way, and I doubt I was ever meant to sleep 7-8 hours per night, because I haven't managed to do that since I was probably 12 years old.   That said, functioning on 5-6 is not working for me lately, but I'm not sure I'm ready to give up my wild (NOT!) late nights yet.
What were your favorite songs from the 80's?  90's?
Do you have to make yourself go to bed or do you fall asleep early?
Weirdest multitasking from recently?